Reliance Rail right on track for a sustainable future with $1.8b loan
A landmark $1.8 billion green sustainability-linked loan sets ambitious targets for reducing energy and water usage for a major fleet of city trains and maintenance centre.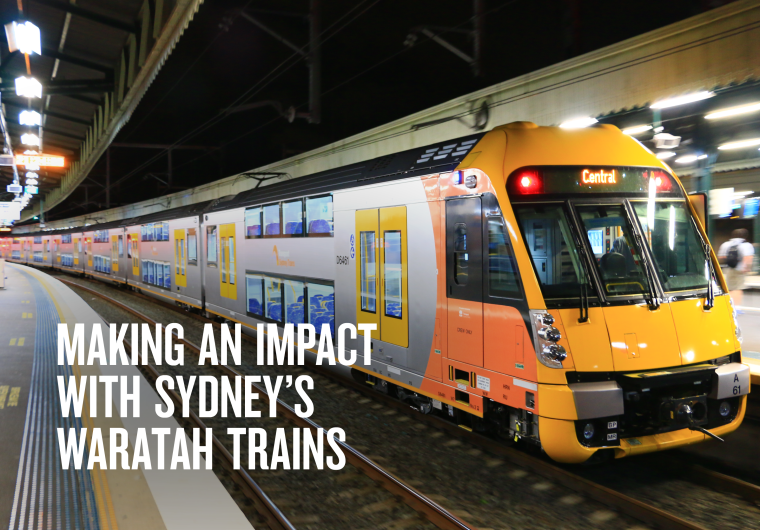 If you've caught a train in Sydney there's a good chance it's been one of Reliance Rail's 78-strong Waratah fleet.
Now Reliance Rail has secured a landmark environmental ticket to ride, after recently closing a $1.8 billion green sustainability-linked loan (GSLL) for its electric fleet and maintenance facility in Sydney's west.
The innovative 21-year refinancing package is certified as "green" by the Climate Bonds Initiative under its Low Carbon Transport criteria and has funding margins linked to performance targets around saving energy and water and overall sustainability improvement.
NAB acted as joint sustainability co-ordinator, lender and swap provider for the deal and assisted in developing the green and sustainability-linked framework and certification of the loan.
"Working with NAB as one of the sustainability co-ordinators was a collaborative effort to come up with bespoke targets and structures that are fit for purpose," says Reliance Rail's Chief Financial Officer Louise Iida.
"The targets are very ambitious but they are relevant and material and will have a real impact for our project."
Meaningful metrics
Reliance Rail formed in 2006 as a public private partnership (PPP) with the New South Wales government, supplying and maintaining rolling stock that today makes up about a third of the Sydney Trains suburban passenger fleet and almost half of total passenger journeys1.
The sustainability performance targets (SPTs) for the deal align to metrics around a cornerstone operations rating from the Infrastructure Sustainability Council (ISC), as well as to energy intensity, solar power generation and water consumption2.
The loan is structured to provide SPT-linked incentives over an initial 10-year period, with scope to review and extend. Reliance Rail has also committed to use any margin savings to fund further sustainability improvements rather than to reduce net funding costs.
Iida says in addition to these sustainability benefits, another significant achievement for Reliance Rail is the 21-year full term of the facility, which reduces potential future refinancing risk for the remainder of the project's timeline.
"The priority now is getting better, more granular data, establishing the baselines and setting up the reporting infrastructure," she says. "There is a lot of work to do over the next few years but we're really looking forward to collaborating with our partners to meet those targets as early as possible."
Growing ambition
Iida says the first step is to install a number of energy and water meters for a better understanding of resource usage. This includes the significant amount of water involved in washing trains at the Auburn Maintenance Centre, which now services more than 60 per cent of the total Sydney Trains passenger fleet3.
She adds there is also great potential for solar PV on site with a large and unobstructed roof space.
The deal itself came out of Reliance Rail's and its investors' growing sustainability ambitions and an opportunity to take a leadership role in the infrastructure sector by being the first PPP to issue a sustainability-linked loan, Iida says.
"We had an appreciation that we could and should be more sustainability-focused, even though we don't have a contractual obligation to do so," she says.
"For newer PPPs and the latest ones in particular, there is much more of an emphasis on sustainability and carbon neutrality. Our pre-GFC contracts were written in a different time, before such things were front and centre in people's minds, as they are today."
Long-term vision
Because of the role Reliance Rail's assets play in Sydney's public transport network, Iida says the deal has the potential to make a significant contribution to sustainability improvement for the state.
"This GSLL provides an example of the sustainability opportunities out there for mature PPPs," she says. "It has shown what is possible if we proactively seek solutions and just as importantly, that our lenders, investors and partners are also eager for opportunities to collaborate."
NAB Director, Sustainable Finance, James Waddell worked on the transaction and says an essential part of working with customers is to identify KPIs that represent authentic risks to the business and ensure the targets are ambitious.
"This transaction ticks the box on both of those," Waddell says. "It means the trains and the maintenance facility will use less electricity and water and that electricity will be less carbon intensive which is fantastic.
"That indicates to me a long-term vision about some of the problems we face as a city and a society.
"We listen to the customer's concerns and issues and make sure we design the transaction around these to make a meaningful difference."
____________
1 Reliance Rail
2 Media — Reliance Rail
3 Ibid