Road to recovery: Where to now for a post-COVID Australia?
As COVID-19 restrictions ease, Australian businesses need to regroup and recover – but what will that journey entail and how long will it take?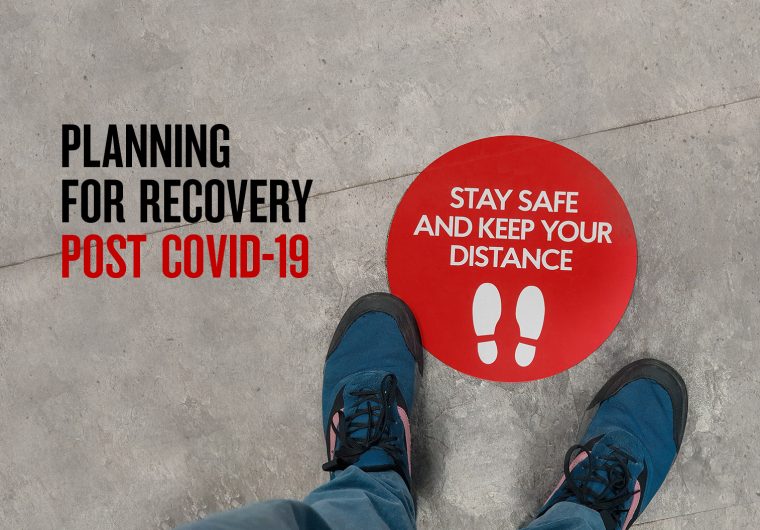 The coronavirus pandemic and the measures put in place to successfully slow its spread have taken a heavy toll on the country's business sector. Thousands of enterprises of all stripes have shuttered or scaled back their operations, stood down employees and scrapped plans for expansion and growth.
As the economy progressively re-opens, rebuilding and returning to profitability are top of the agenda for Australian business owners.
Assessing the overall damage
Since the pandemic began, Australia has been pushed into a sudden and serious recession. While opinions vary as to how long it will take to return the economy to good health, it's possible the recovery process will be protracted and patchy. Alan Oster, NAB Group Chief Economist, believes the size and scope of the challenge shouldn't be under-estimated.
In a recent NAB Coronavirus podcast on the economy, Oster estimated GDP would be down by 8.5 per cent in the June quarter, and four per cent for the year. Those figures are unlikely to return to 2019 levels until mid-2022, he said, adding that unemployment is expected to reach 10 per cent by year end and won't drop to the 2019 rate of 5.2 per cent until 2024.
Australia is travelling better than many other developed nations, though, thanks in large part to its strong and successful health response to the COVID-19 threat, Oster added. Market watchers expect June-quarter GDP to be down by as much as 20 per cent in Europe, the US and the UK.
"Things are really bad in the sense that this is the worst recession we've had in a long time but, by global standards, we're doing pretty well," he said.
Charting the recovery
While consumption has slumped since the crisis began, signs are the tide is beginning to turn. NAB's May 2020 Data Insights Report showed spending from 1 January to 24 May was down 5.8 per cent. Wind the clock back a fortnight and that figure was down 14.9 per cent.

Certainly, there are some areas doing well: in the professional, scientific and technical services sphere, spending has risen by 29 per cent since the start of the year. And, although still recovering from the hard 2019 drought and bushfire season, the country's agri-business sector has been widely reported to have escaped the worst ravages of the virus.
For other industries, recovery may take longer. Hardest hit sectors include administration and support services, where spending has dropped by 85.9 per cent since January; accommodation and food services, down 49.3 per cent; and transport, postal and warehousing, down 47.6 per cent. And, while COVID-19 has put the public health system in the spotlight, the virus has caused problems for the health sector at large, with spending down 21 per cent.
Meanwhile, commercial property may have lost its shine for some time, as social distancing requirements and the work-from-home drive put a dent in demand for office space. That spells bad news for the scores of smaller businesses depending on that market, including cafes, convenience stores and drycleaners, according to NAB CEO Ross McEwan.
"Anything to do with services for those [office workers] will be an issue," McEwan said in a joint podcast with Oster on 28 May.
Smaller businesses may lead the way
For many small and medium-sized businesses, Oster acknowledges there will be tough times ahead, but says that innovation and resilience are what's needed as the economy continues to open up. Poor consumer confidence and cash flow challenges will deter investment and expansion in the shorter term – but it may be a different story once businesses adjust to the new normal.

Business Australia CEO Stephen Cartwright agrees. Cafes, restaurants, online retailers and providers of necessary services – think plumbers, electricians and the like – are likely to be at the forefront of the recovery, he says.
Businesses that rely on the tourism and visitor economy market, however, will find it harder to bounce back.
"They were struggling through a terrible drought and bushfire season even before the COVID-19 pandemic struck," Cartwright says. "While our international borders stay closed, that sector will not be able to recover fully, even if we can stimulate an increase in domestic travel."
For many other enterprises, it's a waiting game – to see how quickly consumer confidence returns and whether the crisis will result in permanent changes to behaviour.
Made in Australia
One of the few positive stories of the pandemic has been the revival of some pockets of the Australian manufacturing sector. Product shortages and disruption to global supply chains have prompted homegrown companies to step into the breach, producing everything from personal protective equipment to critical medical supplies.
Cartwright hopes that phenomenon will parlay into an ongoing uptick, with local enterprises identifying advanced manufacturing niches where they can compete and succeed. A resurgence of positive consumer sentiment is likely to see considerable support for businesses that have a go.
"Consumers are keen to 'Buy Australian' because they want to support an economic recovery," Cartwright argues. "They realise that by buying Australian-made products they are helping to create local jobs."
Planning to thrive in a post-pandemic economy
While no business owner welcomes challenging economic times, they can be the catalyst for entrepreneurship and innovation.
"For the right idea, any time can be the right time," Cartwright says.
Meanwhile, for established businesses, COVID-19 has proved a time to examine everything from cash flow, office leases and expenses to headcount and staffing arrangements. It's also, for some organisations, been a time to look at the more fundamental basis of the business, from the way it interacts with customers to its digital offering to its very business model itself.
In doing so, enterprises may identify ways they can deliver goods and services more efficiently or economically. Future investment should be a focus – whether it's in plant and equipment to take advantage of emerging opportunities, or technology and talent to turbo-charge your operations. Putting your sales and marketing strategy under the microscope may also pay dividends. While it can be tempting to draw in the purse strings when times are tight, targeted advertising may generate a solid return on investment when customers are ready to start spending again.

"It's not enough to survive the COVID-19 crisis; you have to be planning to thrive now. Look at your business through a post-COVID lens, analyse your key competencies, and seek to adapt your business to the new normal," Cartwright says.
Digital business snapshot
The Australian economy has been hard hit but spending is increasing
Post-pandemic, there may be greater opportunities for local manufacturers
Examining how to become more efficient and competitive will put your business in a stronger position
More from NAB