Sustainability a driving force for capital markets
It was the theme which came through strongly at every session at NAB's Capital Markets 2022 conference, with ongoing sustainability momentum proving a game changer for issuers and investors.
Whether discussing the economic and geopolitical outlook or private equity and asset allocation, there was one driver taking the reins for participants at NAB's Capital Markets 2022 virtual conference.
"Sustainability came through as an absolute key theme," said co-host and NAB Executive, Investor Sales, John Bennett. "It's no longer niche. The opportunities to get it right so greatly outweigh any of the costs."
Bennett was reflecting on the key takeaways from the day with his colleague and co-host Jacqueline Fox, NAB Executive, Capital Markets, Corporate Finance, with both agreeing sustainability had become a "game changer".
"It was obviously there and topical a couple of years ago, but the last two years in particular has been a real game changer," Fox said.
"Investors are active in their expectations … when they control assets they are there to make a positive difference and they use that influence of how they are driving impactful change. I think that's relevant for many organisations. The reality is sustainability is clearly in focus."
Fox noted how issuances in green format were performing and trading well, with the notion of a "greenium" and associated penalties on the flipside a reality in the market today.
"If we dial forward five, ten years' time [sustainability] will be the norm," she said. "Whether we'll even be labelling things [as sustainable] is a question I have in my mind that far down the track."
Significant momentum
Conference sessions discussed how the mainstream adoption of ESG investing was translating into real results for portfolios.
"That's significant and that clearly is going to drive both issuer behaviour as we're seeing it, but particularly what investors are going to demand," Bennett said.
Another significant movement he noted was the emergence of private capital, with key players going to market directly to buy assets, potentially changing the nature of capital markets going ahead.
Discussing the trend, Fox said while there could be tensions with bank funding at times, private activity was ultimately complementary and had an important role to play in providing a full, efficient financial solution to corporate Australia.
"Be it through regulatory or risk appetite changes in the banking sector, there will be pockets where it is really important that private capital comes in and fills the gap," she said. "They are also customers of ours and I think absolutely there's room for all of us to exist."
Strong supply ahead
Looking to the rest of 2022 and beyond, Fox said that without doing any crystal ball gazing, supply was "definitely going to be there" with A$11.4 billion of financial issuance already printed in a record January for high grade origination.
She said this would continue with the unwinding of the term funding facility (TFF) and NAB teams would have an important role in managing through any congestion periods to ensure the best outcomes for both issuers and investors.
Non-bank financial institutions would remain strong issuers, she added, with the product offering relative value opportunities for investors across the capital stack and the underlying assets performing strongly.
Fox also said there would also see supply on the corporate side with "issuers very mindful around choice of market".
"On the corporate side, they have the loan market which is still operating quite well and the USPP market has been a pretty good supporter of Australian credit," she said.
Sustainable issuance
Fox said the sustainable momentum would continue through the year ahead.
"We'll see some sustainability-linked bond issuance; there's no doubt sustainability-linked loan format including syndicated loans will be present, and we will also see – which is really interesting – a little more in the social issuance.
"Quite possibly the sector we'll see more of that come out of is actually the non-bank financial institution sector. So, it's going to be an interesting year, and as you know capital markets is always interesting," Fox said.
Some of this interest is set to come in the form of the upcoming federal election and ongoing global tensions to top off the already disruptive 2020s. But both hosts noted a real optimism among issuers and investors, with a feeling from participants the economy can withstand any challenges – including rising rates.
In his concluding remarks NAB Executive, Markets, Drew Bradford thanked participants and gave his suggestion on possible timings: "For all of you in Victoria who are heading to the Melbourne Cup, just remember the first Tuesday of each month is also an RBA day and I would suggest that at the end of the year that this one's going to be in play.
"I hope you've got some insights over the day – "I certainly feel a little smarter this afternoon than I did first thing this morning," Bradford concluded.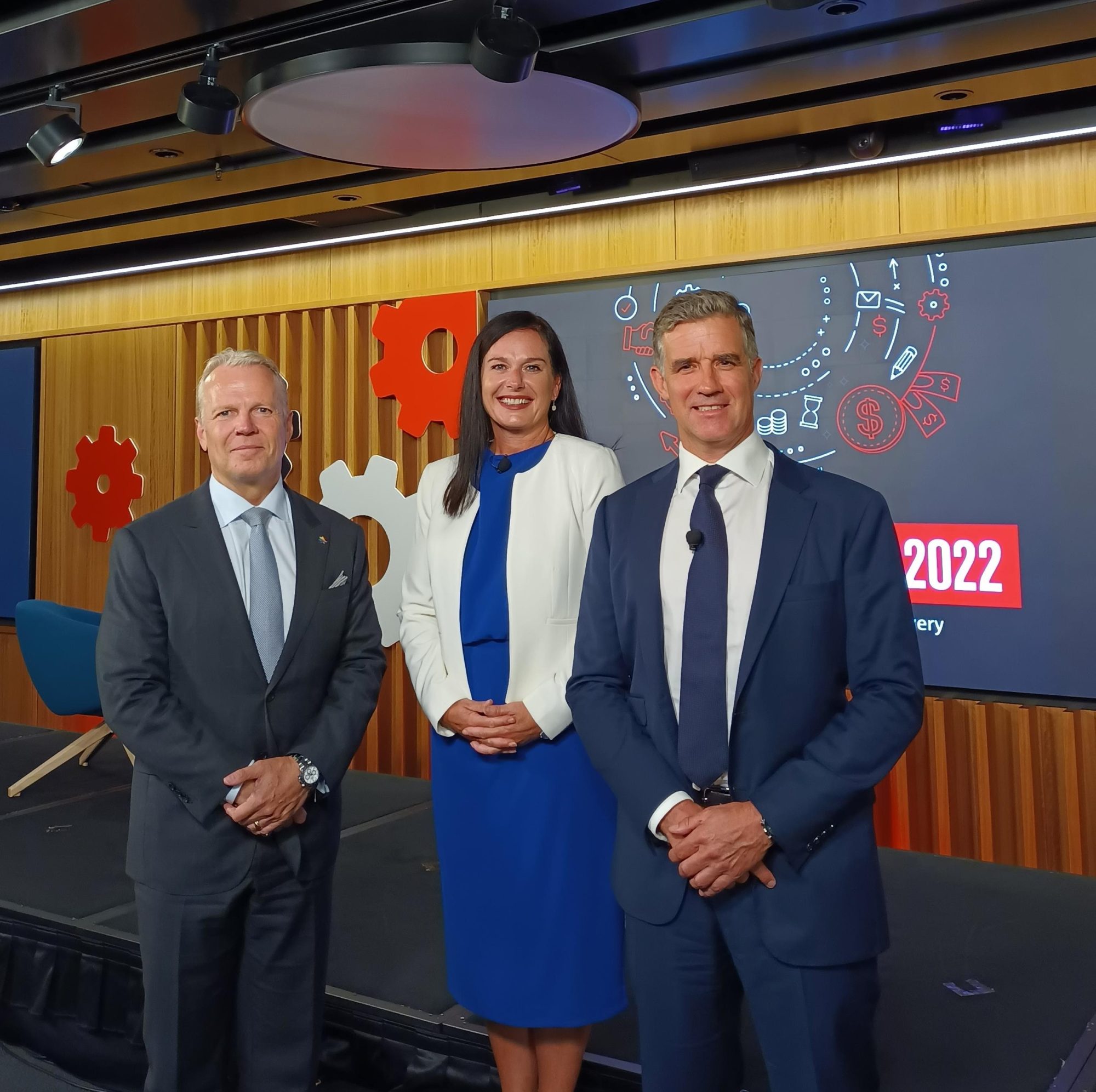 Presenters Drew Bradford, Jacqueline Fox and John Bennett at NAB's Capital Markets 2022 conference.

Read more NAB Capital Markets 2022 content on our dedicated Business Research and Insights page.
NAB is committed to delivering $70 billion in environmental financing by 2025, with $56.3 billion achieved in September 2021. At the same time NAB also reached $1.8 billion towards the $2 billion commitment to provide financing for affordable and specialist housing by 20231.
____________
1 https://www.nab.com.au/content/dam/nab/documents/reports/corporate/2021-annual-review.pdf