The AUD in July 2018
The US-China trade dispute dominated AUD/USD movements in July.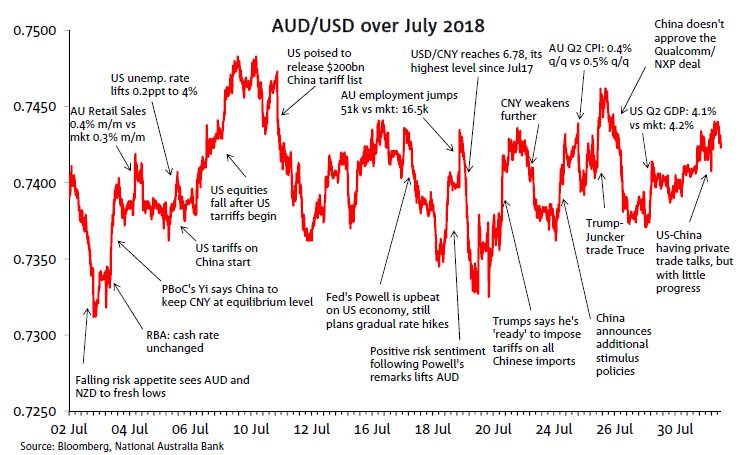 AUD still the preferred G10 China/EM proxy
The US-China trade dispute dominated AUD/USD movements in July, firmly establishing the pair as the G10 preferred China/EM risk proxy. In contrast, key domestic economic data releases elicited only brief blips in the AUD/USD, even with surprises in AU CPI and labour data. Despite shifting trade news, the AUD/USD traded in a remarkably tight range of 1.7 cents during the month. Starting July at 0.7405, the currency ended the month only slightly higher, at 0.7423.
The AUD/USD began July on the defensive, falling to fresh lows of 0.7311 on July 3rd (a level last seen in January 2017) as a US-China trade war seemed all but inevitable. An early lift in the USD/CNY sparked fears that China would 'weaponise' the CNY and dragged down the AUD/USD, but reassurance from PBOC Governor Yi (and no reaction to the RBA) saw the AUD/USD rise to around 0.7390.
Trade tensions dominate AUD moves
From here, the AUD/USD was broadly steady in the lead up to the July 6th date for US tariffs on $34bn of Chinese imports. Although there was little reaction in our day session, when tariffs officially began, that night the fall in US equities and the USD boosted the AUD/USD, helping the pair reach its monthly high of 0.7484 on July 9th. Over the following week, the AUD/USD rose and fell alongside US-China trade tensions and Fed Chair Powell's remarks (July 17th) – where he reiterated the Fed's plan for gradual hikes.
A brief jump higher to 0.7434 on the back of strong AU employment growth on July 19th (51k vs mkt: 16.5k) was quickly reversed by a lift in the USD/CNY to 6.78, prompting the start of a fall in the AUD/USD to 0.7325 over the following 24 hours. Trade related news once again pushed around the AUD/USD as: President Trump escalated trade rhetoric, China announced additional stimulus, followed by the Trump-Juncker meeting. The positive impact on the AUD/USD from the US-EU trade truce was later offset by the collapse of the Qualcomm/NXQ deal, given the perception of deterioration in US-China relationship. In between these developments, softer-than-expected AU Q2 CPI (0.4% q/q vs mkt: 0.5% q/q) made a brief dent in the AUD/USD and closer to month end, news of US-China talks restarting helped the currency end the month at 0.7423.
For further FX, Interest rate and Commodities information visit nab.com.au/nabfinancialmarkets