The AUD in June 2020
Intra-month range extremes for AUD/USD in June came in the first ten days of the month.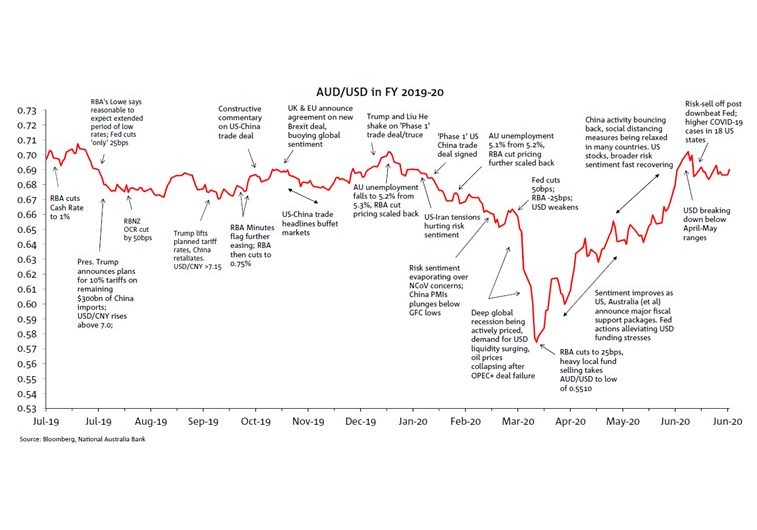 The low of 0.6646 was on the 1st, whereupon the pair climbed to its high point of 0.7063 on the 10th.  The move higher coincided with a generalised sell-off in the US dollar, which began June breaking down below the ranges that had defined it throughout April and May. That said, AUD was one of the top performing G10 currencies during these 10 days, outgunning all other currencies bar the NZD (latter +5.3% versus 5.0% for AUD).
Alongside positive risk sentiment, supportive of the run up in early June were higher commodity prices, for oil and iron ore especially. Oil demand recovered alongside sharply increase road traffic in many countries, while iron ore drew support from strong China demand (its Steel PMI on June 1st was particularly robust) together with supply disruptions in Brazil linked to COVID-19 restrictions on activity at some mines.
From mid-June onwards
AUD/USD settled down inside a broadly 0.68 to 0.70 range, falling back from above 0.7000 initially on a significant 'risk-off' episode, for which Fed Chair Jay Powell was blamed in many quarters given a downbeat assessment of the US economic outlook, following the June 10 FOMC meeting. On a day to day basis thereafter, AUD tended to fluctuate with the up and down fortunes of the S&P 500.
Evidence of a further deterioration in international relations between Australia and China failed to resonate much in the currency market, though AUD did suffer a sharp intra-day fall on June 23rd following an interview given by White House trade adviser Peter Navarro suggesting (erroneously) that the US-China Phase 1 deal was over. This highlighted the ongoing sensitivity of AUD to US-China trade matters, more so (at this stage at least) than direct Australia-China trade developments.
For further FX, Interest rate and Commodities information visit nab.com.au/nabfinancialmarkets
More from NAB