The smart thinking turning agri-waste into dollars
Australia's agricultural sector generates mountains of waste each year, but new research programs aim to help farmers turn a profit on unwanted produce.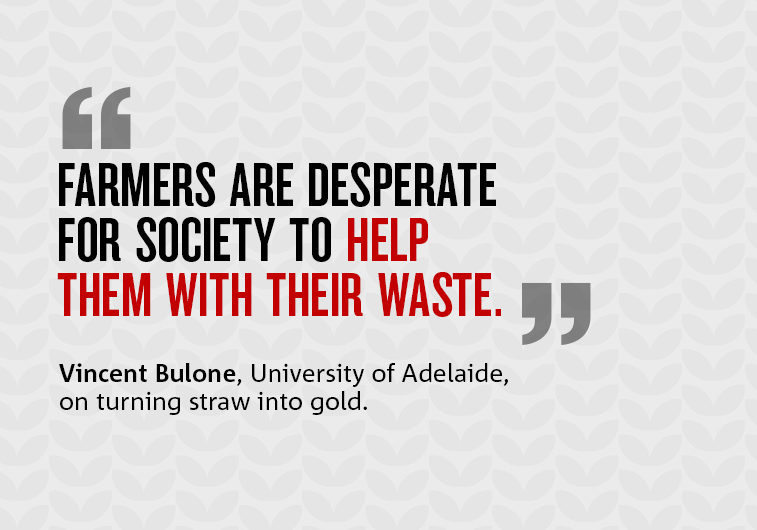 New research initiatives are focused on reducing the environmental burden of Australia's mountain of agricultural waste by turning it into useful and valuable products.
Animal feed, compost, combustion energy and landfill. These four things account for the bulk of the agricultural waste generated by Australian farms and agri-businesses each year. But a recently launched research program is determined to see this change, delivering both environmental benefits and a boost to farmers' bottom line.
The Research Consortium Program for Agricultural Product Development, headquartered in South Australia, is a four-year joint venture spearheaded by the University of Adelaide that aims to develop high-value products from what has traditionally been treated as waste.
On July 1, 2019, the consortium – made up of 18 partners from academia, industry and the agricultural and food industries – began work on a series of projects. These include discovering and extracting valuable bio-molecules from agri-waste and designing processes to make doing so commercially viable. Among potential developments are skincare products containing chitosan derived from mushrooms, and intelligent packaging materials – these change colour based on temperature, humidity and other factors – made from cellulose or starch.
The war on waste
Professor Vincent Bulone, director of Adelaide Glycomics, an Agilent Technologies Australia partner laboratory at the University of Adelaide, is both lead investigator for the consortium and research director of the Fight Food Waste Cooperative Research Centre.
While a number of European countries have well-established programs in place to process and monetise agricultural waste products, the issue hasn't attracted political interest or funding in Australia – until recently. Right now, agri-waste commands no more than $10 a tonne, as animal feed, and many farmers and processors have to pay to dispose of unsaleable produce.
"Farmers are desperate for society to help them do something with their waste," Bulone says.
"The pressure they're under from supermarkets is increasing all the time because people won't, for example, buy an apple with a black spot. Products which aren't uniform are downgraded and, as a result, there's more and more waste. It's not viable for farmers to keep producing high volumes of fruit and vegetables and only receive money for a fraction of them."
There's a mountain of evidence reflecting this – literally. Each year the South Australian potato industry, which is a focus for Bulone, generates around 100,000 metric tons of waste. The state produces around 85 per cent of the country's potatoes destined for the fresh market, and between 20 and 40 per cent of the crop goes to waste, Bulone says.
In fact, around 40 per cent of all food produced in Australia meets a similar fate; that waste comes with an estimated annual price tag of $20 billion – and a corresponding cost to the environment.
Turning straw into gold
But the tide is turning. Some of the bio-molecules present in South Australian agri-waste, for example, have been earmarked by the consortium – which is funded by $10.9 million in contributions from the state's Department of Innovation and Skills and participating members – for medicinal and manufacturing use.
These include anthocyanins, which are derived from apples and cherries and can be used to produce skincare products, and sulforaphane, which occurs in cruciferous vegetables and has been linked to a range of health benefits.
"We already know how to prepare and extract some of these bio-molecules," Bulone says. "Their value can be high – so much so that in the future we might see some farmers consider growing crops to make commercial products rather than supply the fresh food market.
"The next stage is to develop a scaling process so we can extract the bio-molecules in the most efficient way."
Stronger together
Bulone sees a future in which farmers might pool their resources to establish bio-waste processing cooperatives, a method already familiar to many primary producers.
To ensure a constant supply of raw materials, such facilities would need to be able to handle a variety of crops and extraction processes.
Bulone explains that the goal is to be able to take everything valuable from the bio-mass, removing the most easily extractable components first, until as much as possible is used.
"Ideally, everything needs to be done on one site, to avoid transportation costs and make the exercise as eco-efficient and commercially viable as possible," he says.
Backing farmers' future opportunities
As Australia's leading agribusiness bank, NAB has a long history of supporting a sector that has underpinned Australia's prosperity and growth.
NAB Agribusiness Customer Executive Neil Findlay says helping farmers and agri-business owners grow and progress their businesses sustainably is a key focus for the bank in 2019 and beyond.
"As the sector finds ways to capitalise on agri-waste processing, NAB will be right alongside our customers, funding and supporting projects that allow them to better manage this problem," Findlay says.
"We see a great future for farmers being able to turn their waste into opportunities that are good for them and good for the environment. And that's good for Australia."