Transport infrastructure update Victoria: September 2018
The Victorian economy has been one of Australia's fastest growing this year. Given the scope of construction projects now ramping up it's likely transport infrastructure spending will continue to contribute strongly to Victorian growth over the next year.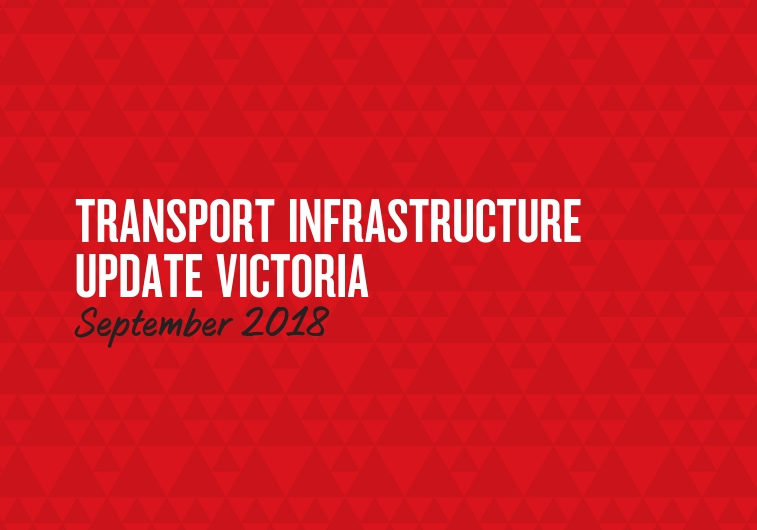 Transport Infrastructure VIC Sept 2018
Melbourne's rapid population growth has put pressure on existing infrastructure, leading to considerable new government infrastructure spending. As a result, gross Victorian Government infrastructure spending has ramped up significantly, jumping from $4.7b in 2015-16 to a forecast $13.7b in 2018-19 (excluding depreciation).
In addition, a number of projects are being undertaken as PPPs, such as West Gate Tunnel and Melbourne Metro.
With a state election due in November, both major parties have made a number of transport spending commitments, with more likely to come. Airport rail is likely to go ahead, as are further improvements to outer suburban and regional rail. While there are some differences in priorities – for example the ALP does not support East West Link – we expect that the pipeline of investment will remain at very elevated levels irrespective of who forms government.
While not all of this spending is for roads and railways (for example, school building is a major spending item), transport makes up a considerable portion.
If built as scheduled (but not yet budgeted), projects like North East Link, airport rail and stage 1 of the suburban rail loop, could see the current spending spike continue well into the 2020s, although labour and material shortages could become even greater issues.
Download the above report for a detailed look at Victoria's committed and possible infrastructure projects and the possible implications to the economy.
Speak to a specialist
More from NAB