Why responsible investing is attracting big money 
Responsible investing among Australia's wealthiest individuals is rising exponentially. The question is: why?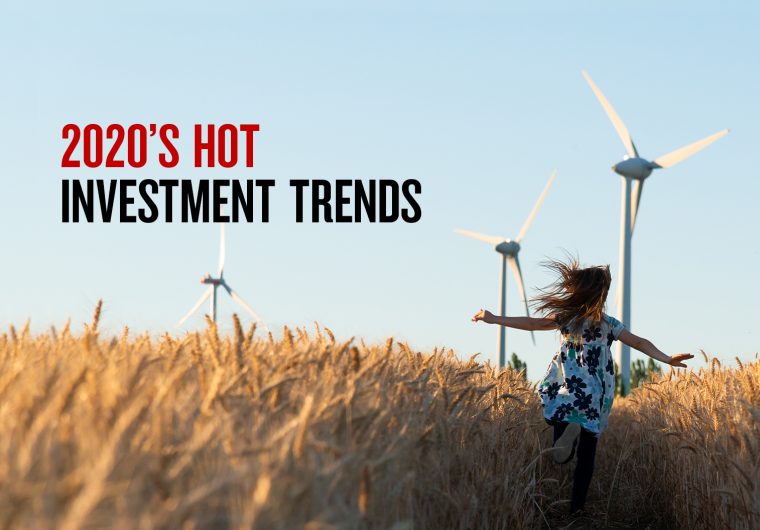 Before COVID-19, NAB Private's Head of Global Investment Desk, Gavan Lynn, would see about one in 10 families walk through the door keen to find out more about responsible investing. Fast-forward to this year's pandemic and that ratio has jumped to one in four.
"The reverse enquiries around sustainable finance, renewable energy and impact investing opportunities have actually accelerated," Lynn says.
JBWere's Head of Alternative Investments and Responsible Investing, Gillian Gordon, has seen a similar upsurge in interest. Admittedly the not-for-profits, family offices and high net worth individuals JBWere serves have always had a strong appetite for responsible investments, but it's grown significantly this year. "I don't think COVID has subdued client interest in this space; I think it's actually enhanced it," Gordon says.
Their experiences are supported by recent statistics.
According to investment research house Morningstar, almost US$10 billion had already poured into sustainable open-ended funds or exchange traded funds in the first quarter of 2020. "That's already over half the total of the whole of 2019 in that one quarter," Gordon points out. "I think that's really telling. It shows that it's exponentially increasing in clients' minds."
Responsible investing explained
Responsible investing is about meeting certain social, environmental, corporate governance or ethical objectives in addition to making financial gains. How investors choose to go about this can vary considerably.
One form of responsible investing, popular with Australian investors due to its ease of implementation, is negative or positive screening.  Essentially, it's about including or excluding certain investments ­based on your values, principles or ethics. While negative (or exclusionary) screening filters out or reduces exposures in your portfolio that don't align with your values – for example, tobacco or gaming-related investments – positive (or in-class) screening aims to up those investments that do reflect your values. For instance, you may choose to increase, or overweight in, investments with a low carbon footprint.
Then there's Environmental, Social and Governance (ESG) investing. As the name suggests, it considers environmental, social and governance factors as a fundamental part of the financial analysis and investment decision-making process. While ESG investing initially attracted sceptics, these days it's recognised as a key risk mitigation tool and core driver of enhanced returns. So fundamental is ESG analysis to robust decision-making that JBWere provides an ESG viewpoint for all assets to help clients make more informed investment decisions.
There are still other ways to responsibly invest. One very hands-on method is through corporate engagement and shareholder action. "That's really looking at how you can influence companies and funds and advocate for change," Gordon explains.
More recently, the idea of impact investing has come to the fore. This involves directly investing in organisations, projects or funds with the intention of generating positive social or environmental outcomes – alongside a financial return.
"It's taking more of an active approach," Lynn explains. "Previous generations were focused on giving and donating through philanthropic means, private ancillary funds for example. While this is still a very plausible and effective means of supporting for-purpose organisations, you are relying heavily on the charity to administer those funds appropriately. Impact investing however goes further, investing directly into your preferred social or environmental project, while understanding the investment metrics that will provide a suitable return."
Impact investing in Australia is experiencing rapid growth and investment opportunities. However, these tend to be more grassroots or community based – which is one of its benefits, but also one of its challenges.
"Impact investing tends to be more difficult than other areas of responsible investing to access at scale because, if you think of just the mere nature of impact, it's not always in the listed, liquid format," Gordon explains.
Nonetheless, JBWere offers a platform that enables impact investing while organisations like NAB have also gone to considerable lengths to encourage the market, Lynn points out. There's every sign such efforts are working. If this year's increased appetite is anything to go by, impact investing might well reach critical mass sooner rather than later.
What's driving the spike in interest?
It all depends on what's behind the current surge. Gordon points to three long-term drivers that aren't going to disappear anytime soon.
The first is climate change. "There's been almost an awakening, a heightened realisation that climate change is real," Gordon says. "There's compelling scientific evidence and we [are all coming to the realisation that we] have to act collectively."
This has prompted the second driver: increased action from governments and the private sector. "There's the sheer size of government actions. You've got COP 26 – the 2021 UN Climate Change Conference. You've got the launch of the European Green Deal, which aims to make the 27-country bloc climate neutral by 2050. There are a few big global calls to action across the world that will fundamentally change the way that capital flows."
 The final driver, according to Gordon, is generational change and the repositioning of wealth. "We are witnessing the greatest transfer of wealth ever in Australia's history and that's bringing people into the driver's seat who statistically are more interested in responsible investing. Gen X and Gen Y, and Millennials, have a greater interest in responsible investing than any other demographic."
Of course, Gen X will be the first to benefit from this wealth transfer. But, as Gordon says, the mindset of that generation is already quite different to their forebears.
"It's not enough for the younger generations to just invest for performance anymore. They are increasingly looking to invest for performance and purpose. They are finding their voice and looking to advocate for change as they take on increased responsibility and decision making in their own wealth – potentially their family's wealth – and as they hold positions on not for profits and charitable boards."
Adds Gordon: "They're demanding it; it's no longer just a 'nice to have'."
How NAB can offer support
NAB Private and JBWere are busily responding, helping investors access these opportunities. While NAB Private's role is to gain a deeper understanding of people's needs, whether personal or financial, and connect them with the relevant teams across the NAB Group – including NAB's Global Investment Desk – JBWere offers clients personalised advice, insight and access to a range of multi-asset investment solutions, including responsible investments, as part of a whole of portfolio view.
Understanding responsible investing, and the opportunities therein, is critical – as is having that true sense of making an impact through your chosen investment. As Lynn notes: "At the end of the day [responsible investing] is a conscious action or belief that you are going to make a difference with your wealth that that aligns with your families shared vision."
Having the right information and support makes that possible.