Cashless customers are driving the future of payment
New payments trends and technologies are opening the door to better business.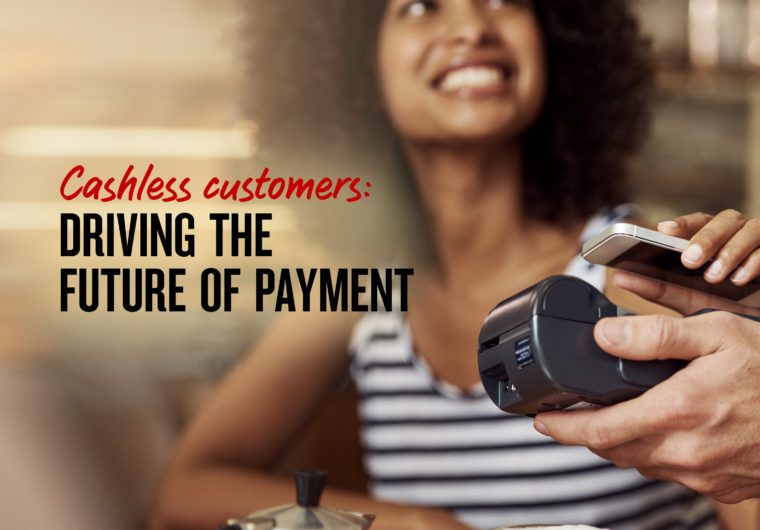 New technologies are making it easier for your customers to pay, and for you to operate more efficiently. Simon Mescher, senior digital specialist at NAB, discusses the trends and emerging opportunities that could help shape a more successful business future.
For Australians, digital payments are now a way of life. The latest government statistics show that electronic credit and debit cards are now the most common way to pay and, according to May's NAB Cashless Index, the trajectory is only continuing: year on growth in cashless payments is currently 6.3 per cent. As the Governor of the Reserve Bank of Australia, Philip Lowe, said last year, Australians now make an average of almost 500 electronic payments annually, up from around 100 in 2000.
Of course, in many scenarios, cash is still king: when spending less than $5 dollars, nine in 10 over 50s use cash compared to just one in two 18 to 29-year-olds, according to NAB's consumer insight report How, When & Why Do We Use Cash Today?. That said, over the past decade ATM withdrawals have plummeted by 20 per cent, a sure sign cash is in decline. According to the Australian Payments Council, one in five people over 18 hold no cash at any given time. As for cheques, their use has fallen so dramatically that Lowe has said it may not be too long before the system is wound up completely.
"As consumers continue to embrace the convenience of mobile, internet and point-of-sale digital options, it's vital that business owners are ready to take advantage of the opportunities opening up for them," says Simon Mescher, NAB's Head of Business, Corporate and Institutional Digital Channels.
"They also need to understand how the technologies driving the shift to electronic payments can help them run their business in a more effective and streamlined way."
A new business landscape
Perhaps the most significant innovation in recent times is the New Payments Platform (NPP) launched early last year. This payments infrastructure lets individuals and businesses make real-time payments between participating financial institutions and provides a platform for other services such as Osko.
"The roll-out of the NPP has changed the business landscape," Mescher says. "For example, as a business owner, being able to make and receive payments more quickly could help you operate more efficiently. And we should soon see a number of overlay services to simplify processes such as payroll and invoicing."
Australians make less contact
Australia leads the world in contactless payments. According to last year's The Digital Economy report, two of every three point-of-sale card payments were contactless in 2017.
The same report found that consumers made over 8.3 billion card payments in 2017 compared with 4.8 billion in 2012. Ease of use could help explain this rising popularity.
"People are also making contactless payments using everything from smart watches and fitness trackers to third-party wallets on their smartphones," says Mescher. "NAB, for example, offers credit cards with Apple Pay so you can make a credit card payment through a digital device."
New credit kids on the block
Roy Morgan's Digital Payment Solutions Currency Report found that, in the 12 months to January 2019, 1.59 million Australians used one of the new "buy now pay later" apps.
Mescher explains this has been presented as another way for retailers to offer their goods and services, and adds that, as an instalment-based purchasing method with fees for late payment, it's not dissimilar from forms of credit where, as long as you pay on time, you don't pay interest or fees. "A lot comes down to personal preference," he adds, "and NAB recently partnered with Alipay to provide customers with a wider choice."
Last month Visa announced a pilot of its own instalment payment option. Like the apps, this will allow customers to divide the cost of their purchase into smaller, equal payments. Though, in this case, they will be able to use an existing card.
With big data comes big opportunity … and responsibility 
Digital engagement creates opportunities for businesses of all sizes to collect useful data.
According to Mescher, small businesses need to be conscious of the data they're collecting and what customer insights this might generate to make their business more effective. "Properly analysed, data can provide invaluable information about customers' behaviour and preferences, which can help you make more effective decisions about the products, services and payment options you provide."
However, it also brings the responsibility to protect customer information.
"As we look to the future, businesses must continue to focus on ensuring their customers can transact and engage in a secure way," Mescher says. "You also need to do everything you can to protect your own business against cyber attacks. There's cyber security and digital safety information on nab.com.au/security and we regularly talk to businesses about ways to stay safe, what to look out for and things to consider in your environment."
Learn from the industry leaders
According to Mescher, the two industries leading the way in digital payments are retail and travel.
"Retailers understand their customers' preference for frictionless payments, while airlines and companies like Uber want to make it as easy as possible for their customers to get where they need to go," he says. "Once customers have enjoyed this level of ease and convenience, they expect to find it everywhere, and I think this will encourage other industries to follow suit."
Mescher advises small business owners to monitor broad industry trends and developments in technology.
"That way you'll always know what's available and what might be relevant to you," he says. "It's also important to understand your sector demographic – how digitally savvy your customers are and how they prefer to pay, so you can be sure you're offering the options they want."
To find out more about changes to cash and payment types, see NAB's latest Cashless Retail Sales Index.