Chapter 2: Future of Health – A practitioner perspective
The trends reshaping health and the future implications for the Australian marketplace.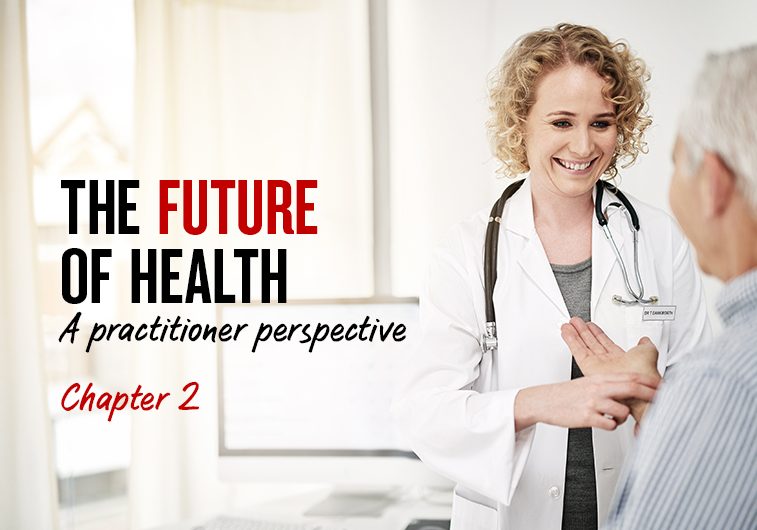 To continue the Future of Health discussion, over 100 Australian health practitioners were surveyed to assess Australians health and their impressions on the health system. These practitioners were also asked to assess their business performance, challenges and drivers of growth, together with their attitudes to digital health and innovation.
It is clear from the survey's findings that Australians and their health practitioners are in agreement that the biggest health-related issues are chronic diseases such as obesity, cardiovascular disease and diabetes, together with mental illness and cancer.
Whilst Chapter 1 of our report had Australian men rate their health higher than women, our health practitioners provide an alternative perspective rating women as being healthier across all aspects of health (particularly oral health such as gum disease and tooth decay).
Our practitioners viewed poor diet as the primary driver of Australians 'moderately' healthy outcomes today with inactivity, stress, smoking and excessive alcohol consumption significant factors. Looking ahead, inactivity, poor diet and stress are viewed as emerging trends that will reshape the health landscape.
It is clear from the survey's findings that most health practitioners' view our health system as 'world class' being more positive than the general population. However, they are concerned with the future and were much less likely to recommend the profession to their children than 10 years ago.
Business conditions were reported to be positive for the sector over the 6 month period to June 2017 with strong trading conditions across most practitioners, although there were differences in profitability and employment.
Dentist's and general practitioners generally had higher profitability. Practitioner business confidence is higher than the broader economy with dentists predicting a lift in employment whilst general practitioners and specialists are expecting employment to soften.
Referrals and patient recommendations are expected to continue to be the biggest driver of business growth over the next year and from a cost & capacity perspective, availability of practitioners for general practice and specialties remains a key challenge.
Given the importance of the human dimension to health care, practitioners are reluctant to embrace video consultation or engage with patients via smartphones, computers or other devices, however they are more receptive to using digital technology to transform the payment process and enable health information to be shared via digital devices.
For full analysis, download the report:
More from NAB