July 5, 2019
Check your fit before stepping into a board role
Many senior executives thrive in a boardroom setting. Others can find it limiting and dull. We chat to two senior executives to find out why the boardroom might not be right for everyone – and what alternatives might be a better fit.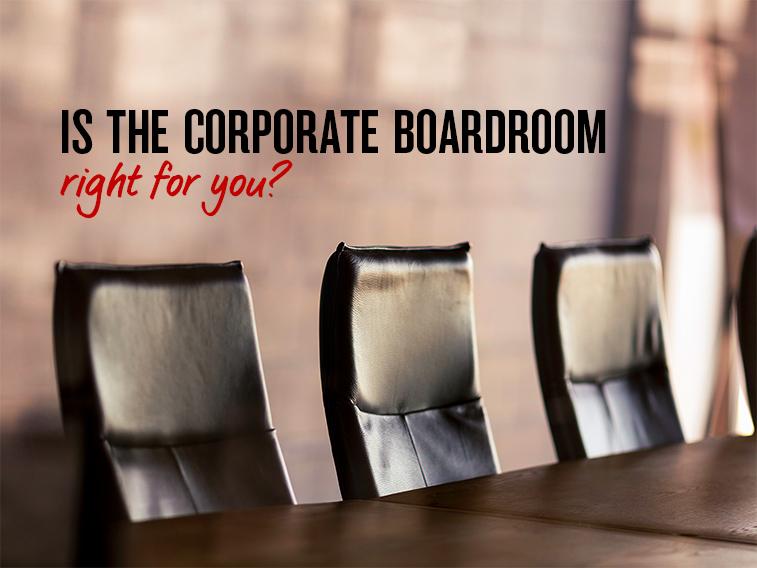 It was once conventional wisdom that successful business leaders would move into the boardroom at the end of their executive career. As highly-experienced and long-time board members, Ann Sherry and Kerryn Newton agree this is no longer the case. Many of today's senior executives are choosing to look elsewhere.
According to Kerryn Newton, Managing Director of Directors Australia and a director of Energy Queensland, "a corporate boardroom isn't right for everyone".
"As a CEO, for example, you're very operational with a lot of discretion in the decisions you make and how you choose to drive the business," Kerryn says.
"Non-executive directors on a corporate board work at a strategic and governing level, and that may not be a natural fit. You might feel you're not using your knowledge, skills and experience to the full."
What's right for you?
Ann Sherry AO is Chairman of Carnival Australia, chair of UNICEF Australia and holds non-executive positions on a number of other commercial and not-for-profit boards, including NAB. She agrees it can be hard to adapt to having relatively little control.
"As a director, you can exert influence and express a view but there's a very clear line between governance and management," Sherry says.
For some directors, the biggest problem is boredom or a lack of challenge in the role.
"In larger, listed companies, compliance functions rather than performance functions can take up a lot of the board's time," Newton says. "If you're entrepreneurial and highly creative, this could feel very constraining."
Other leaders can be concerned about the risk.
"There's been a lot in the news lately about personal liability and reputational risk," Newton adds. "I think this is causing many successful business leaders to question whether they really want to take on that level of exposure. Before accepting any board role it's important to consider your risk appetite."
 Looking beyond listed boards
 These days, there are many alternatives to a career on a corporate board.
The board of a private company is likely to be more operational. "Smaller, unlisted companies often need their directors to be more hands-on in developing the strategy for the business," Newton says.
An advisory board is less formal than a regular board and its only role is to provide advice. However, Newton warns that the term is sometimes applied quite loosely in a bid to sidestep legal responsibilities. "You should clarify what the position involves and take care not to overstep the limits of a genuine advisory role. The risk is that, should there be any problems with the company, you could find you're called a director in terms of the law."
Private equity firms could offer a range of opportunities. "They're often looking for interim CEOs or people who can turn a business around in a short space of time," Sherry says. "Or you could work with start-ups as an angel/mentor, helping young entrepreneurs to grow a successful business and perhaps taking some equity."
Coaching and mentoring are very personal ways to pass on your knowledge and skills. "Some mentors and coaches work under the umbrella of a successful brand while others work alone," Newton says. "There are also various degrees of formality with mentoring and coaching arrangements."
Not-for-profit (NFP) and charitable organisations provide an opportunity to "give back". "I encourage people to get involved in NFPs because these organisations are often short on skill," Sherry says. "You could join a board or you might decide to work in an executive position in an NFP or smaller, community-based organisation. One of the NFPs I'm involved with is an Indigenous organisation based in Cape York and quite a few retired executives play a mentoring role there. Their knowledge and expertise is invaluable and it's not just a one-way street. You can also get a lot of pleasure and personal fulfilment from these kinds of roles."
You could consider starting your own business. "Think about the best idea you've ever had when you didn't have time to pursue it," Sherry says.
Thinking about the alternatives
Sherry advises all business leaders to think carefully before deciding on a boardroom career.
"The first thing to ask yourself is why you want to join a board," she says.
"You also need to consider what value you can add and how you will contribute, and then what you really want from life. I believe we need to get a bit more expansive in our thinking about what comes next when we're at the point of stepping away from a full-time traditional career."