Fundamentals are good for Australian Agriculture
The nation's thoughts are with drought-afflicted farmers. As distressing as their current circumstances are, the encouraging news is that underlying economic conditions remain positive and will help them bounce back once the drought breaks.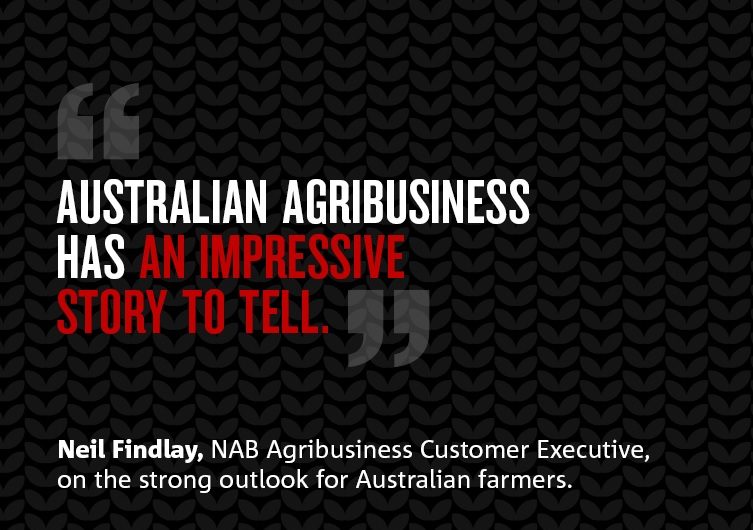 I grew up on a sheep and beef property in north-east Victoria. I've spent my adult life based in the rural parts of South Australia, Victoria and New South Wales, mainly working in agribusiness banking. I understand, and would never diminish, the devastating economic and psychological impact droughts have on farmers. I'm delighted state and federal governments are now offering financial assistance. I'm impressed by the work being done by the Country Women's Association of NSW and the Queensland Country Women's Association, as well as many other social initiatives, from One Bucket to Parma for a Farmer. 
And I'm particularly proud to work for a bank that's recently redoubled its efforts to make life easier for farmers, struggling and otherwise.
While Australia rallies behind our farmers, I believe we can offer hope and optimism beyond the dire situation many are facing.
There are some good reasons to be optimistic.
Financial optimism
Despite drought, frost and other climate challenges, it's a good time for agriculture in Australia. I recently heard Fiona Simson, president of the National Farmers' Federation, speak in Brisbane as she shared her vision that Australia can grow its agribusiness economic value from $61 billion to $100 billion by 2030.
Free trade agreements, the Australian dollar, flat interest rates and a growing middle class around the world makes for a positive outlook for food and fibre. Economic conditions were good going into the drought and the outlook for many agricultural commodities remains positive. Cattle and sheep prices are strong, wool is selling at record highs and a number of horticulture crops have rebounded.
It's not without challenges, from the climate to energy costs and labour, however farmers are stepping up and meeting those challenges.
Technology marches on                                  
The business world is now all about efficiency gains. Australian agribusiness has an impressive story to tell about doing more with less. Today's farmers have access to technology – and the resulting productivity gains – unimaginable to previous generations.
Australian farmers are already some of the most efficient in the world. As the digital age progresses, they are leading the way with the early adoption of cost-cutting and efficiencies – ag tech such as drones, irrigation automation, sophisticated data collection and precision spraying and cropping, to name just a few.
Serving customers better
At NAB this month we've made a number of commitments to rural and regional Australia. These included a drought relief package for New South Wales and Queensland and a commitment to offer a concession on eligible agricultural lending for Farm Management Deposit holders, the first major to do so.
I'm proud that, as Australia's largest agri-bank, we've committed to initiatives that will result in even better service being provided to customers in rural and regional Australia.
Our recent initiatives for the agribusiness sector include:
Farm Management Deposit Offer available from October 2018. Recently, NAB reaffirmed its commitment to helping Australian farmers in good times and also during hardship. One of the ways NAB and our agri-bankers are helping customers in more challenging times, is ensuring our primary producers with a Farm Management Deposit know that there is now the possibility of receiving a discount on eligible agricultural lending from October (*eligibility criteria applies).
NAB has made changes to its regional leadership model, empowering its leaders to make decisions and supporting them in their local communities. Rather than possibly having to deal with several different people, who may live elsewhere, going forward NAB's rural and regional customers will have one point of contact who will, wherever feasible, be local. Our vision is that country towns will have a NAB banker who's part of their community, who has the local knowledge needed to help customers make the right decisions.
NAB's CEO Andrew Thorburn has committed to providing better support to rural areas. Along with respected figures John Anderson, a sixth-generation farmer and former Deputy Prime Minister, and Dr Chris Sarra, a highly respected community figure and education specialist, Andrew will be visiting country towns and regional centres around the nation over the next few months. He will be inviting those in farming communities to share their concerns and hopes in an unfiltered fashion.
Drought-afflicted farmers are now getting support from governments, banks, charities, religious organisations and individual Australians. Many will also be in a position to draw down on Farm Management Deposits.
I am optimistic and predict that, however tough they're doing it currently, most farmers will be able to hang in there until the weather changes. When that happens, the conditions are in place for them to bounce back strongly.
Neil Findlay has been appointed Agribusiness Customer Executive and he'll drive our agribusiness thought leadership agenda. A highly experienced agri banker, Neil comes to the role from NAB State Head of Agribusiness in Victoria and Tasmania, where he was instrumental in the growth of the business over the past decade.