FX innovation powers sustainability goals
NAB's first sustainability-linked foreign exchange (FX) derivative aligns environmental, social and governance (ESG) targets with financial risk management for a major London-listed infrastructure investment company.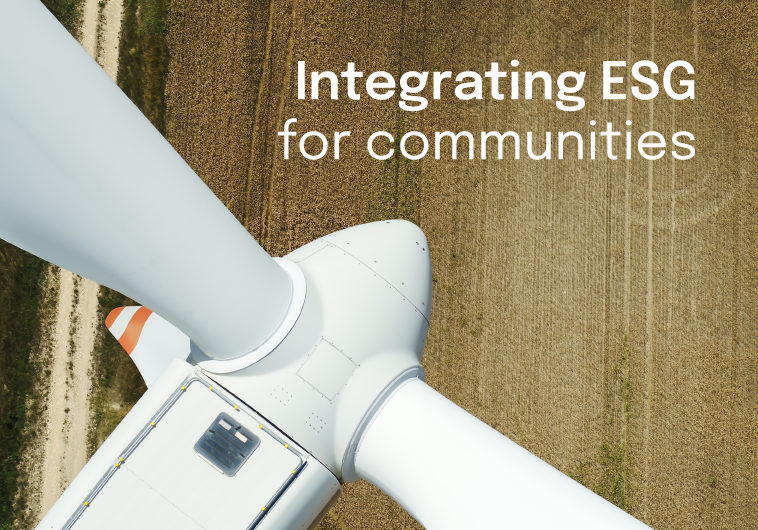 For a UK-listed company that invests in long-term renewable energy projects, the sustainability mindset is embedded in its very purpose.
But now The Renewables Infrastructure Group (TRIG) has taken an innovative extra step with NAB by linking its foreign exchange hedging to sustainability performance metrics in a deal set to deliver valuable returns to more than just its shareholders.
The new FX derivatives product developed with NAB Markets ties financial incentives to meeting environmental, social and governance targets, with TRIG reinvesting the proceeds in important community projects where the portfolio's renewable assets are sited.
TRIG's Fund Manager Richard Crawford is Head of Energy Income Funds at InfraRed Capital Partners and says the deal represents an important alignment to place communities at the heart of its sustainable infrastructure investing.
"Infrastructure assets can be very significant within the communities in which we are operating," Crawford says. "So, it's really important that we consider all of our stakeholders, including our non-financial stakeholders.
"We are engaging with communities on what they need for the long-term. The more ESG targets that we achieve with this arrangement the better financially it is for us and the more we can re-invest into our communities."
Making a difference
The ratcheting ESG targets for TRIG cover environmental goals, measured by the number of homes powered by clean energy in the portfolio, social progress on the number of community funds developed, and important workplace safety metrics for governance.
Crawford says with many of the portfolio's wind farms and solar parks located in remote areas in the UK and EU, this extra help in funding social projects for schools, swimming pools, mental health – and even schemes for reducing electricity bills as inflation bites – can really make a difference.
"You can actually see a direct benefit coming back to our communities from this," he says. "That's a really great way to work and a great way to do business. It's going that extra distance to really get some extra value and to feed that back."
The deal marks NAB's first ESG-linked FX derivative transaction in market. It follows earlier arrangements linked to interest rate swaps as more businesses today look to place sustainability across their entire financial risk management structures.
InfraRed's Head of Sustainability Kate McKeon says working with NAB's new ESG-linked FX derivative product capability had helped further InfraRed's commitment to measure performance and develop appropriate KPIs across all aspects of ESG for the business.
"This arrangement embodies what we're trying to achieve at InfraRed in really making sure we're pushing sustainability into every aspect of our business," McKeon says. "We're looking at hard metrics and targets and being held accountable for that performance transparently with our stakeholders."
Shared goals
For Crawford, working with NAB Markets on the FX product innovation he describes as "pretty cutting edge", highlights the value of the banking relationship and shared goals around sustainability.
"We've got a great long-term relationship with NAB," he says. "This product underscores the overall mindset and our aspirations within sustainability to make it really key to what we are doing at TRIG and InfraRed."
NAB Executive, Markets, Drew Bradford says speciality products like the ESG-linked FX derivative arrangement with TRIG provide an opportunity to incorporate sustainability objectives into every area of financing, rather than through using a small number of specific instruments such as bonds.
"NAB worked closely with InfraRed to structure a mechanism for TRIG that not only promotes achieving KPIs but also reduces the overall cost of hedging through a sustainability-linked payment for when TRIG delivers against its established ESG goals," Bradford says.
"It's great to bring this new product capability to market to deliver successful outcomes for our clients.
"Put simply, these products derive value from both financial markets as well as a counterparty's ESG performance. They can be transacted when a client has entered into a sustainability-linked loan or bond or on a stand-alone basis."
Bradford says there is an increasing acknowledgement that companies who focus on improving their ESG metrics are able to attract new sources of capital and potentially better pricing outcomes.
In addition to this first ESG-linked FX derivative, NAB has now closed six ESG-linked derivatives in the European market and one in Australia1.
"The ESG-linked derivatives market is still developing right across the world," Bradford says. "The KPIs often go out to three or more years, so this is a long game and all about making sustainability core to business strategy."
NAB is the leading Australian bank for lending to renewables. Renewables represent 75% of our total lending to energy. Since 2003, we've completed more than 150 renewable financing transactions and lent over $11.5 billion2.
____________
1 NAB delivers new ESG financial innovation – NAB News
2 NAB secures strong support for latest green bond – NAB News