Gympie export legends Nolan Meats now setting sights on Asia
With a 60-year domestic and international success story already behind them, it comes as no surprise that family-run Nolan Meats has very definite ideas about how to launch a successful push into the Asia Pacific region.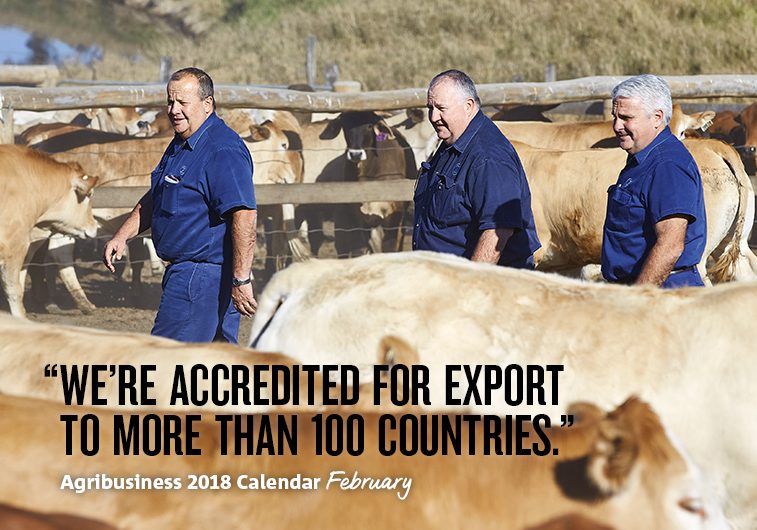 A sense of continuity runs throughout Nolan Meats, and the owners consider it a cornerstone of their ongoing success. Specialising in young grain-fed beef, the business is currently run by Terry, Tony and Michael, sons of founders Pat and Marie Nolan.
"Continuity includes everything from being family-owned and Gympie-headquartered to gradually building up a vertical integrated business so we can control quality throughout our supply chain," company co-director Terry Nolan says.
It's these same old-fashioned traits that enable flexibility and the full traceability of product demanded by local and international consumers, especially in the rapidly expanding Asia Pacific market. However, another big concern for the Nolans is embedding efficiencies into those processes.
"As people become more affluent in countries like Indonesia, Malaysia and China, they're increasing the protein in their diet," Terry explains. "We know that unless we're efficient, competitor proteins like salmon, chicken or pork could challenge our beef market share."

Matching product to environment
Efficiency takes many forms at Nolan Meats. One priority is matching cattle breeds to the environment rather than just following market trends. Terry gives the example of intramuscular fat or marbling in beef.
"It's very popular at the moment but generally comes from temperate climate breeds of cattle. Gympie's sub-tropical so we use breeds that are environment friendly and look for opportunities or niches that suit our style of yearling beef as opposed to trying to market beef from the older, fatter, temperate breeds."
Tony adds that the Nolans believe in using young animals that grow fast. Such a technique uses less resources, making the end product more efficient and environmentally sustainable.
"Raised on grass most of their lives, all they need is a 70-day finishing period in the feedlot," he explains. "That means less water and pasture per head."
For the Nolans, sustainability also means limiting wastage. "One of our main efficiency measures is maximising carcass utilisation," Tony says. "For us, it's all equally high-value product." He explains that a carcass could end up in 30 or 40 different countries. "A liver may go to Egypt, the tongue and brisket to Japan, some trimmings to the US and short ribs to Korea."

Quality control is key
Vertical integration is key to Nolan Meats' export strategy. By slowly expanding their operation to include everything from livestock breeding and processing, through to packing and refrigerated transport, the team have complete quality control and that's what underpins so much of their export success.
Michael describes the family's latest development – a state-of-the-art distribution centre with cold storage and automated warehousing – as crucial to their international success: "It ensures traceability and keeps the product cold from when it's produced; the shipping container is sealed on site and all the way to its end market. Wherever it ends up, the quality is guaranteed."
This dedication to traceability and quality control has paid off repeatedly for the company. In 1997, the business piloted the Meat Standards Australia (MSA) systems here in Australia; in 2006-2008 they pioneered new access to the US market, which helped develop the current Australian export system.
More recently, Nolan Meats has been accepted by the Australian Trusted Trader Program. "We're one of the few fresh meat providers that have been accepted," Terry says. "The program gives us access to markets around the world – and speeds up the customs process."

Maintaining a distance
Early on, the business had its origins in retail butchering but, as Terry points out, "to grow your wholesale trade, you can't compete against the people you service in the market. We made the decision to exit retailing."
Having said that, the Nolan Meats brand is well respected. Terry says the company's aim to 'deliver pleasurable meat moments every time' through good service and great products.
"Our flagship brand 'Private Selection' is gaining traction all the time," he says. "Some retailers like to carry it through to their consumer. It was initially designed as a trade brand but some retailers like to let their consumers know they stock it and so it's organically become a consumer brand," he adds, brimming with pride.

The long march into China
Nolan Meats has been craving a foothold in the Chinese market for five years. "We're hoping that 2018 will be our breakthrough year," Terry says. "China will be like every other market but more diverse. There's competition in every single market. You've always got to be finding your niche and improving your game to sustain the business."
He acknowledges that the decades helping establish Australia's quality assurance and management systems are still paying off.
"We're not afraid to try something new whether that be technology, systems or markets and that certainly opens doors for us. The Asia Pacific region is the global growth powerhouse and Australia is ideally placed."
More from NAB