Markets Today: A short squeeze on Treasuries?
Treasury yields drifted lower in the US today.
Today's podcast
Overview: The thrill is gone
Trump disappointed Powell is not a cheap-money Fed Chairman
Equities higher against a backdrop of lower yields and softer USD
Rally in Italian sovereign yield helps the euro, but fiscal uncertainty remains
AUD edges higher supported by stronger commodities
Governor Lowe and RBA minutes the domestic focus today
The thrill is gone away, You know you done me wrong baby – BB King
DXY, the USD index, recorded its fourth consecutive daily decline against a backdrop of improved risk appetite, lower UST yields and news that President Trump had expressed disappointment with recent Fed hikes. According to a Bloomberg story, speaking at a fundraiser in the Hamptons on Friday, Trump said he expected Powell to be a cheap-money Fed chairman and lamented the Fed instead had raised interest rates. Whether jokingly or not, the remarks follow the President CNBC interview last month where he said was "not thrilled" with rate increases, breaking with the tradition of Presidents avoiding direct comments on monetary policy that put into question the Fed's independence.
Currencies
Although the USD was already trading with a soft tone, the President's remarks weighted on the USD and also contributed to the move lower in UST yields. The USD ended the day marginally lower with DXY down 0.21% and BBDXY down 0.26%.
Looking at G10 currencies the USD was weaker across the board with SEK the only pair unable to make any inroads against the greenback. The South African rand led the gains within EM, but notably the Turkish Lira and Brazilian real were the big EM losers with both pairs down over 1%.
Following Friday's news of a US China plan to settle their trade dispute, the AUD has been on a steady rise and currently trades at 0.7340, after trading to a low of 0.7203 last week. The improvement in risk appetite evident by gains in EM equity markets as well as a rise in most commodity prices (see more belwo) have helped the AUD. The fate of Sino-US trade talks, scheduled to restart this week, is pivotal to whether AUD/USD can recover back above 0.75 or revisits the 0.68-0.69 2015-2016 lows. We don't expect any major outcomes from this week's talks, but come September focus will turn on whether the US decides to go ahead with additional tariffs on $200bn China imports or whether a truce is agreed and the decision to impose new tariffs is deferred. If the latter is agreed, that would be a positive outcome for risk sentiment and it would open the door for the AUD to trade back above 75c. For now the market seems to be travelling with guarded optimism.
The improvement in risk sentiment has not been much help for the NZD. The pair currently trades at 0.6644, essentially unchanged over the past  24hrs with the NZ domestic story limiting the kiwi's ability to perform in spite of a soft USD environment. Yesterday in our Global FX Strategist publication, following a downgrade to our NZ growth and rates outlook as well as slightly softer expected terms of trade trajectory, we lowered our NZD forecast. We now see the kiwi trading in the high 0.60s, rather than averaging around 0.70 over the next 12 months.
A rally in Italian sovereign yields has contributed to the euro outperformance overnight with the pair now trading at 1.1490, after initially trading down to an overnight low of 1.1398. 10y BTPs are now at 3.00% after trading to a high of 3.15% last week. The move lower in Italian sovereign bond yields has come about despite media reports Italy is drawing up plans for an EUR80bn infrastructure spending following the Genoa bridge tragedy. If no other savings were found this suggests the budget deficit could rise to above 6% of GDP from 2.3%.
Bonds
US Treasuries rallied up to 4bp across the curve, taking 10yrs to 2.82% – the lowest level since July and the bottom the 20bp range that has defined price action since July. The 2s10s curve flattened to 23bp – yet another low since 2007. Amid limited news flow, our rate strategists note that positioning has played a part with the latest CFTC positioning data showing speculative shorts in Treasuries are at historically stretched levels
Equities
US and European equities followed the positive lead from Asia and have started the week with gains across the board. Yesterday the Shanghai index climbed 1.11%, almost fully reversing the 1.34% loss recorded on Friday, prospects of a US-Sino trade resolution appears to have been the catalyst for the recovery.
The S&P 500 Index closed higher for a third day in a row, although gains were pared in the final hour of trading after President Donald Trump said China and Europe manipulate their currencies, according to a Reuters report. The President also noted that when U.S. puts tariffs on China, China artificially lowers price of the yuan.
Commodities
Copper and Aluminium have led the gains in commodities, up 1.45% and 1.23% respectively and gold was not too far behind up 0.88%. Oil prices climbed around 0.80%, iron ore was unchanged, but Zinc and lead were unable to join the party, dropping 0.5% and 0.78% respectively.
Economics
In a speech, Atlanta Fed President Bostic outlined the case for further gradual Fed Funds hikes to a neutral level. He said "we worry about the flatness of yield curve" and he wouldn't vote for anything that knowingly inverts the curve.  In a later Interview, he indicated he still favoured three rate hikes for all of 2018.  That puts him at the dovish end of the spectrum of FOMC members.  Current market pricing shows a near-80% chance of two further hikes this year, taking the number of hikes to four for 2018.
Coming up
RBA Governor Lowe speaks in Canberra at 8.00 am Sydney time, the RBA August policy Meeting Minutes are released this morning and on the other side of the Tasman, New Zealand gets net migration figures along with Credit Card spending (both for July).
We have had fair bit of RBA communication recently so we don't expect to learn a great deal from the Governor's speech and the Minutes. Key message should remain unchanged, the Bank expects gradual progress toward full unemployment and a rise in inflation, and therefore the next move is likely an interest rate hike, but not for a while.
Japan Machine tool orders (July F) is the data highlight during our day with UK Public sector spending and Canada Wholesale trade figures the notable data releases tonight.
Market prices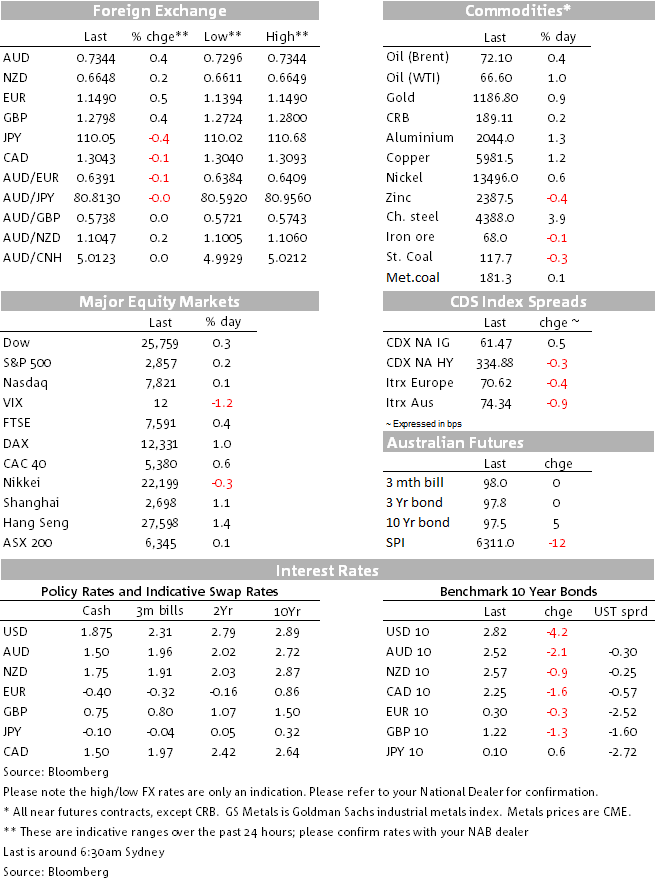 For further FX, Interest rate and Commodities information visit nab.com.au/nabfinancialmarkets