Markets Today: All quiet except on the oil front
There's been very little movement in anything overnight, except the price of oil.
Today's podcast
Overview
European equities closed sharply lower while US equities end mixed to flat
Oil gets a boost on news that OPEC is considering a smaller increase in output
The USD is little changed but commodity linked currencies underperform
AUD now a few bps above its year to date low
No new news on the US-Sino trade front along with no first tier data releases have resulted in a relatively quiet night for markets. European equities had a bad night while US equities closed flat to modestly lower. News that OPEC is considering a smaller increase in output has lifted oil prices, but commodity linked currencies are amongst the underperformers amid an overall mixed night for commodities and lingering concerns over the next move in the ongoing US-China trade spat. Over the past 24hrs, the AUD is down another 20pips and now it is only a few pips away from it 0.7412 year to date low.
A negative lead from Asia and residual pricing of China's trade retaliation weighed heavily on European equities at the open.  German political turmoil over immigration didn't help the cause either and consequently all major European equities closed down between 0.4% and 1.36%.  Chancellor Merkel's CDU party has come under pressure from its Bavarian coalition partner, the CSU, to come up with a plan to deal with the migration/refugee issue. The Bavarian state election is being held on October 14 and the CSU which currently holds the state is under pressure from the right-wing AfD (polling has CSU at 41% and AfD at 13.5%). Germany's interior minister, Horst Seehofer, wants police stationed at borders to turn back refugees and migrants arriving from other EU countries but the CSU has now given Merkel two weeks' grace to reach migration agreements with EU partners. Importantly, Seehofer has been reported as saying  that "No one in the CSU is interested in bringing the chancellor down, or dissolving the CDU/CSU parliamentary partnership or destroying the coalition,". The German political tension emphasises how important it is for Europe to find a solution to its migration/refugee problem, the issue is creating a wave of political uncertainty across the whole of the Union and it is certainly an additional weight on the Euro. Not helping the cause either, President Trump decided to get involved in the action tweeting "Big mistake made all over Europe in allowing millions of people in who have so strongly and violently changed their culture!" adding that "crime in Germany is way up". In May, Germany's interior ministry recorded the lowest crime levels since 1992, but never mind, clearly there is no love lost between Trump and Merkel. Notably too, Trump's tweet comes at a time when his administration is under severe political pressure given his policy of separating children from parents detained at the Mexican border.
Meanwhile oil prices got a boost overnight (Brent +2.60%, WTI 1.18%) following reports that OPEC  is aiming for a deal to increase production by  300-600k barrels a day, below the initially flagged 1-1.2m barrels a day by Saudi Arabia/Russia. Although Iran apparently remains opposed to any increase to current quotas, officials from other countries are optimistic that an agreement can be won for a relatively modest hike at this Friday's meeting in Vienna.
The increase in oil prices provided an initial uplift to US Treasury yields, but a soft US equities close has been accompanied by a small decline in UST yields. The 10y tenor is now at 2.915%, about 0.5bps lower on the day and with the 2y tenor about 0.5bps higher at 2.55% the steady flattening of the UST curve continues with the 2y10y curve 1bps lower at 36bps, its flattest levels since October 2007.
Notwithstanding the increase in oil prices, commodities have had a  mixed night. Coal and Aluminium are slightly higher (~0.7%), but copper and other metals are down ~0.60%. So  a mixed picture in commodities coupled with the ongoing US-Sino trade uncertainty has seen commodity linked currencies mildly underperform the USD overnight. AUD has led the decline, down 0.31% over the past 24 hours, softness in the European session dragged the AUD down to an overnight low of 0.7414, but in the past few hours the pair has crawled back to 0.7422 where it currently trades. The year to date low of 0.7412 remains a precarious but key support level. A break sub this level could open the door for the AUD to trade down into the low 73 cents. Despite a seemingly buoyant risk appetite as depicted by the VIX index at a low 12.3 reading, trade tensions and emerging markets performance remain key factors for the AUD's fortunes near term. The AUD is often seen as a G10 FX proxy for China/EM and we would expect it to continue to underperform if trade tensions between the US and China escalate  (note the JP Morgan EMFX index is 0.3% lower on the day).
The GBP is down 0.2% and currently trades at 1.3245 amid ongoing Brexit negotiations and UK political infighting.  Overnight the Lords voted 354 to 235 to pass the rebels amendment to the "meaningful vote" Bill, the Bill now returns to the House of Commons for a vote on Wednesday. Also overnight, the FT reported that some British and European officials now expect Brexit negotiations won't be concluded until November or December, with the upcoming EU meeting (June 28-29) unlikely to see much progress. While we still think common sense will prevail and the two sides will finalise a transition agreement for after March 2019, it looks like the negotiations will go down to the wire and Brexit-related uncertainty will persist for the coming months (which in turn may weigh on the GBP).  The BoE also meets this week, with no change on rates expected but the market will be tuned into the Bank's outlook; the August meeting is currently around 50% priced for a hike.
 Coming up
This morning New Zealand gets its Q2 consumer confidence reading and Australia gets Q1 House prices along with the RBA Minutes from its June meeting.
AU house prices are expected to have declined -1.5% q/q, reflecting modestly weaker growth in Sydney and Melbourne. As for the Minutes, we don't expect any surprises, a lower unemployment rate and faster wages growth (required for a "sustained pick-up in inflation") are prerequisites for the RBA to consider lifting the cash rate.
ECB Dragi, Praet and Lane speak  at the ECB Conference in Sintra, Portugal (Draghi speaks at 6pm AEST). Fed Bullard also speaks at the same conference later tonight.
US housing starts and building permits are the only notable data releases.
Market prices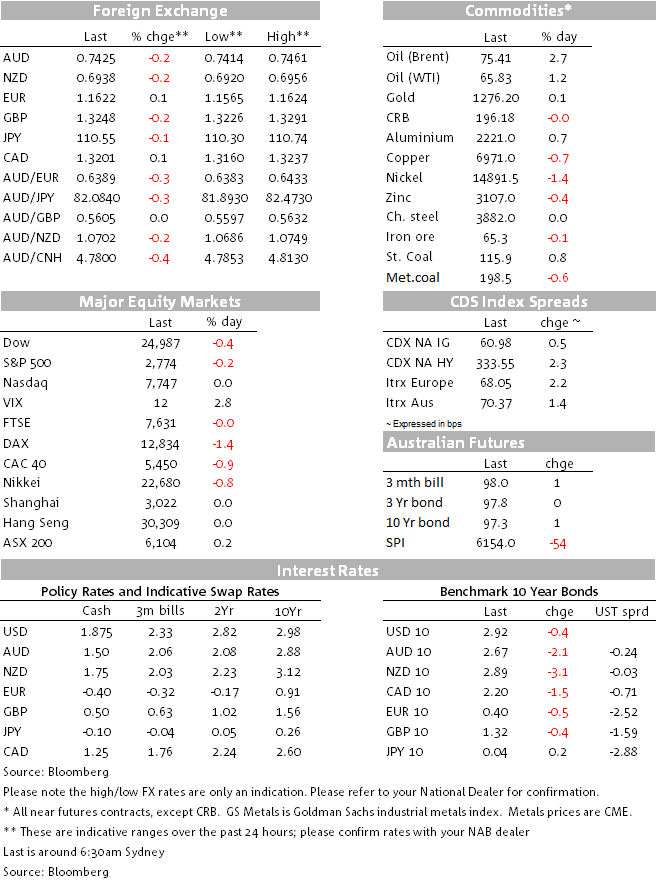 For further FX, Interest rate and Commodities information visit nab.com.au/nabfinancialmarkets