Markets Today: Apple, Brexit & the US Fed
The US equity markets are mixed ahead of the Apple earnings results.
Today's podcast
Overview: Marking time
Markets are marking time ahead of major risk events over the next two days
US Consumer confidence falls to 16 month low
UK Parliament begins voting on Brexit amendments
US-China trade talks– Mnuchin expects "significant progress" to be made
AUD a tad softer after yesterday's very weak NAB Business Survey
Coming Up: Apple earnings reports after the bell, AU CPI, Brexit Votes, US-China trade talks begin tonight, FOMC tomorrow morning
Understandably, price action overnight has been pretty subdued ahead of a series of events which have the potential to determine markets' direction over the coming months. UK MPs are voting now on the seven Brexit amendments, Apple is due to report after the bell, US-China trade talks begin tonight and we have FOMC tomorrow morning.  The AUD is a tad softer after yesterday's very weak NAB Business Survey and ahead of Australia's Q4 CPI data today. The USD is steady and UST yields are a few bps lower with a softer consumer confidence reading a factor at play.
US equities have traded in an out of positive territory although technology shares are notable underperformers ahead of earnings by Apple and AMD after the bell. After an initial sharp decline followed by a recovery, the NASDAQ index is down 0.81%. The S&P 500 is -0.24% with IT and Communication the sectors in negative territory. Earnings results from US corporates have sent mixed messages. 3M beat both revenue and earnings expectations, and reported growth across all regions in Q4 (albeit with some slowdown evident in China).  Meanwhile, pharmaceutical company Pfizer said it expected little or no increase to revenues in 2019 and US wireless provider Verizon forecast flat earnings this year, disappointing the market.  While around 70% of corporates have beaten earnings expectations so far this quarter, a recurring theme has been slower growth in China and more cautious earnings guidance for the year ahead. 
US-China trade talks begin tonight and US Treasury Secretary Mnuchin has been on the wires talking up the prospects of a deal. Mnuchin said that if China presents enough trade concessions to President Donald Trump, there's a chance the administration may lift all tariffs. Yesterday the WSJ reported that early indications are that the two sides remain sharply divided, implying that it will be difficult to achieve significant progress over the next two days. The deadline for a deal is March 1st, so there is still plenty of time for more drama, if negotiations fail, President Trump promised to increase the current 10% tariffs on $200bn Chinese imports to 25%, conversely a signs US-China trade deal is in the offing would be a major boost to risk assets given the growing evidence of a slowdown in growth in China and the global economy.
In currency land, the USD is little changed in index terms. A tad stronger against EM with BRL the underperformer (-1.22) and against the majors USD indices are a tiny bit stronger, largely reflecting some weakness in CHF ( -0.35) and AUD( -0.17%).
Yesterday the AUD traded down to a low of 0.7138 following a very sharp fall in business conditions to +2 from +11. its largest monthly fall since the GFC.  Our NAB colleagues caution against reading too much into a single monthly reading, and noted that the volatility in equity markets in December and some noise probably affected the result.  The next NAB Survey will carry greater importance than normal, and if the survey doesn't bounce back, it points to a more subdued economic outlook than that embedded into the RBA's forecasts.  RBA Board Member Harper gave an upbeat assessment of the Australian economy in a later WSJ article and said he thought the next move by the RBA would be a hike, although the interview took place before the NAB Survey was released. AUD now trades at 0.7152 ahead of Australia's Q4 CPI. NAB's forecast for CPI is for low headline and core inflation outcomes in Q4. We expect Q4 headline inflation to print below-market at +0.3% q/q +1.6% y/y (mkt: +0.4% q/q), although we note some upside risk of an 0.4% q/q print, following NZ's CPI data.For core inflation, NAB forecasts a trimmed mean print of +0.4% q/q, +1.8% y/y (at mkt) and the weighted median at +0.4% q/q, +1.6% y/y (mkt: +0.5% q/q). A soft inflation outcome, as we expect, is unlikely to help the AUD today.
Overnight, the UK House speaker Bercow selected seven amendments to delay Brexit and renegotiate the deal to go to a vote. Voting has commence  and the Copper amendment has been rejected by Parliament, this amendments sought to  block a no deal via an extension to Article 50. As we type GBP is falling on the news, down to 1.3096 from 1.3169 a few minutes ago. There are more amendments still to come which could still be GBP positive. For instance the Spelman amendment, a Tory motion to not leave the EU without a deal and Reeves (Labour) which is actually a cross-party motion to extend Art. 50 by two years if there is no deal by 26 Feb.
US Treasury yields are modestly lower overnight, with the 10 year Treasury yield falling 2bps to 2.72%.  A much weaker than expected US consumer confidence reading was partly to blame.  The Conference Board index fell sharply in January, to its lowest level in 16 months, although it remains at historically elevated levels.  The fall in the index was driven by the future expectations component (likely related to the recent fall in the US stock market and the government shutdown) whereas consumers' assessment of their present situation was more optimistic. Nick Smyth, our BNZ market strategist notes that the Treasury market is focused on the FOMC meeting tomorrow morning (in which Chair Powell will give a press conference), and payrolls and the ISM manufacturing survey on Friday.  The 10 year Treasury yield has been locked in a tight 2.65% – 2.8% range over the past three weeks.
Looking at commodities, oil prices continue to lead movements within the sector and after a sharp drop yesterday, prices are higher today buoyed by news that the US has imposed sanctions on Venezuela's state-owned oil company PDVSA. The move is seen as a strategy by the US to cut-off foreign currency flow to President Nicolás Maduro's government. Aluminium and Nickel prices are also higher ( +1.4% and 2.5% respectively) while copper is not far behind at 0.9%. Meanwhile it was another steady nioght for iron ore and coal.
Economics
S&P/Case-Shiller (CS) 20-city home price index was +0.3% m/m in Nov (sa), slightly below the +0.4% consensus. The yoy change was +4.7% in Nov, down from 5.0% in Oct.
The Conference Board's consumer confidence index fell to a 16-month low of 120.2 from a downwardly-revised 126.6, below the consensus, 124.0
Coming up
JN Retail Sales Dec P
AU CPI 4Q
GE GfK Consumer Confidence Feb
US  New Home Sales Dec
US Wholesale Inventories Nov F
GE CPI Jan P
US ADP Employment Change            Jan
US GDP Annualized QoQ     4Q A
US Core PCE QoQ   4Q A
US FOMC meeting rate decision
US Fed Chairman Powell Holds Post-FOMC Press Conference
Market prices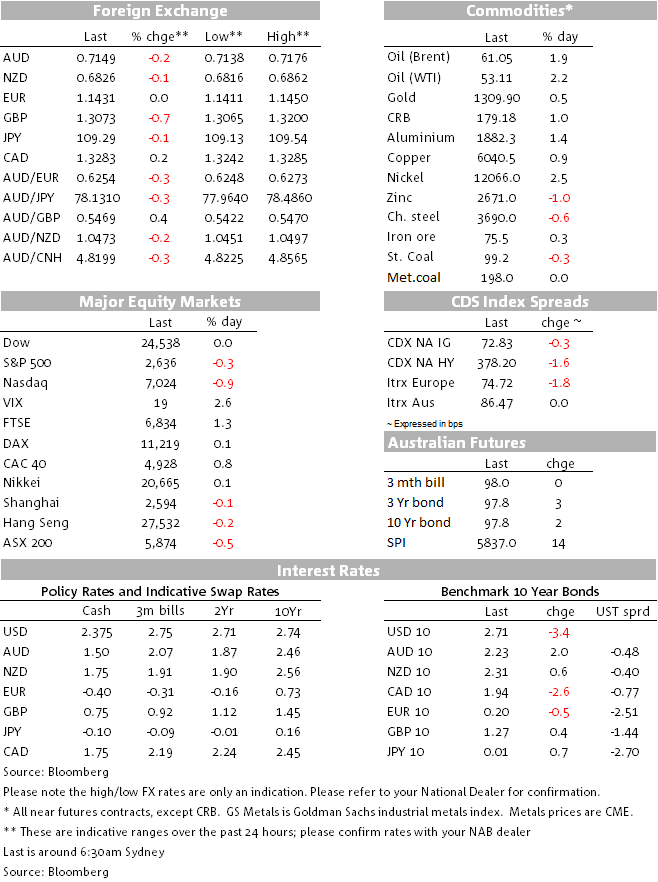 For further FX, Interest rate and Commodities information visit nab.com.au/nabfinancialmarkets