Markets Today: Breakdown
The crisis in Turkey's currency is having ramifications far afield.
Today's podcast:
Overview
Turkish Lira -16% Friday, -25% on the week; opens in APAC down another 12%
AUD/USD and EUR/USD both -1% on Friday, AUD off another 0.5% in early APAC
Financials lead European, US stocks markets lower on Turkey exposure concerns
DXY @ 96.4 best since 27th June 2017.
US core CPI 0.2% as expected but 0.24% unrounded so yr/yr 2.4% from 2.3%
Week ahead: AU Wages, Jobs, NAB survey, Lowe testimony; China July activity, credit
The Turkish Lira's travails dominated the airwaves and financial market price action elsewhere on Friday. TRY ended the New York day 16% lower, having been down 19% at worse, and has just restarted the week above 7.00 to the USD, some 12% lower. President Trump confirmed Friday he was doubling tariffs on imports of Turkish aluminium (to 20%) and steel (to 50%), adding to Turkey's economic travails. Turkish PM Erdogan's on Sunday has said that "interest rates are a tool of exploitation that makes the rich richer and the poor poorer – we won't fall into this trap".  Note the Turkish central bank's key policy rate is currently 17.75% vs an inflation rate of (15.8%).
Turkey's Finance Minister (Erdogan's son-in-law, remember) has just been out saying that Turkey's institutions will take necessary steps on Monday morning to ease market concerns" and that he will "offer fiscal support to strengthen the independence of monetary policy".  We await developments here with interest, as they say.
Recall it was the FT front page story revealing ECB angst at Eurozone bank exposures to Turkey that sparked Friday's EUR sell-off (from above 1.15 versus the USD to below 1.14) while AUD again demonstrated its credentials as the favoured EM risk proxy.  JPY was predictably the best performing G10 currency Friday and the only one to rise versus an otherwise stronger dollar, with DXY ending 0.9% higher and BBDXY +0.7%.  The 96.36% DXY closing level is its highest since 27th June 2017.
US CPI came in at 0.2% in core (ex-food and energy) terms as expected but was 0.24% to two decimal places and meaning the annual rate rose to 2.4% from 2.3%, above expectations.  Base effects are partly to blame here, with CPI inflation now seen cruising in the 2.3-2.4% area for the rest of the year.
CAD was only temporarily stronger after good headline labour market statistics but the underlying details weren't so positive (gains all part time and mostly public sector, while the drop in unemployment was flattered by a fall in the participation rate). Also not positive for CAD, Trump tweeted that while things were going well regarding negotiations with Mexico on a new NAFTA, Canada 'must wait'. "Their Tariffs and Trade Barriers are far too high.  Will tax cars if we can't make a deal" Trump tweeted Friday.
Sterling drew only temporary support from Q2 GDP printing an 'as expected' 0.4%% – though the June monthly read was  0.1% against 0.2% expected. Sterling ended last week as the third worse performing G10 currency after the NZD and SEK.  Brexit negotiations resume in Brussels later this week.
Back to AUD, Fridays break below important trend line support in the 0.7325-50 area is ominous. Having been looking to news on whether President Trump will proceed with tariffs on a further $200bn of Chinese imports next month as the likely fundamental catalyst for a break lower, the fact it has come for other reasons and well ahead of this, bodes particularly poorly.  As noted in our FX Strategy note published on Friday, it doesn't require particularly aggressive assumptions about key AUD fundamental divers (risk sentiment, commodity prices in particular) to generate expectations for a revisit to the September 2015 and January 2016 lows below 0.69.  If Trump doesn't pull back on the next phase of tariffs against China, this now looks increasingly likely.
Equities
Shanghai was the only major equity market not to finish in the red Friday, with European stocks leading the charge lower. Financials (-2.3%) led the 1.94% drop in the Eurostoxx 50 (and 2% fall in the German Dax) and it was financial and materials that led the 0.7% fall in the S&P 500. On the week, the S&P 500 was off 7 points or 0.25%.
Bonds
10yr benchmark bonds in the US, Eurozone and UK were all 5-6bps lower Friday.  Italy bore the brunt of widening in peripheral EZ spreads, the 10yr BTPs up 8.7bps.
Commodities
Impending (November) sanctions on Iranian oil exports are one factor continuing to support oil with WTI and Brent both adding over 1% Friday (Brent +70 cents and WTI +80 cents).  Aluminium bucked the trend of weaker industrial metals elsewhere (LMEX -0.33%) with zinc the day's biggest faller.  Gold was little changed.
Economic data
US July core CPI 0.2% as expected, but 0.24% unrounded, pushing yr/yr up to 2.4% from 2.3%, above the 2.3% consensus.
Headline CPI 0.2% as expected, yr/yr unchanged at 2.9% as expected
Canada July employment 54.1k vs. 17k expected and 38.4k in June
Canada unemployment 5.8% from 6.0% better than the 5.9% expected, but aided by a 0.1% fall in the participation rate to 65.4%
Full time/part time split -28k/+82k, with 49.6k of the overall 54.1k new jobs in the public sector
UK Q2 GDP +0.4% q/q/1.3% y/y as expected
UK June GDP 0.1% (0.2%E, 0.3%P)
UK June industrial production 0.4% (0.3%E, -0.2%P revised from -0.4%)
UK June manufacturing production 0.4% (0.3%E, 0.6%P revised from 0.4%)
UK June visible trade balance –£11.4bn (-£11.95bn E, -£12.52bn P)
Core Logic's Weekend Market Summary shows a preliminary Australian-wide auction clearance rate of 59.1% vs. last weekend's final 54%. Sydney cleared a preliminary 59.1% of its 459 auctions vs a final 51.9% last week, Melbourne a preliminary 61.3% against a final 57% on 629 auctions. Overall auction volume of 1,400 was up on 1,324 last weekend but down on 2,040 on the same weekend last year.
Coming up
There's plenty of local and China-related event risk to confront AUD this week – latest WPI (Wed) and jobs data (Thu) here, China July activity readings (Tuesday) and credit/money supply data (any day now). But the likelihood is that the travails of the Turkish Lire and the extent of contagion both to other EM and Eurozone markets (bank stocks in particular) will have far greater bearing on local and international markets.
Market prices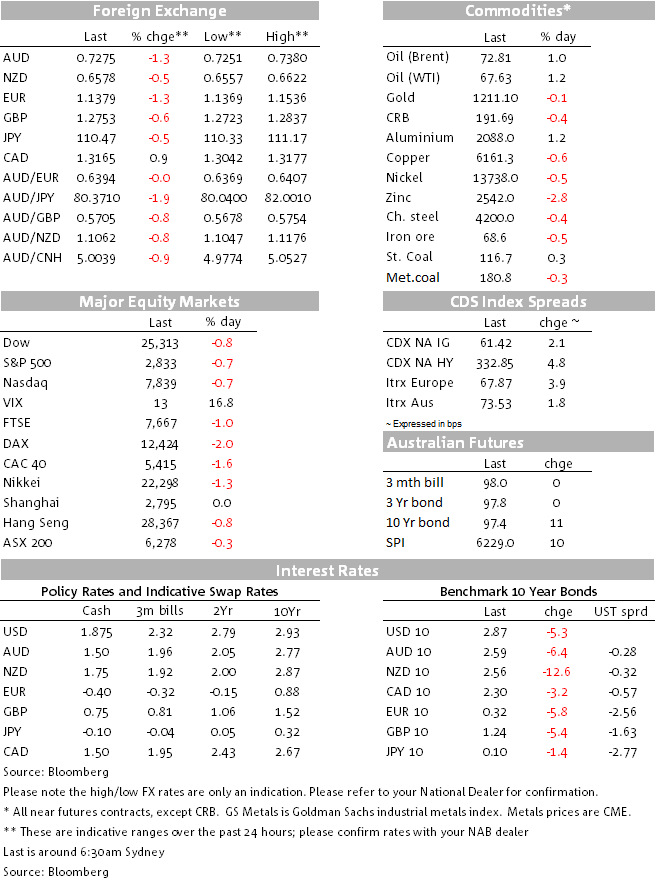 For further FX, Interest rate and Commodities information visit nab.com.au/nabfinancialmarkets