Markets Today: Brexit and a bucket of salt
With just 137 days until Britain leaves the EU, how low could the pound could sink given the rising uncertainty?
Today's podcast
Overview: What are we fighting for
King Dollar surges on UK-EU political uncertainty
US equities start week under pressure with tech shares again leading the declines
Sentiment not helped by Trump's administration's plan to introduce IP retaliation measures
Oil prices jumps first on OPEC news and then fall hard on Trump's tweet
AUD drifts below 72c and NZD holds up better
What are we fighting for? What will I tell my daughter? What will you tell your son? – Live
USD Indices have made new highs overnight with GBP and EUR leading the G10 declines amid increasing concerns PM May won't be able to get her Brexit deal through Parliament while Italian budget uncertainty has also weighed on the Euro. US equities have started the new week under pressure with tech shares again leading the declines and sentiment has not been helped by the Trump administration's plans  to introduce intellectual property (IP) retaliation measures against China. Oil prices jumps first on OPEC news and then fall hard on Trump's tweet. AUD has drifted below 72c, but NZD is holding up better and remains trading above 67c.
Currencies
Yesterday GBP opened lower and continued to drift down over the course of the day and night. There have again been conflicting reports on whether UK and EU negotiators are close to agreeing a deal to present to the UK cabinet.  The FT reported that the main aspects of a draft text were ready to present to the UK cabinet on Tuesday.  However, the Guardian reported that the UK had all but given up on a special EU Summit in late November, as the two sides remain deadlocked on several key issues (most notably the Irish border).  EU and UK negotiators need to agree a deal by the end of Wednesday, for sign-off by the UK cabinet, to allow time for a November EU Summit.
So given the above GBP is the weakest G10 currency, down 0.90% on the day to 1.2850. The weakness in the GBP has spilled over into the EUR, which continues to trade as a 'low-beta' GBP.  The EUR broke through support at 1.13 and now trades at 1.1238, its lowest level since June 2017.  Italian concerns have also weighed on the EUR.  Italy needs to present a revised Budget to the European Commission by the end of today, although Deputy PM Salvini warned that "the budget doesn't change because the EU sends us letters."  The European Commission could, in theory, impose financial sanctions on Italy if it believes the budget breaches the fiscal rules of the bloc.
The flip-side of the weakness in the GBP and EUR has been USD strength.  The major USD indices are up between 0.4% and 0.6%, and have made 18 month highs.  DXY now trades at 97.54 and BBDXY is at 1213.
AUD has drifted below 72c  and is down 0.48% compared to levels this time yesterday. The Aussie remains at the mercy of market sentiment at the moment, weakness in equities is one factor, but political tension is another. Thus it is hard to see the AUD trading back above 73c until sentiment improves. Either way development in the UK and Europe are likely to be important this week.
In contrast NZD has held up very well in spite of the USD's renewed strength and further falls in equity markets. Nick Smyth,  BNZ Strategist's notes that the NZD is down only marginally from Friday night's close, and currently trades at 0.6722.  The resilience of the NZD is probably explained by further unwinding of NZD short positions as the market continues to recalibrate its RBNZ expectations in the wake of the exceptionally strong NZ employment report.
Equities
US equity markets have come under renewed downward pressure overnight, with chunky falls across the major benchmark indices.  The S&P500 is down 1.47% as we write, while the NASDAQ has again led the way lower, down 2.21%.  Apple shares are down more than 4% on the day, and over 16% from the recent peak, after some of its suppliers forecast slowing demand (recall Apple said at its last earnings report that it would no longer supply iPhone unit sales, which some analysts interpreted as an attempt to move attention away from slowing iPhone demand).  And a WSJ report that the Trump administration was planning to use export controls, indictments and other tools in retaliation for alleged Chinese intellectual property theft didn't help sentiment either. The parliamentary math is looking increasingly difficult for Theresa May to pass any prospective deal, which increases the likelihood of either new elections or, possibly, even a second referendum.
Bonds
The US bond market was closed, although Treasury bond futures indicated a 2bp fall in the 10 year rate to around 3.16%.  In Europe 10UK Gilts closed 3.8bps lower to 1.45% amid Brexit uncertainty and 10y Bunds closed 1bps lower to 0.39%.
Commodities
Oil prices initially rose on Monday in response to Saudi Arabia's announcement over the weekend that it would reduce its oil production by 500,000 barrels per day next month.  Brent Crude was up 1.6% and West Texas Intermediate was up 1.2%, but then later in the overnight session prices collapsed following President Trump's tweet criticising of the Saudi Plan. Trump tweeted "Hopefully, Saudi Arabia and OPEC will not be cutting oil production. Oil prices should be much lower based on supply!"
Reaction to the Tweet has seen oil prices collapse with WTI now 2% lower on the day while Brent is down 1.42%. Commodities in general alos had a bad day, with  iron ore down 0.41% , copper 0.50% and Aluminium 0.61%.
Coming up
The NAB business survey is the domestic focus today and NZ gest REINZ House. Fed Daly speaks on the Economic Outlook this morning and later in Europe the UK gets Labour market data, the Zew survey is out  in Germany and the NFIB survey is released in the US.
Market prices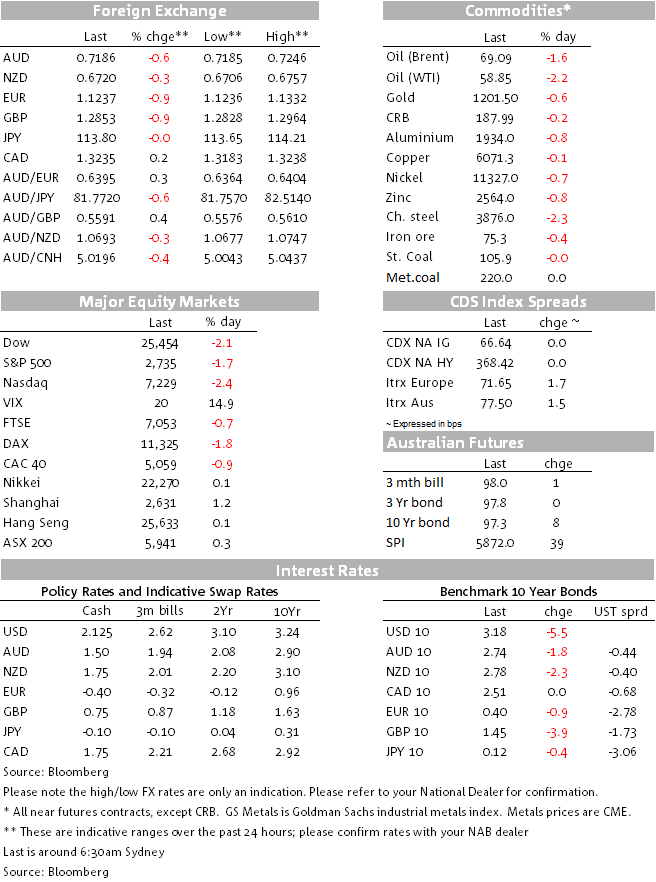 For further FX, Interest rate and Commodities information visit nab.com.au/nabfinancialmarkets