Markets Today: Brussels versus Britain
The next battle for Theresa May is in Brussels – will the EU accept her proposal, at least as a starting point? Plus, US 'poised' to release $200bn China tariff list, puncturing risk-positive offshore sentiment.
Today's podcast:
Overview: Tour de France
US 'poised' to release $200bn China tariff list, puncturing risk-positive offshore sentiment
News comes post NY close, swiftly reversing the risk-positive sentiment that prevailed offshore
Prior to this football, cycling and cave-rescuing proved far more engaging than markets
Good morning
Just as we went to hit the 'send' button at 7am, red headlines hit the screens saying 'U.S is said poised to release $200bn China tariff list'.
This was exactly what President Trump said he would do if China retaliated against the imposition of tariffs on the $50bn worth of Chinese imports, $34bn of which came into effect last Friday and to which China immediately countered.  While not unexpected, we continue to view latest US actions, assuming they are confirmed, as a negotiating tactic designed to get China back to the negotiating table on trade, in particular since going ahead with such as plan will inevitably impose significant burdens on US consumers (higher prices, as well as probable job losses). Note in this regard, as the FT's John Authers did yesterday, that the price of washing machines have risen by 17.7% since Trump imposed import tariffs at the end of last year
For now, the news brings trade concerns firmly back to the centre of the market radar, just as Trump heads to Europe and where he has tweeted beforehand "Getting ready to leave for Europe. First meeting – NATO. The U.S. is spending many times more than any other country in order to protect them. Not fair to the U.S. taxpayer. On top of that we lose $151 Billion on Trade with the European Union. Charge us big Tariffs (& Barriers)!"
The immediate response to the headline has been to knock 30 pips off AUD/USD (to 0.7440) reinforcing the sanctity of what we regard as a 0.75 range top, and USD/JPY off 40 pips to just below ¥111 after posting its highest level since 21st May earlier in the night.
Look for a broader sell-off in risk markets across Asia today and with that probable deeper losses for the AUD.  The CNY fix will be worth noting
Before the above…..
There's been more engaging things going on elsewhere in the world this week than in financial markets, one of them in Thailand and two of them involving France and who have just booked their place in Sunday's World Cup final. This scribe can but hope it will be versus Les Anglais. Kraftwerk who have the titular honours, by the way – big cycling fans apparently.
Ahead of the US quarterly earnings season which kicks off tonight – PepsiCo the first major household name out of the traps with JP Morgan, Citigroup and Wells Fargo all due on Friday – the S&P500 has just closed up 0.3% and to a fresh four month high. While not to the same extent, Emerging Market equities are also back on the up, while the JPM Emerging Market Currency Index is up 0.7% thanks largely to some outsized gains for of 1-2% for the Brazilian Real, Mexican Peso and South African Rand.
Despite this, the Aussie dollar was virtually flat on where it was this time yesterday at 0.7470, failing in an attempt to recapture the psychological 75 cents handle.  Here, we'd note that the US dollar has found a bit of stability after a soggy start to the week, albeit back from its intra-day highs to be just 0.1% up on the day.  Earlier strength owed much to the Euro and Sterling coming under a bit of pressure during the European session, in both cases more on data than, in the case of the UK, political developments of which there is nothing earth shattering to speak of.
The Euro took a knock from the latest (July) German ZEW survey, coming in at 72.4 from the Current Situation reading from 80.6 in June and 78.1 expected and with the Expectations series dropping to -247.7 from -18.1 and which might therefore be picking up concerns about an escalation of President Trump's trade tariffs, to include the mighty German auto sector. Incidentally, last night the US said it was from today imposing impose anti-dumping duties of 27% on Spanish olives.  The price of a dirty martini in Manhattan should be next to go up after. This after, as we note above, a 17.7% rise in the price of machine machines since the imposition of import tariffs late last year.
UK data included the first of the new monthly GDP estimate, for the three months to May, which 0.3% and expected, but industrial production data that printed much worse than expected at -0.4% (consensus +0.5%). The headline was suppressed by a 7.8% slump in oil and gas due to unplanned maintenance rising by 0.4%, albeit still below the 0.7% consensus estimate.
On Brexit, Michel Barnier, the chief negotiator for the European Union, said in new York last night that 80% of a deal with the UK has been agreed, which the UK Guardian reports as "somewhat of a change of narrative that suggests a full agreement can be sealed before October's deadline" He added that he was determined to negotiate a deal on the remaining 20%. The declaration that four-fifths of the deal is done is a significant change of tone from the EU after months of protests that it could not negotiate because the UK had not put its own proposals on the table.  More ominously though, he says that "It will be clear, crystal clear at the end of this negotiation that the best situation, the best relationship with the EU, will be to remain a member,"
In the US, we got the NFIB (small business optimism) survey which fell to a still very high 107.2 from 107.8 (106.9 expected) and May JOLTS (job openings0 which slipped to a 6.638mn annual rate from 6.840mn in April but still above the 6.62mn rate expected
Yesterday, NAB June business survey showed little changed from prior, still robust, levels. Business conditions up 1pt to +15bps – well above long run average of +6bps and consistent with above trend growth in non-farm GDP.  Confidence was down 1 to +6.  There's still no evidence of wage or price pressure emerging – the survey measures of these have basically been unchanged for past year.  Key indicators like employment and forward orders have ebbed a little but remain above long run averages.  The bottom line is that any movement on rates from the RBA still feels a long way away.
Coming Up
Trade worry warts now back front and centre for markets after the above headlines
Data wise, locally, we get the Westpac July consumer confidence reading (last at 102.1 and up 0.3% last month) and then May home loan data. The latter will be watched for signs of tightening credit conditions, which some fear will materially impact the housing market. The market is expecting a decline of 2% m/m, while NAB expects a smaller 1.1% m/m decline
Offshore tonight US PPI is the main economic event, ahead of the more important CPI release on Thursday.  Core PPI (ex-food and energy) is seen rising to 2.6% from 2.4%.
The Bank of Canada meets and where a 0.25% rate rise is to be expected.
 Market prices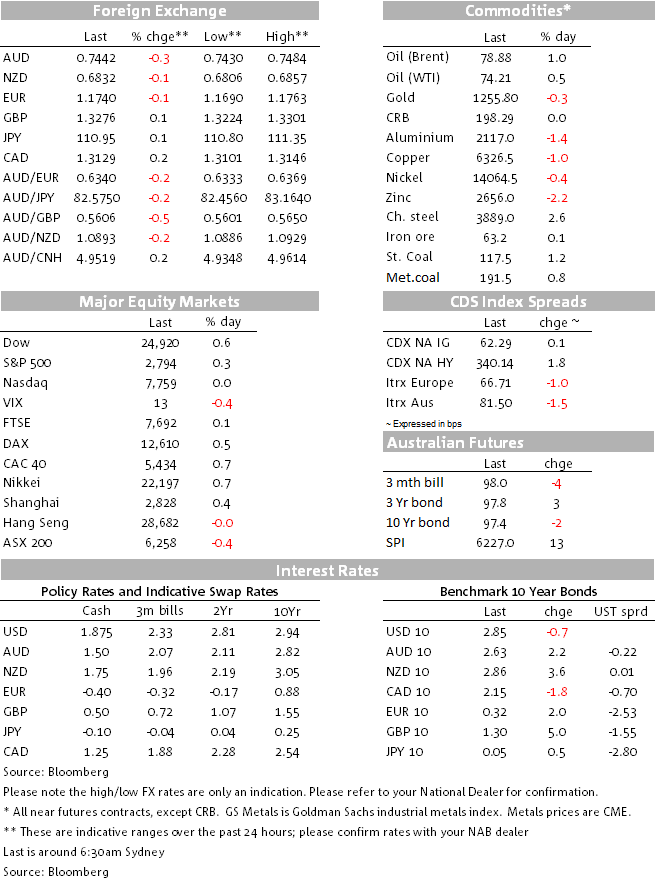 For further FX, Interest rate and Commodities information visit nab.com.au/nabfinancialmarkets