Markets Today: European bonds hit by Italian populism
In Italy, the populist parties aiming for a coalition Italian government are said to be demanding a €250bn debt write down by the ECB.
Today's podcast
Overview
Commodity currencies bounce back, aided by oil and failure of USD to push ahead despite UST 10s hitting 3.10%
Pervasive EUR weakness and BTP/Bund spread widening on reported 5-Star/League policy proposals
AU employment due
Commodity currencies have all made a decent comeback since Australia went home on Wednesday despite a fairly mixed performance from commodity prices, albeit Brent crude has now topped $79 for the first time since November 2014.  Euro weakness has much to do with it, linked to Italian politics. Risk markets have recovered from the mini-shock of 10-year Treasuries hitting 3.09% on Tuesday, US stocks closing in the green even though US 10s have just traded at 3.10% for the first time since July 2011. The S&P 500 has ended in New York +0.4% and the NASDAQ +0.6%.
The CAD, AUD, NOK and NZD are all shown gains of 0.5% or more against the USD in the last 24 hours, while EUR/USD is 0.3% lower. In the case of AUD/USD, this is after the pair traded as low as 0.7450 in the immediate aftermath of yesterday's Q1 Wage Price Index, recording another 0.5% outcome (0.47% to be precise) and reinforcing prevailing sentiment that the RBA is not going anywhere for a good while yet.  This morning's April labour force data is unlikely to alter this perception.  Incidentally, we'll be conducting a live webinar on Friday morning (10:00 AET) updating our thoughts on the AUD. Please contact your NAB representative today if you haven't received an invitation and would like to tune in.
It's tempting to attribute the AUD's comeback to reports yesterday that the Kazakhstan central bank has increased its reserve allocation to Australian dollars from 5% to 8%, but for a central bank with barely $4bn worth of reserves the flows involved would barely have touched the sides of the FX market. Still, a reminder perhaps that despite the cross-over between US and Australian yields, there is no evidence reserve mangers are in general less willing owners of Australian dollars and related financial assets.
CAD sits slightly above other commodity currencies this morning – seemingly thanks to oil – despite the lack of tangible progress on NAFTA negotiations (recall US House leader Paul Ryan set a deadline of May 17th for a 'deal' to be delivered in time to gain approval before the November mid-term elections) and also dovish remarks from Bank of Canada deputy Governor Lawrence Schembri. Schembri said that "in the near term, we have a bit more room than we thought to support demand without sparking undue inflationary pressures," and the "the faster the economy can grow without inflation rising persistently above our target".
Upsetting the Euro along with Italian bond markets at the start of the European trading day yesterday was the reporting of a draft of a document emanating from the 'Conciliation Committee' of 5-Star and League party officials – currently in the throes of trying to form a workable coalition government.  It suggested the ECB should cancel the roughly €250bn worth of debt that the ECB will be holding once its QE bond buying programme is finished (equivalent to about 10% of all outstanding debt).  It also suggests the EU Stability and Growth pact should be radically changed and that the Italian contribution to the EU budget post 2020 should be re-discussed.
All non-starters from the ECB or EU's perspective of course, and indeed a spokesman for League subsequently made clear to reporters that the ECB debt forgiveness proposal was not a feature of later iterations of the document.  What is being proposed though is that the Italian debt held by the ECB is not counted in terms of calculating Italy's Debt/GDP ratio (and which in turn imposes constraints on what Italy can do fiscally under the Stability and Growth pact).  The spread of Italian 10-year bonds over German equivalents, currently suits 20bp higher than 24 hours ago. The EUR/USD exchange rate made a low of 1.1764 overnight (its lowest since 19th December 2017) but has since pulled back to just above 1.18.
Incoming US economic data hasn't been much of an influence on market. US housing starts came in weaker than expected at -3.7% though Building permits at -1.8% was a little less weak than feared.  April industrial  production rose by 0.7% against +0.6% expected.
Coming up
Australian April jobs data is released at 11:30 AET. Consensus is for a 20k rise in employment and unchanged 5.5% unemployment rate.  After two months of soft jobs growth the market and NASB expects a bounce back. We are slightly above consensus looking for a 25k rise, consistent with our internal data, solid employment conditions in the NAB Monthly Business Survey and lifting SEEK jobs ads.   Given this, and assuming no change in the participation rate, our expectation is that the unemployment rate will decline slightly, from 5.5% to 5.4%.
Mid-day AET sees NZ Budget.  This should show a healthy set of government accounts, allowing the government to make good progress towards its pre-election spending promises and still achieve its net debt target of 20% of GDP within five years. It's doubtful the Budget will have any impact on rates or the NZD
Tonight, the Philly Fed survey and weekly jobless claims are the two US economic releases.
Market prices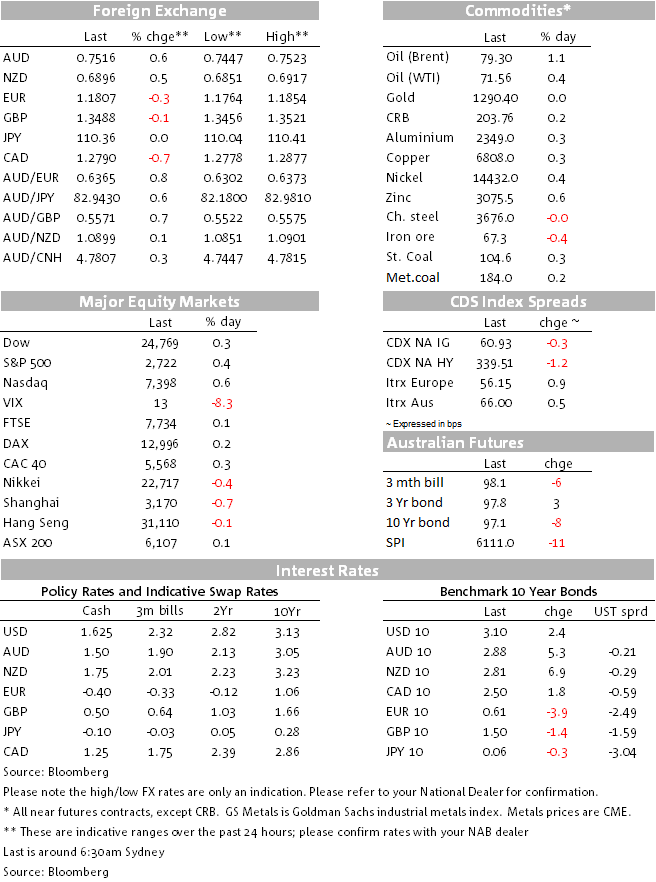 For further FX, Interest rate and Commodities information visit nab.com.au/nabfinancialmarkets