Markets Today: FOMC Minutes, Fed speak feeds the mood
FOMC Minutes just released show Fed more dovish than post Dec-18-19 meeting statement/presser suggested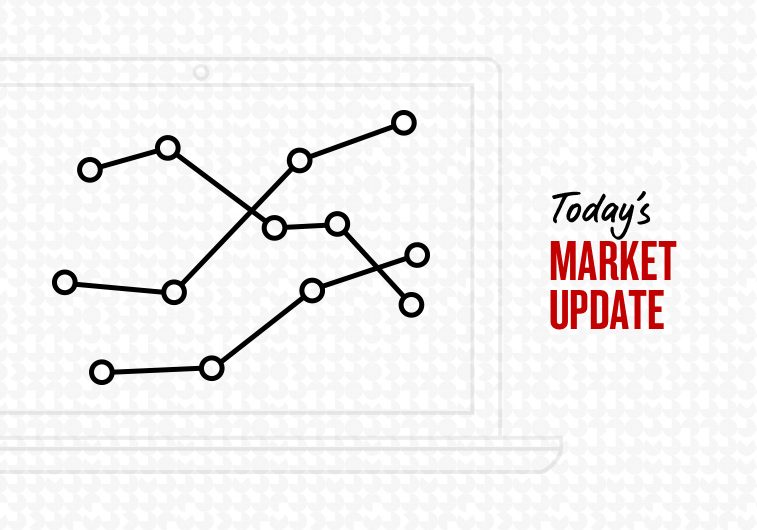 "Flexibility' a new Fed buzzword
Sino-US trade optimism continues to support risk sentiment; oil back in bull market terrain
AUD pushing for 0.72, NZD above 0,.68
Favourable sentiment in regards to prospects for a Sino-US trade deal remain intact after talks ended yesterday following a third day of discussions. Though the official word from the Office of the US Trade Representative was fairly bland (a formal statement is promised on Thursday Morning US time) the WSJ reports that the two sides are making progress toward an agreement but leaving the thorniest issues to be resolved in higher-level talks.

The two sides made progress on issues such as additional Chinese purchases of US goods and services, as well as opening China's markets further to American capital, but remain divided on thornier issues including a reduction of Chinese subsidies to domestic firms and protection of intellectual property, according to sources.

Yesterday Bloomberg reported that President Trump is increasingly eager to strike a deal with China soon in an effort to perk up financial markets, according to people familiar with internal White House deliberations.

Trade deal vibes have kept risk sentiment in the ascendency overnight, with US equity indices 0.5-1.0% higher with 30 minutes of trade to go, but bond yields are lower thanks to the raft of fresh Fed speak and just-released FOMC minutes.  The IT and energy sectors lead the charge, the former on a fresh jump in oil prices, now judged to be in a bull market (see Commodities below)

FOMC Minutes released an hour or so ago reveal that ""Many participants expressed the view that, especially in an environment of muted inflation pressures, the committee could afford to be patient about further policy firming." Though the vote to hike rates was unanimous, the minutes showed "a few participants" favoured no change, with the committee evidently attentive to recent financial-market volatility and risks to the outlook. "Participants expressed that recent developments, including the volatility in financial markets and the increased concerns about global growth, made the appropriate extent and timing of future policy firming less clear than earlier," the minutes said.

Bottom line here is that neither the post-meeting statement nor Fed Chair Jay Powell's post-meeting press conference adequately conveyed the essence of the committee's discussions last month. Had they, the sharp post-meeting sell-off in US stocks could probably have been avoided.

Overnight we've heard from no fewer than four FOMC officials, all of whom have echoes the more cautious sentiments expressed by Jay Powell and before than Bob Kaplan:

Atlanta Fed President Raphael Bostic: "A patient approach to monetary policy adjustments in the coming year is fully warranted in light of the uncertainties about the state of the economy and about what level of policy rates is consistent with a neutral stance".

Chicago Fed President Charles Evans: "Because inflation is not showing any meaningful sign of heading above 2%…I feel we have good capacity to wait and carefully take stock of the incoming data and other developments".

Boston Fed President Eric Rosengren: Weakening growth in China, trade tensions and market volatility all counselled the Fed to be "flexible and patient."  Short end pricing rate cut "catches my attention"

St Louis Fed President James Bullard (uber dove): Fed is "bordering on going too far and possibly tipping the economy into recession" if rates are lifted further.
Bonds
The above Fed speak has meant that Treasury yields are flat to lower despite the latest push higher in stocks, 2s -2bps to 2.56% and 10s flat at 2.73%. Unlike Tuesday when Australian 10 year bond futures underperformed the US, they too are flat in the overnight session.
FX
The AUD has already recovered most of its post-Building Approvals fall-back before we went home last night and has pushed further ahead on the positive risk vibe, generally weaker US dollar and jump in oil prices, making a high of 0.7194.  The NZD has fared even better recouping much of its recent underperformance versus other commodity-linked currencies to break above 0.68 for the first time since December 19th. It has just exceeded the gains chalked up by NOK, the second best performing G10 currency (latter +1.1%).
EUR/USD is up almost 1%, its 1.1557 high the best since mid-October last year.   All G10 currencies are firmer against a USD than in narrow DXY index terms is almost 0.75% lower at 95.2.  The broader BBDXY is -0.7%.
CAD was little affected by an unchanged Bank of Canada rates decision, with BoC expressing a cautious attitude but still seeing the need for some further gradual rate increases.
Commodities
Despite a somewhat smaller than expected draw on oil inventories last week reported by the EIA and a jump in gasoline and diesel stocks, oil has surged by over $2.5 for both Brent and WTI; this puts both blends up more than 20% since their Christmas Eve, 19-month lows.  Confidence in reduced Saudi, Russia and other OPEC+ member shipments, the positive trade vibes and a weaker US dollar are all contributing to the rebound.
Base metals are mixed with aluminium down and copper up. Iron ore is marginally lower and gold $7 higher, again a weaker USD helpful here.
Economic data summary
AU: Building approvals (m/m %), Nov: -9.1 vs. -0.3 expected.
EC: Unemployment rate (%), Nov: 7.9 vs. 8.1 expected.
CA: Bank of Canada rate (%), Jan: 1.75 vs. 1.75 expected
Coming up
China December CPI and PPI
ECB publishes account of its Dec 12-13 Council  meeting
US weekly jobless claims, wholesale inventories
Fed chair Powell speaks n Washington
 Market prices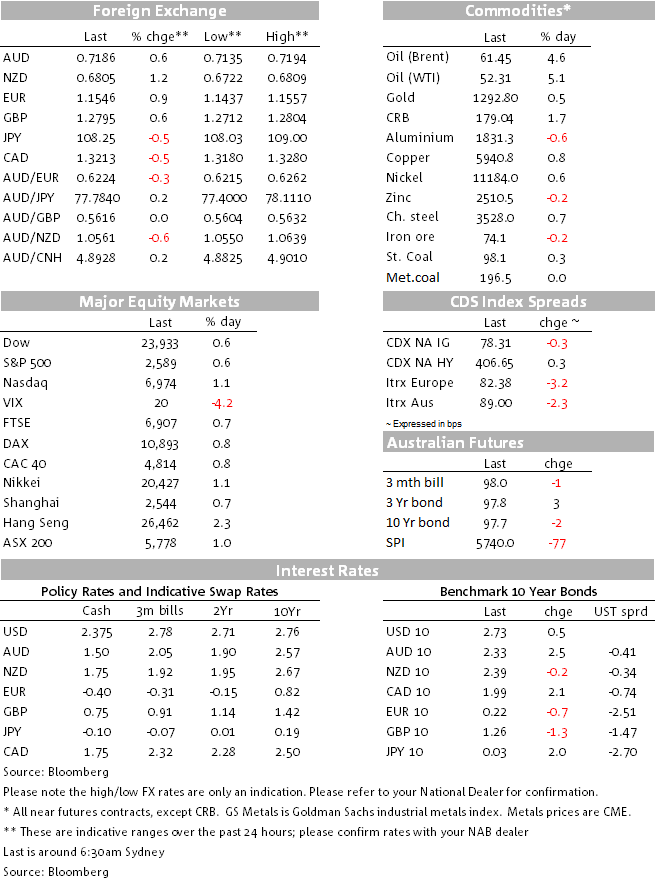 For further FX, Interest rate and Commodities information visit nab.com.au/nabfinancialmarkets