Markets Today: Going nowhere fast
The pound has suffered the most of the major currencies.
Today's podcast
Overview:
AUD trading above 0.71; AUD/GBP whippy as Brexit unnerves Sterling
Equity markets choppy at the start of the week, but bonds rally further
German Ifo Survey's mixed messages but better than PMIs read through
Evan spoke yesterday of on hold/loosening policy risks
Harker speaking in London overnight is forecasting a hike this year and next but noted slight downside risks
Fed funds futures pricing in a cut this year and another next; 2y Treasury yield now at bottom end of Fed funds target range
RBA's Chief economist Ellis speaking shortly at a Housing Industry breakfast
After the shakeout in Asian equity markets yesterday (Shanghai -1.97%; Topix -2.45%, ASX200 -1.11%), equity markets have been less volatile overnight, the Eurostoxx 600 index down 0.45% and as we go to print, US markets closed square.  The read though however from bond markets has been a further rally, especially in the US market and tilted even more at the front end with the 2y Treasury yield down a meaty 6.7bps to 2.2478%, now at the bottom end of the Fed funds target range of 2.25-2.50%.  US 10s are currently down 3.7bps to 2.4018%.
On the back of much weaker than expected read throughs from Friday's German and French Manufacturing PMIs (Germany's manufacturing PMI deeper into sub-50 territory), the market was prepared for a soft reading from the German Ifo Survey for March.  But it was not to be.  The headline Business Climate index increased to 99.6 from 98.7 as did the Current Assessment index to 103.8 from 103.6, both signifying a touch more resilience from German business activity than not only the weak Manufacturing reading but a pull-back in the Services PMI to 54.9.
Under the surface of the headline Ifo Survey improvement was revealed a decline in the manufacturing component, but an improvement in services.
There was no US data of consequence to have spurred the bond market rally, though comments from Chicago Fed President Charles Evans seem to have been something of a spur. Speaking on a panel in Hong Kong yesterday, he said that if activity softens more than expected, or inflation/inflationary expectations run too low then policy may have to be left on hold, or perhaps even loosened. (Our emphasis.)  The tone however overnight from Philly Fed President Harker was less defensive about the outlook, mentioning his central forecast is for another hike this year and next (the median is for one hike overall, next year), even though he acknowledged that risks were very slightly tilted to the downside.
Fed funds futures are fully discounting a cut from the Fed by the end of this year (it's 50% priced by September), with another in the curve for 2020.
The second tier Chicago Fed National Activity index for February was better than expected at -0.29, down from an upwardly revised -0.25 in January; the consensus was -0.38.  The Dallas Fed manufacturing Survey for March was 8.3, close to the 8.9 expected and less than last month's 13.1.  Still growing but at a slower rate.
The AUD this morning is trading at just over 0.71, supported perhaps by the further leaning to Fed rate cuts, in a session that's been risk neutral.  Gold was higher overnight (+0.73% to $US1328.30/oz), copper rose 0.44%, but iron ore was virtually unchanged despite the shutdown of major Australian iron ore ports since late last week as a precaution against approaching Cyclone Veronica.  There was a report yesterday that there was impact on rail lines, although details are sketchy.
Sterling has had a volatile night, up then down as the PM and the House of Commons ponder next steps with April 12 now seemingly as the next big date to get a deal done.  News out of Europe last week was that they would agree to an extension to April 12 providing the Commons could vote in favour of the May-negotiated deal.  May has said she won't put up a deal without the likelihood of it getting passed.  Of course the Commons has not approved any deal and next steps are unclear.  The Letwin amendment surmises that various options will be presented this week or will Parliament take full control or some other political option?
Meanwhile, over 5.6m brits have already voted on line supporting "Revoke Article 50 and remain in the EU".  It has become increasingly polarised publically and politically, markets understandably confused as to whether good sense will prevail.
Coming up
Within an hour  of you having received this note, the RBA's Luci Ellis, de facto Chief Economist at the RBA as Assistant Governor (Economic), will have spoken to a Housing Industry breakfast (now at 8.15 AEDT; it was previously listed as 7.30).  The title of here speech is "What's Up (and Down) with Households?" It seems this will draw out further what has been driving consumption lower and in particular the role of house prices, something the RBA has been speaking about recently.
Housing is a hot topic right now, Dr. Lowe speaking on the housing market and the economy the day after this month's Board meeting, drawing a similar link, downplaying the pervasiveness of house price-led wealth effects, apart from car sales.  Last week, Michele Bullock (AG, Financial System) spoke on "Property, Debt and Financial Stability", drawing out some of the risks, a key one in the apartment space from both sales and development perspectives. We'll see what other perspectives Luci Ellis offers and no doubt there'll be lots in the Q&A given the audience.
NZ trade figures for February are due at 8.45 AEDT; usually these data are taken in their stride by the Kiwi markets.  There'll be much more interest in what the RBNZ has to say tomorrow, even though "no change" is unanimously expected.
There might be some glancing focus on the weekly ANZ Roy Morgan Consumer Confidence reading for the week to March 24.  After taking a sizeable hit two weeks ago on growth concerns after weka GDP, it had a small 2.2% bounce last week but remains still the lowest since 2017 and below long run average levels.
Also in the APAC time zone today, Boston Fed President Eric Rosengren is speaking (11.30), speaking in Hong Kong.  When he was last speaking publically three weeks ago, he was urging caution and policy patience.  "It may be several meetings of the Federal Open Market Committee before Fed policy makers have a clearer read on whether the risks are becoming reality." It is a good time for policy makers to be patient, taking the time to evaluate the risks", he said on March 5.  Sounds a now familiar refrain.
Market prices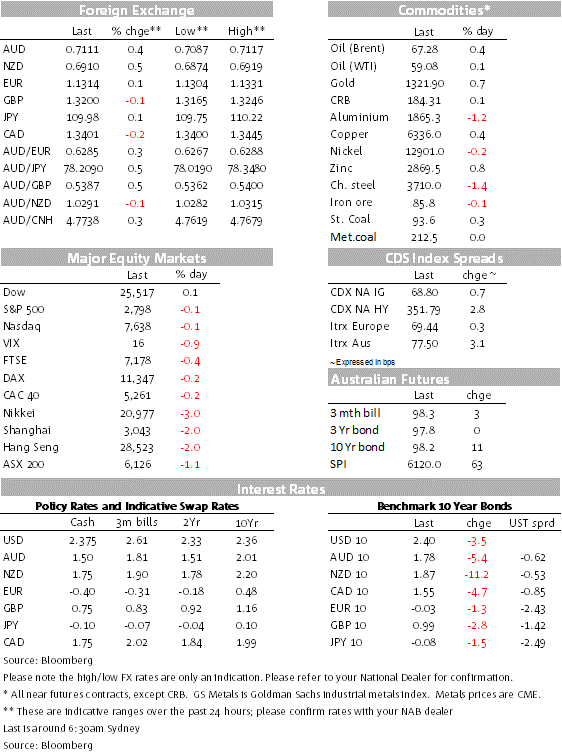 For further FX, Interest rate and Commodities information visit nab.com.au/nabfinancialmarkets