Markets Today: Here comes that rainy day feeling again
Markets are speculating whether the US will impose tariffs on car imports from Europe.
Today's podcast
Overview:
US out for Presidents' Day holiday
European equities make some gains but so does the big dollar; limited moves
AUD and NZD pull back after mini run higher yesterday; unsettling news from both sides of the Tasman on potential China issues a prickly backdrop; to be monitored closely
Seven UK Labour MPs become independents; at the margin, another uncertainty layer to Brexit if that's possible; still likely the Parliament will vote to extend Article 50 next week (Feb 27); Sterling yawns; FTSE underperforms
RBA Minutes today unlikely to rattle the cage
Quiet data calendar now until tomorrow's local wages
In a session largely absent of major data and with the US out for the Presidents' Day holiday, it was expected to be quiet and that's pretty much as it's transpired as far as market prices are concerned.  After gains in Asia yesterday, most European main boards also made some gains, the Eurostoxx 600 index by 0.23%, the FTSE closing lower with seven Labour MPs leaving the party, introducing another piece of uncertainty over Brexit, if that's at all possible.  EUR/GBP eased, though not dramatically so, by a net 0.12% since late APAC time yesterday.
Adding to the unsettling tones from Villeroy and Coeure reported yesterday, Peter Praet, ECB Chief Economist, and someone close to Draghi, has said overnight that the ECB has seen a marked increase in risks to the economy.  Speaking to German newspaper Boersen-Zeitung, he went on to say that he looks for an economic rebound but that it's too early to say by how much. (Prospects of an exit from negative interest rates after the summer are dwindling day by day.)  He also drew attention to political uncertainties persisting for so long, driven by protectionism and Brexit, also fearing how the financial sector would react, citing a risk banks could act even more pro-cyclically than usual.
The EUR has pushed up through 1.13 despite these additional dovish comments and despite concern about the possibility of Trump imposing auto tariffs on European cars. (The US Commerce Department findings of an investigation into whether imported cars could pose a national security threat were received by Trump over the weekend.)  A spokesman for the European Commission said that "were this report translated into actions detrimental to European exports, the European Commission would react in a swift and adequate manner", threatening to cut back on American soybeans and LNG if European cars are hit with these tariffs.
Seven UK Labour MPs split away from the party, now to sit in Parliament as independents.  They are against Brexit.  GBP was weaker as rumours swirled about a Labour split but recovered after the announcement.  The move reduces the odds a little more perhaps of PM May getting her Brexit deal over the line, adding though to the odds of an extension of Article 50 when Parliament likely votes next week (February 27), pushing out the timing of any possible Brexit, GBP positive for now.
After a soft start yesterday, the AUD and the NZD had mild rallies through APAC yesterday but pulled back overnight.  Both remain in familiar levels, the AUD at 0.7131 and AUD/NZD just over 1.04.  There are more reports of continuing issues in dealings with China from both sides of the Tasman.
On top of the last year's banning of Huawei from building Spark's 5G broadband network in NZ, PM Morrison spoke of a cyberattack on Australia's political party networks as carried out by a foreign government.  The press is reporting that the attacks have the digital hallmarks of an attack by China, though authorities are concerned that another state could be replicating the hallmarks of Chinese intelligence to deflect blame towards them and China vehemently denies any wrongdoing, calling it "baseless speculation".
Also, Australian coal imports into China are under pressure with vessels waiting to unload at Chinese ports.  The reasons behind these delays are unclear as is how long such a dislocation will occur.  Tania Constable, CEO of the Minerals Council of Australia, said companies were "deeply concerned" about the restrictions and the uncertainty of when they would be lifted. "We believe an unofficial quota system [has been] employed since the restructure of customs and quarantine administrative arrangements in October 2018," she said. "It would have a significant impact on the industry if [restrictions] extend for too long." Ms Constable said talks were ongoing with the Chinese embassy in Canberra and stressed the negative impact restrictions would have on the industry if allowed to continue.
Coal prices are little moved, Newcastle steaming coal up marginally, by 0.16% to $95/t, while met coal prices have not moved for some days from a high $207.50/t.  Australia exports both to China.
Coming up
ANZ-Roy Morgan Consumer Confidence, week ended 17 Feb (L: 114.1)
RBA Minutes: this should pass with little to no market impact given it follows the detailed outlook provided by the Governor the day after the Board meeting and the full forecasts and more in the Quarterly Statement two days later.  There'll be yet more opportunities for MPs to tease out local and international risks from the RBA when Dr. Lowe and his senior team testify before the House Economics Committee on Friday morning in Sydney (9.30)
There is another GDT dairy auction tonight, our BNZ colleagues looking for another decent gain in pricing.  If so, it would accentuate upside risk to their current forecast of $6.25 for Fonterra's 2018/19 milk price
UK Dec/Jan labour market report and CBI Trends Survey
EC/Germany ZEW Survey
US markets return with Fed's Mester (nv) speaking; the NAHB Housing Market Index for February is due (L: 58; F: 59)
Market prices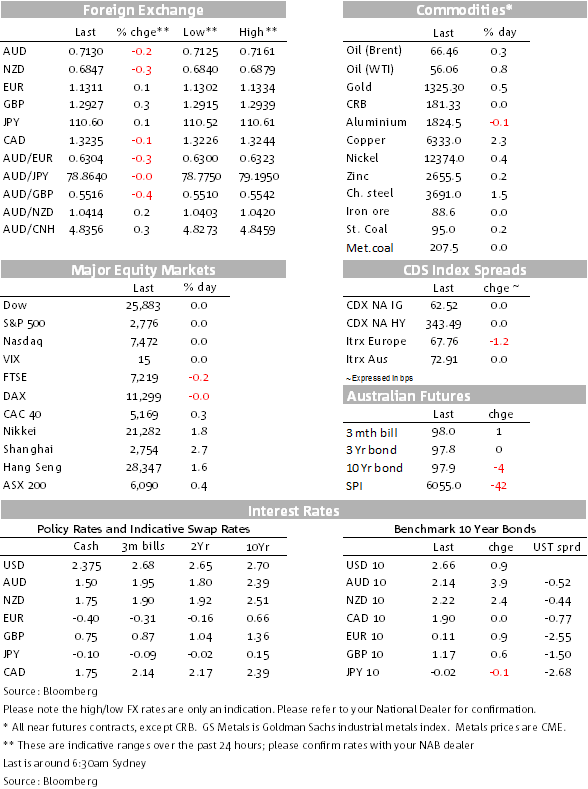 For further FX, Interest rate and Commodities information visit nab.com.au/nabfinancialmarkets