Markets Today: Kiwi spikes on less dovish RBNZ
The NZ dollar jumped 1.7 percent yesterday after the RBNZ indicated they weren't expected to change rates till 2021.
Today's podcast
Overview: Taxman
Senator Rubio undermines the US equity rise announcing buybacks tax bill
USD and UST yields higher boosted by a firm and steady US core CPI print
Euro struggles amid softer than expected Industrial Production data and prospect of snap Spanish election
NZD retains most of its post RBNZ gains. AUD little changed
RBNZ new remit and Japan's Q4 GDP today's highlights. Brexit Parliament debate , EU GDP and US retail sales the focus tonight
Let me tell you how it will be, There's one for you, nineteen for me, 'Cause I'm the taxman, yeah, I'm the taxman – The Beatles
Global equities have remained buoyant reflecting rising optimism of an ease in US China trade tensions and the avoidance of another US government shutdown with news reports overnight suggesting President Trump will  sign the border security deal while yesterday, during our time zone, China confirmed President Xi will meet Senior US trade representatives on Friday. Later in the session US equities gave back some of their early gains reacting to Senator Rubio's pledge to submit a bill to tax corporate buybacks at the same rate as dividends. A firm and steady US core CPI print boosted the USD and UST yields while the Euro came under pressure amid disappointing data and Spanish political turmoil. The NZD has  retained most of its post RBNZ gains while the AUD is little changed. In a quiet night for commodities, oil prices are smartly higher again.
Expectations of a positive outcome from US-China trade talks this week as well as the prospect of avoiding another government shutdown continues to provide a tailwind to global equity markets. Yesterday Asia had a solid day with China's CSI index leading the gains closing 2% higher. Excluding Spanish equities (more on that below), all major European indices closed in positive territory overnight with the Stoxx 600 Index up for a third consecutive day. US equities also look set to end the day higher, although early this morning Senator's Rubio's tweet  pledging to submit a bill to tax corporate buybacks at the same rate as dividends dented some of the positive vibes evident early in the session.
The senator's tweet, follows his submission of a plan to reduce incentives for companies to use excess capital to buyback shares. The Senator appears to be aiming at addressing criticism of the Republican's 2017 tax law that cut the corporate rate to 21% from 35%. Many companies have used the savings to buyback shares , boosting EPS by reducing the aggregate float, instead of using the savings in new investments. Rubio tweeted ""We're going to give permanent preference to investments that will drive the creation of jobs & increase in wages".
US headline CPI printed unchanged against expectations for a 0.1% rise, but the Core CPI reading which is the one that really matters for Fed policy, printed at 0.2%mom, matching consensus. The trend in core US inflation remains steady, against some concerns of a potential decline, indeed at 2.2%yoy, the current reading is up from the 1.8% reading a year ago. Overall the data suggest that we cannot rule out a resumption of Fed rate hikes later in the year, UST yields reacted positively to the data print with  the 2y and 5y rate climbing 2.7bps to 2.534% and 2.524%,respectively, while the 10y tenor reached an overnight high of 2.71%, before settling at 2.707%.
The CPI print also boosted the USD, however weakness in other major currencies also played into the big dollar's outperformance. European industrial production fell by a much bigger margin than expected in December (-4.2%yoy  vs. -3.3%yoy exp.) and Spanish political turmoil didn't help the  common currency either. Catalan separatists rejected PM Sánchez's budget bill after the government declined to discuss the region's right to self-determination. News reports now suggest  the government is likely to call a snap election on Friday with many commentators suggesting the elections could lead to a new coalition government with an anti-migration agenda. Spain's political upheaval comes ahead of European Parliament elections in May, which in the eyes of many it is seen as a referendum on the EU itself. Amid a slowing economy, domestic politics is now looking like an additional hindering factor for the prospect of an EU economic recovery in 2019. The EUR currently trades at 1.1271, near its lowest level since mid-2017.
In the UK, headline CPI missed expectations slightly, although the core measure was on consensus.  UK data remains a sideshow, with the market much more focused on whether a no-deal Brexit scenario can be averted. A Brexit parliament debate is scheduled to take place tonight, but with PM May announcing another vote will take place in two weeks' time, it is unclear if any significant votes will take place tonight. GBP jumped earlier in the overnight session ( overnight high of 1.2958) on reports that the UK government will table a motion that endorses a non-binding amendment passed two weeks ago, that the UK should not leave the EU without a deal. But some Brexit-backing Tories are unlikely to support this motion. GBP now trades at 1.2852.
The NZD is the best performing G10 currency over the past 24hrs, retaining most of its post RBNZ gains. As widely expected the RBNZ left the OCR unchanged at 1.75%, but the big jump in the NZD (+1.68% post the announcement and now trading at 0.6794) and NZ rates suggests the market was looking for a more dovish statement. RBNZ governor Adrian Orr said  "the direction of our next OCR move could be up or down." adding that the chances of an interest rate cut haven't increased. Meanwhile the AUD has an up and down overnight session and now trades essentially unchanged at 0.7091.
Commodities are having a subdued session, although oil prices are the exception up for a second day ( brnet 2%, WTI +1.6%) following Saudi Arabia's pledged to deepen output cuts and held most of those gains even after the EIA reported bigger U.S. crude stockpiles than anticipated
Economics
UK: CPI (y/y%), Jan: 1.8 vs. 1.9 exp.
UK: Core CPI (y/y%), Jan: 1.9 vs. 1.9 exp.
EC: Industrial production (y/y%), Dec: -4.2 vs. -3.3 exp.
UK: CPI (y/y%), Jan: 1.6 vs. 1.5 exp.
US: Core CPI (y/y%), Jan: 2.2 vs. 2.1 exp
Coming up
NZ Food Prices Jan and New RBNZ Monetary Policy Committee Remit and Charter
JN  GDP 4Q
AU Consumer Inflation Expectation Feb
CH  Trade data Jan
US China trade negotiations should shift a gear with Chinese Vice Premier Liu He meeting U.S. Trade Representative Robert Lighthizer and Treasury Secretary Steven Mnuchin for high-level trade chinwag Thursday and Friday
EC GDP 4Q P
US PPI (Jan),Initial Jobless Claims, Retail Sales Advance Dec
Market prices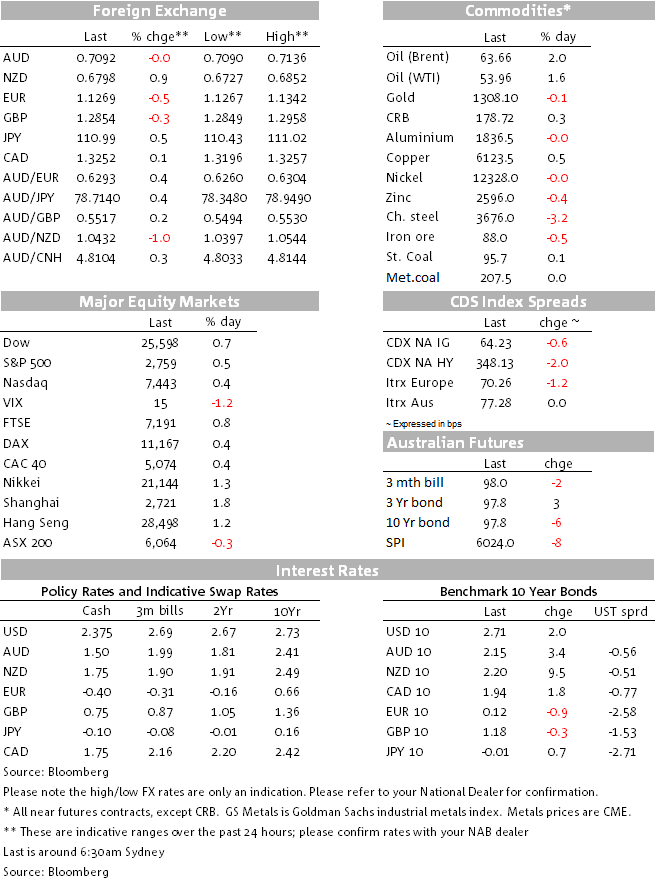 For further FX, Interest rate and Commodities information visit nab.com.au/nabfinancialmarkets