Markets Today: Oil, NAFTA and the Conte Controversy
Further speculation that NAFTA talks might fall apart, strong data from the US and UK, and a look ahead to today's GDP figures for Australia.
Today's podcast
Overview
Mixed news keep markets in a cautious mood
A strong PMI Services helps GBP outperform
But a strong non-Manufacturing ISM doesn't help the USD
Oil wobbles amid reports Trump administration asked OPEC to increase output in May
Markets have traded in a cautious mood overnight, despite solid data releases on either side of the Atlantic. Solid services PMI helped GBP outperform, but a strong non-Manufacturing ISM wasn't much help for the USD. Core bond yields have edged a bit lower and equities end the day down in Europe and flat in the US. Italy's PM Conte reminded markets that the new government is still aiming for radical change and oil prices wobble on reports that the Trump administration asked OPEC to pump more oil in May. AUD and CAD underperform in spite of a late recovery in oil prices.
The Euro came under pressure early in the overnight session following a radical speech by Italy's newly elected PM Conte. Speaking before Parliament, Conte pledged his government will push through policies like curbs on immigration, a "citizen's income for the poor", a (lower) two-tiered flat tax structure and higher fiscal spending. Conte noted that "We want to reduce the public debt, but we want to do it by increasing our wealth, not with austerity that, in recent years, has helped to make it (public debt) grow.", nevertheless market reaction probably reflects  concerns over the likelihood of a blowout in Italy's fiscal deficit and an increase in debt with both likely to break EU rules. 10y BTPS-Bunds spread widen 31bps to 241bps and the euro slid from 1.1717 to an overnight low of 1.1653. European equities ended the day lower with bank shares leading the decline. Later in the session the euro more than recovered  the Conte driven losses following reports that ECB sources confirm the Bank will debate a policy guidance at its meeting next week. One official said that Draghi may use his press conference to signal an announcement will come in July.  None of this is really new news and it matches consensus expectations, but the reminder that QE policy is likely to end this year was enough to send EUR back up through 1.17.
Meanwhile on the other side of the Channel, the UK Services PMI came in better than expected at 54.0 v 53.0. The market reacted sharply to the headline which suggests the economy is rebounding from a soft Q1, but as Tapas Strickland, one of our London Strategists noted, this occurred in spite of a less positive report write-up. The report  noted "new business volumes continued to rise at a relatively subdued rate, with survey respondents noting that Brexit-related uncertainty a key factor holding back decision making among clients" (see link). The pound has been the outperformer overnight, climbing 0.57% to 1.3394, that said it is difficult to see GBP maintaining its outperformance while Brexit uncertainty remains hovering like a dark cloud. Next week's House of Common's voting on the Brexit Billl amendments by the Lords will be important for the pound's near term outlook.
Key US data releases came right at the stroke of midnight and although both the JOLTS report and ISM non-Manufacturing beat expectations, the data releases were followed by a decline in US equities, the USD and also US Treasury yields. The JOLTS labour market report showed signs of further labour market tightening, with the number of available workers per open position being the lowest since January 1970. Meanwhile the Non-manufacturing ISM for May printed above consensus at 58.6 (consensus 57.6) and up from last month's 56.8 while the details in the survey showed rising capacity constraints and higher inflationary pressures. Notwithstanding all the good news, the report also noted some concern about the tariffs on steel and aluminium causing supply disruptions and higher costs. Hard to tell, but the latter could have been a factor for the change in the USD overnight fortunes. The DXY index peaked just above the 94.30 mark a few minutes after the data releases, from then on the index decline over 0.50% before settling at 93.86. US equities also wobbled after the data only to recover a few hours late, ending the day essentially flat.
10y UST yields traded twice an overnight low of 2.90%, but ended the day at 2.93% following the late recovery in US equities. Moves in the five year part of the curve where more volatile, the 5 year rate started the overnight session at 2.79% traded to a low of 2.74% and closed the session at 2.768%. Move in oil prices ( see more below) probably a factor at play.
In trade-war news, according to the WSJ, China offered to purchase nearly $70 billion of US farm and energy products if the Trump administration abandons threatened tariffs, according to people briefed on the latest negotiations with American trade officials. Trump's economic advisor Kudlow said that the President doesn't plan to withdraw from NAFTA but is seriously considering separate trade negotiations with Canada and Mexico.  Senate majority whip Cornyn indicated that time had run out to approve a new NAFTA deal in 2018 and is now something to consider for 2019.
CAD has been whipsawed a bit on this NAFTA news alongside a swing in oil prices.  The Trump administration was said to have asked Saudi Arabia and allied producers to raise production by 1 million barrels a day amid an increase in retail US gasoline prices to three-year highs.  That saw oil prices fall about $1, but they have since recovered. Nevertheless, while  both the CAD and AUD followed the move lower in oil prices, but  both currencies lagged the late recovery in oil.
As a result, CAD and AUD are the underperformers over the past 24 hours. USD/CAD traded to an overnight high of 1.3067, before recovering over the past few hours and now trades at 1.2970 (-0.30%). Meanwhile the prospect of a solid Australian Q1 GDP print  today (see more below), after strong GDP partials over the past couple of days where not enough to arrest the AUD decline overnight. Commodities in general had a decent night (copper +1.7%) but the AUD for some reason traded lower following the decline on oil prices and it didn't follow the oil recovery late in the session. AUD now trades at 0.7617, down 0.4% over the past 24 hours.
Last but not least, the NZD has traded in about a 40pip range over the past 24 hours, dipping as low as 0.6998 this morning, but it is now back to the 0.7020 mark. Overnight the GDT dairy auction showed average prices fell by 1.3%, within the ballpark of expectations, with whole milk powder down 1.1%.
Coming up
Australia's Q1 GDP is today's data highlight in Asia/Pacific and after the GDP partials released over the past couple of days our economists now expect a Q1 GDP print  of 0.9% to 1% q/q (revised up from NAB preliminary 0.8/0.9%).
Also this morning New Zealand releases commodity prices for May and then later in Europe, Germany gets its Construction PMI, also for May.
Tonight the US gets releases its Trade Balance (Apr) and Canada gets building permits (Apr) along with the Ivey PMI for May. In April the Ivey PMI leaped 6 points to 70.4, it was the index fourth consecutive rise and its highest level since May 2013.
Market prices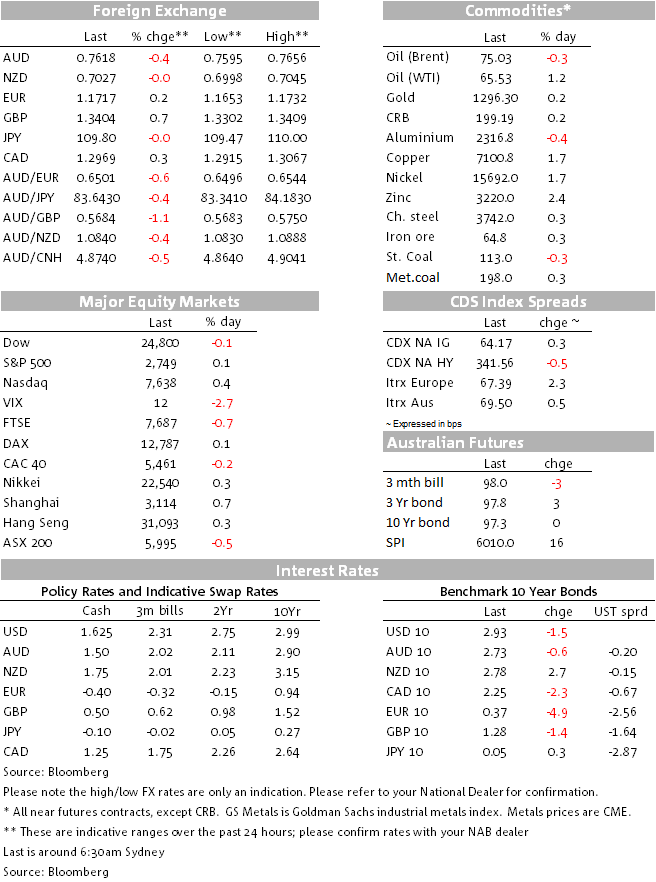 For further FX, Interest rate and Commodities information visit nab.com.au/nabfinancialmarkets