Markets Today: Playing hardball
Media reports suggest China is playing hard ball in negotiations with the US.
Today's podcast
Overview:
Markets remain relatively quiet ahead of FOMC tomorrow morning
News that China is resisting US trade demands weighs on sentiment. After a brief recovery the S&P 500 closed marginally in negative territory
USD broadly softer, but AUD still underperforms reflecting its higher degree of sensitivity to US-China trade news
EU likely to offer the UK a conditional extension allowing PM May a last attempt at getting her deal through Parliament
RBA Ellis to speak on credit crunch time? UK CPI tonight, FOMC early tomorrow
News of China's pushing back on US trade demands initially proved to be only a short lived disturbance for markets, but in the end the impact on sentiment has seen the S&P 500 close marginally in negative territory. The USD ended the session broadly softer while UST yields closed marginally higher relative to yesterday's closing levels. AUD was the only G10 underperformer drifting back below 71c and GBP has remained buoyant following news the EU is likely to grant the UK a conditional extension which would allow PM May one last chance of getting her deal through Parliament.
US equity markets opened the overnight session with an upbeat mood aided by a positive lead from Europe. A Bloomberg report noting some US negotiators have become concerned over China's resisting tactics against US demands triggered a small sell off with the article stating China was resisting changes to their data protection and intellectual property policies given that they had not received US assurances that the tariffs imposed on their exports would be lifted. Shortly after, US markets recovered most of the initial losses with reports suggesting that while some US officials regarded China's strategy as back pedalling, others were less concerned noting that this a normal part of the negotiations process. In the last hour trading US equities came under renewed downward pressure with the S&P500 leading the declines.
After trading to an overnight high of 2.63% during the European session, 10y UST yields eased back once the US market opened, initially not helped by weaker than expected factory orders (0.1% m/m against 0.3% expected), reinforcing the recent  theme of softer than expected US data releases, followed by concerns over China's resisting trade tactics. 10y UST yields are now trading at 2.61%,1bps higher relative to yesterday's levels.
Meanwhile USD indices have drifted a little bit lower, although they still remain close to the top of ranges held since middle of last year (DXY now at 96.351). Looking at G10 currencies, the USD is softer across the board with AUD the only currency underperforming the greenback. The aussie was just clinging to the 71c handle but news China was playing hardball proved to be too much and the pair now trades at 0.7090. Although only small in nature, the AUD overnight underperformance is a reminder of the currency's higher degree of sensitivity to US-China trade news.
The NZD continues to trade a tight range and is slightly higher at 0.6855. The GDT dairy price index rose by 1.9%, taking its gain since November to 26%, while whole milk powder prices rose by 4.0%, supported by a reduction in volumes owing to dry weather.  Over the past hour Fonterra reiterated its 2018/19 milk price forecast range of $6.30 to $6.60 and its full year earnings of 15-25 cents per share at its interim results announcement. All in line with expectations.
GBP has largely traded sideways in its usual choppy fashion as Brexit remains in focus. Bloomberg reported that EU leaders are planning to offer the UK a conditional Brexit extension at this week's summit, which would give May one last chance to try and get her deal through Parliament. Chief EU negotiator  Barnier said that any extension to Brexit day must serve a clear purpose – it needs to be linked to something new – otherwise it just prolongs the uncertainty.  The FT reports that Cabinet is split, and can't even agree whether to ask for a long or short extension to Brexit.
UK labour market data were stronger than expected, with a 222k leap in employment driving the unemployment rate down to 3.9% and wages growth remaining at a decade-high.  The Bank of England hasn't been keen to raise rates amidst the "fog of Brexit", but any clarity around Brexit is likely to prompt the bank into contemplating rate hikes.  We'll hear more from the BoE tomorrow night, but for now the uncertainty around Brexit is enough to keep market expectations of rate hikes to a minimum, with not even half a chance of a hike priced in for the next 12 months
Overnight data releases
UK: Unemployment rate (%), Jan: 3.9 vs. 4.0 exp.
UK: Weekly earnings ex-bonus (y/y%), Jan: 3.4 vs. 3.4 exp.
GE: ZEW survey expectations, Mar: -3.6 vs. -11.0 exp.
NZ: GDT dairy auction price index: +1.9%
Coming up
NZ BoP Current Account Balance NZD 4Q
JN BOJ Minutes of January Policy Meeting, Machine Tool Orders (Feb F)
AU RBA's Bullock gives speech in Perth. No tittle offered in the RBA website, but the invite in the UDIAIS website has a rather punchy title "Is it crunch time? The housing credit squeeze in a post royal commission economy?"
UK CPI, RPI Feb
US, MBA Mortgage Applications, FOMC Rate Decision

FOMC meeting is likely to see a lowering of the 'dot plot' with median dots for 2019/20/21 all lowered but probably by only 25bps (leaving one hike in 2019 rather than two in December).The median 'long term' dot remaining at 2.75%. This will still leave them far-removed from current market pricing (30% chance of a cut in December). Patience and 'wait and see' are the Fed's current buzzwords, neither of which are likely to change at least until well into H2 2019. An announcement confirming an end to the B/S shrinkage strategy before year end is also expected.
Market prices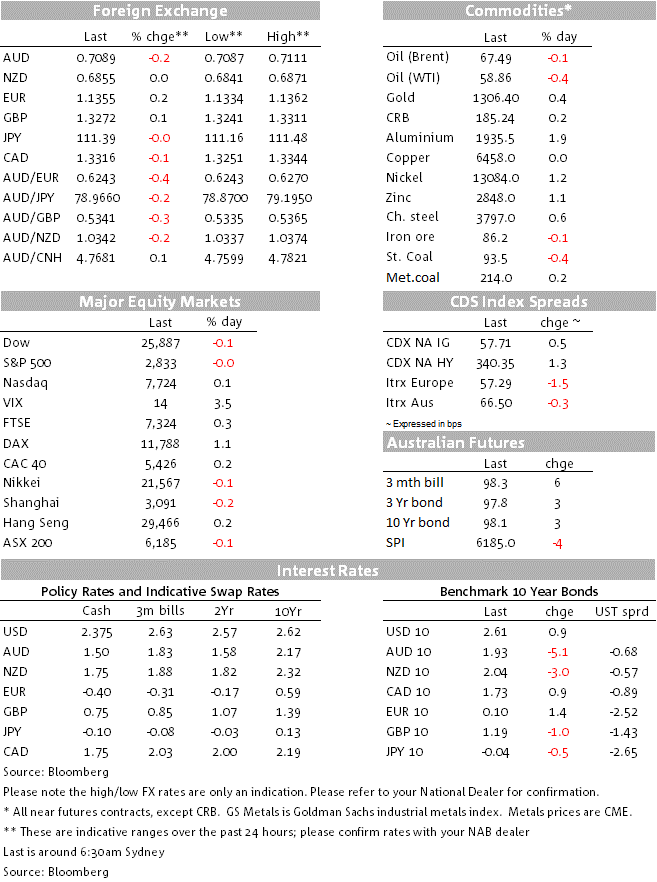 For further FX, Interest rate and Commodities information visit nab.com.au/nabfinancialmarkets