Markets Today: Service with a smile
It's been a strong 24 hours for data releases.
Today's podcast
Overview:
US Services ISM 59.7 from 56.7 suggest economy coming back strong (and EZ equivalents stronger too)
Lowe speech on Housing (09:10 AEDT); then Q4 GDP (expected 0.4%, NAB 0.3%)
Not a huge amount of price action across currencies, equities or bonds overnight but with most price movement such as there is consistent with the significantly better than expected non-manufacturing ISM release. Together with stronger than expected New Home Sales numbers – suggestive of lower mortgage rates starting to gain traction in supporting home buying – the US economy looks to coming back quite strongly after hits related to the Q4 stock market meltdown, January government shutdown and some now all-too-familiar early year weather-related hits to activity.
Events and FX
The AUD currently sits almost unchanged on this time yesterday, the biggest influence of the past 24 hours being not the remaining GDP partials nor the RBA, but rather the significant downside surprise in the Caixin version of China services PMI (51.5 from 53.6, in contrast to a very much smaller fall in the previously released official edition).
The latter in turn was more influential on markets than anything coming out of the first day of China's National People's Congress (NPC) in Beijing. The latter affirmed a 6-6.5% GDP growth target for 2019 (as previously flagged), CPI targeted at around 3% and a Budget Deficit of 2.8% of GDP up from 2.6% in 2018. In the context of pledges for fiscal policy to be 'proactive'; and announced cuts to VAT rates, Social Security contributions and increased infrastructure spending, this circle is squared by lifting the lid on Special Bond issuance targets for Local Authorities by almost ¥1tn or the best part of 1% of GDP.
The NPC pledges to keep the Yuan basically stable – a commitment that won't prevent China from agreeing to some form of commitment not to devalue the Yuan against the US dollar as part of a Sino-US trade deal. On monetary policy, 'prudent' remains the watchword with the overall amount of credit leverage in the economy planned to be little changed, but with more lending proposed for both small and private sector enterprises.
AUD took little notice of either the reaming GDP partial (covering net exports and government spending) but which resulted in NAB downgrading its estimate for GDP today to 0.3% from 0.4% and the market consensus to 0.4% from 0.5%. Our guess is that a 0.3-0.4% outturn today will prove broadly neutral for AUD, with a 0.2% (or lower) print capable of seeing key support around the 0.7050 area tested, and a 0.5% or better enough to have us lift back on to a 0.71 handle.
Certainly the RBA is still seeing the economy though rose-tinted spectacles judging from yesterday's post-meeting statement, reaffirming its forecast for 3% growth this year despite acknowledging a slower second half of 2018. Of particular interest to us was the reference to the labour market as a potential source of a stronger economy (rather than a lagging indicator as most economists traditionally view it).  As we noted in our write-up yesterday, perhaps the RBA, observing conflicting signals from the labour market and other economic activity readings, is minded to believe that the labour market data are painting a truer picture of the current state of the economy?  Let's see what Phil Lowe has to say at 9:10 this morning when he speaks on "The Housing Market and the Economy".
Elsewhere in FX we have the USD pulling back in the last couple of hours after earlier strength related to the upside surprise in the non-manufacturing ISM (59.7 from 56.7) with big gains for overall activity and new orders, including a five point jump in the export order sub-index, to 55.0 from 50.1. The pull-back in the DXY index follows a test of the 97.0 level, which our traders note has proved to be very toppy in the last few quarters.
DXY is nevertheless 0.2% up on the day, with a 1/3rd of a percent drop in EUR/USD largely to blame. The latter is despite final Eurozone Services (and Composite) PMIs proving stronger than the earlier 'flash' readings. In absolute terms though, they remain very much poorer than their US equivalents, and where one prominent US economist is noting is, on a literal reading, consistent with US GDP growth running at 4-5%!
The NZD has underperformed the AUD overnight despite the latest GDT dairy auction showing a price index gain of 3.3%, well within expectations for a gain of 2-4% from our resident cow-whisperer Doug Steel. Whole milk powder prices rose by a punchy 6%. AUD/NZD sits at 1.0420, from just sub-1.04 this time yesterday.
GBP is little changed, recovering from an earlier hit on latest Brexit related wobbles (no sign of movement from Brussels on the Irish backstop question) after BoE Governor Mark Carney said that the market-implied path for Bank of England rates might not be high enough.
Equities and bonds
It's proving to be a very quirt night for stocks, with the main US indices into the last hour of NYSE showing very minor gains averaging 0.1%. Ditto US bond markets where Treasury yields are very narrowly mixed (less than 1bps different on the night). Essentially, bond have done a round trip, yields higher out of the ISM report but back to flat in afternoon NY trade.
Commodities
Not a whole lot of movement here either, though base metals are mostly higher led by 3% jump in nickel, as too are iron ore futures, +1.3%.  Oil is touch firmer, Brent crude up 28 cents at $65.96. Gold is 40 cents higher at $1,287.
Economic data   
CH: Caixin PMI services, Feb: 51.1 vs. 53.5 exp.
UK: Markit services PMI, Feb: 51.3 vs. 49.9 exp.
EZ final services PMI 52.8 vs. 52.3 preliminary
EZ final Composite PMI 51.9 from 51.4 preliminary
NZ: GDT dairy auction price index: +3.3%
US: ISM non-manufacturing index, Feb: 59.7 vs. 57.4 exp.
US: New home sales, (k), Dec: 621 vs. 600 exp.
Coming up
RBA Governor Philip Lowe speaks on `The Housing Market and the Economy' at the Australian Financial Review's 2019 Business Summit in Sydney, scheduled for 09:10 AEDT.
GDP at 11:30, where NAB revised its forecast down to 0.3% from 0.4% following the release of all the 'partials'; market consensus down to 0.4% from 0.5%.
US data is confined to the ADP employment report (expected 190k) and the December trade balance (expected -$57.9bn).
The Bank of Canada should hand down a no change rates decision tonight (currently 1.75%), interest is in whether they continue to express a tightening bias and desire to get rates back closer to neutral, albeit not in any hurry.
Market prices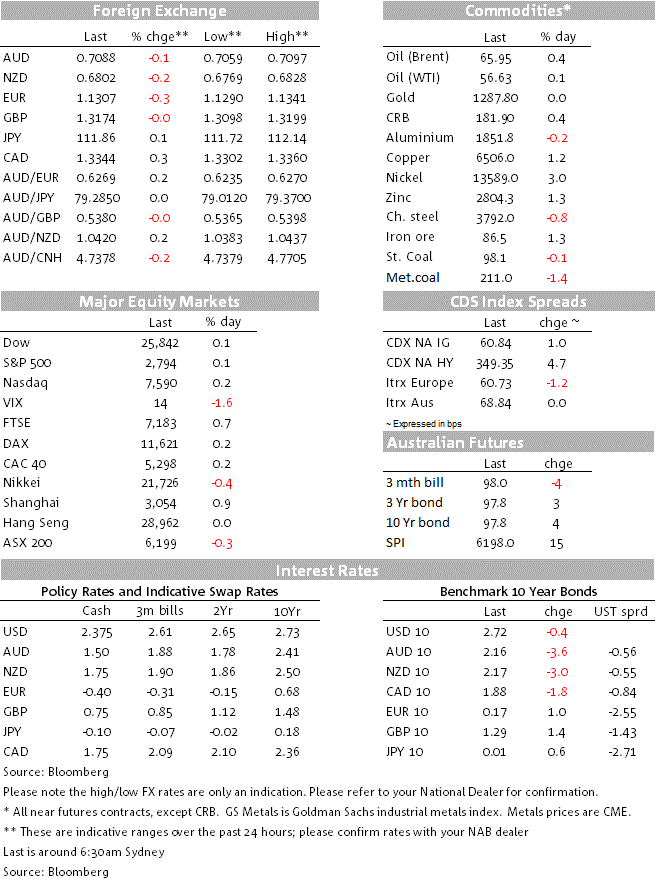 For further FX, Interest rate and Commodities information visit nab.com.au/nabfinancialmarkets