Markets Today: The dollar is dying
Positive sentiment in the US on Friday and in the APAC session yesterday has carried through into overnight markets notwithstanding a downside surprise in the US non-manufacturing ISM report.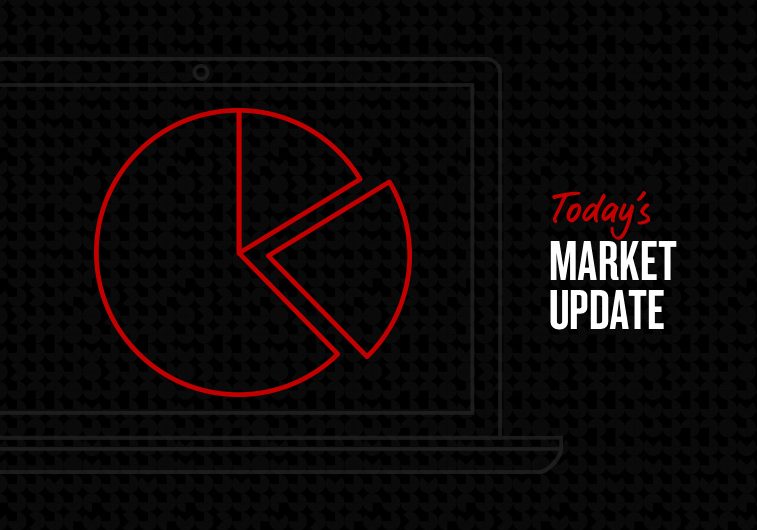 Overview
Optimism that the talks underway in Beijing will bear fruit in terms of progress toward a Sino-US trade deal are the overriding influence.
Trade talks in between Beijing resumed yesterday and included an unscheduled appearance by China's Vice president Liu He, an act that further boosted sentiment towards a deal.  Commerce Secretary Wilbur Ross later expressed optimism to CNBC that the U.S. can reach a "reasonable" trade deal with China. A pact would include increased Chinese purchases of American soybeans and LNG, plus "structural reforms" on IP rights and market access, Ross said.  Also helping sentiment are reports of Trump aides telling him that in order to stabilise markets, he needed to do a trade deal with China and leave Fed chair Powell alone.

The US non-manufacturing ISM disappointed expectations coming in at 57.6 down from 60.7 in November and 58.5 expected, though market reaction was limited in so far as the 'whisper number' was undoubtedly lower than the official consensus after last Thursday's big downside surprise in the manufacturing version (NAB had picked a weaker number partly on this basis at 57.3).  Also supportive, the new orders component held steady, in contrast to the big drop in manufacturing orders in last week's report.

European data was a mixed bag, with German November factory orders falling by 1% against -0.1% expected though both German and pan-Eurozone November retail sales came in stronger than expected at 1.4% and 0.6% on the month respectively.

There's been no sign of progress towards ending the partial US government shutdown, now in its 17th day.

Fed speak saw Atlanta Fed President Raphael Bostic (an FOMC non-voter this year) say the central bank should raise interest rates just once this year, but he didn't say when and added he would keep an open mind about whether more or fewer moves might be needed.
FX
The AUD has made further advances overnight albeit not by much, to a high of 0.7150 from around 0.7125 towards the end of the Sydney day Monday, Sino-US trade optimism still the principal fundamental driver.  AUD gains have though been exceeded by most other currencies, NOK, SEK, CHF, EUR and CAD all showing bigger gains. The JPY is again the only currency down against the USD; symptomatic of the sudden loss of demand for safe haven currencies (the stronger CHF merely looks to be mimicking gains in the EUR).
Instructive here is that the USD has, in narrow DXY index terms, just recorded its lowest levels since 22nd October 2018 (low o/n of 95.64).  This is over 2% down on its mid-December highs and after a period where the USD wasn't receiving as much safe haven support during the late December market ructions as one would normally expect, falling US yields notwithstanding.
So even if the US rates market is getting ahead of itself pricing in the commencement of a Fed easing cycle as early as late 2019, it is going to take lot to get the USD back near its 2018 range highs.  We don't expect it, the flipside of which is that last week's 'flash crash' low on AUD/USD at 0.6730 shouldn't be seen again this year. We say this even if it transpires that incoming Australian data is seen to add to risks of the RBA's next rate move being down.
Equities
US equities have extended Friday's 3%+ gains with half an hour or so of trading still to go. The NASDAQ up over 1% and both the Dow and S&P by more than 0.5%.  Within the S&P500 it's the consumer discretionary sector that is faring best, up 2.4%. Earlier European stocks closed mixed, the Eurostoxx 50 -0.3% with the UK, Germany and France all down but Spain and Italy higher.
The VIX index is little changed on Friday's close at 21.5.
Bonds
The US Treasury curve has bear-flattened overnight with 2s +3.9bps to 2.532% and 10s a lesser +2.3bps to 2.689%.
Commodities
Commodities are all showing gains with the exception of a small fall in steaming coal, oil by between 50 and 75 cents and meaning that both WTI and Brent are now some 15% up on their late December lows. Base metals are all higher, as is iron ore (+1.5%). Gold is also a touch higher, aided by the weaker dollar.
Economic data summary
Germany November factory orders -1.0% (-0.1%E, 0.3%P); WDA y/y-4.3% (2.7%E, -3.0%P revised from -2.7%)
EC retail sales 0.6% (-0.1%E, 0.6%P revised from 0.3%); yr/yr 1.1% (2.3%P revised from 1.7%P)
China December FX reserves $3.072.71tn ($3.071.73tn E, $3.061.7tn P)
US non-manufacturing ISM 57.6 (59.0E, 60.7P)
Coming up
Sino-US trade talks continue in Beijing
The 2019 Australian economic calendar kicks off a busy week with November trade figures (though building approvals tomorrow and retail sales on Friday are both potentially more market sensitive).
NAB expects the trade surplus expanded to $2750m in November (L: $2316m, mkt: $2175m). Imports, which were boosted in October by the arrival of new aircraft and higher oil prices, are expected to have pulled back in November. Oil prices in particular were much lower than their peak in early October. On the exports side, Coal is expected to have pulled back after a sharp rise in October, while Iron Ore, LNG and Non-monetary gold are likely to rise in November, adding to the trade surplus.
ANZ December job ads due at the same time
Offshore tonight we get Germany industrial production, which follows last night's weaker than expected factory orders (-1.0%) the various European Commission Business and Consumer Confidence surveys and in the US, the NFIB Small Business (typically sensitive to the US stock market, so should be down on November's 104.8).
Market prices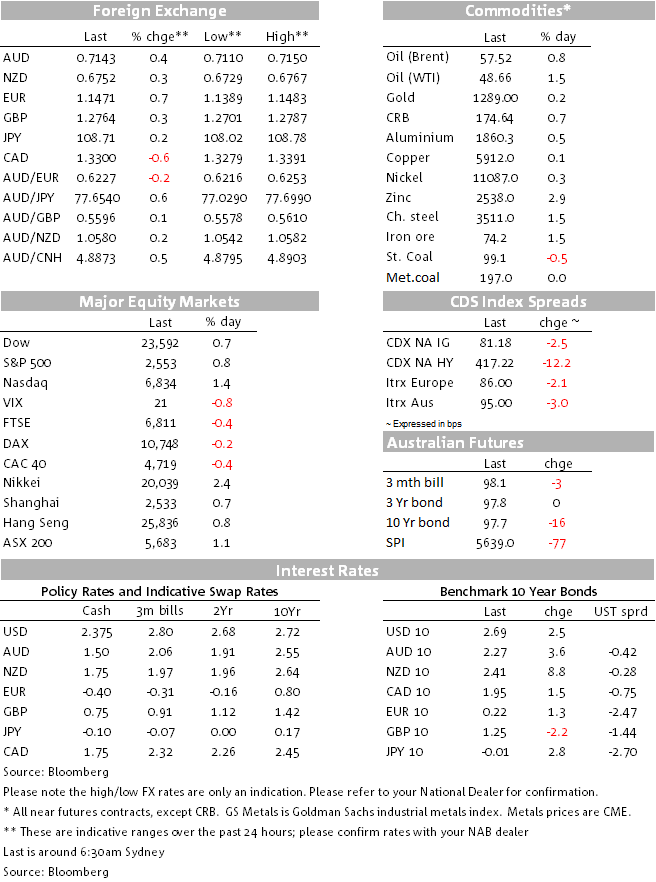 For further FX, Interest rate and Commodities information visit nab.com.au/nabfinancialmarkets