Markets Today: Truce
Steven Mnuchin says the trade war with China is on-hold, for now, after the agreement that will see China supposedly buying more from the US, but not the reported extra $200 billion worth.
Today's podcast
Overview
AUD and NZD start the week firmer after U.S. and China call truce for now on tariff war threat
US (5-10yr) Treasury yields 4-5bps lower Friday but still 8-9bps higher on week
Week ahead: Oz Q1 Construction Work Done, Lowe, Powell, EZ PMIs
Politics/Geopolitics probably more important (Middle East/oil, fate of Trump-Kim meet, Italian politics, etc.)  
A 'risk-positive' start to the week is already in evidence via higher opening level or both the AUD and NZD compared to Friday night's New York close. This follows the weekend news that the US has effectively declared a truce in its ongoing trade spat with China.  A joint Sino-US statement issued from the White House on Saturday stated that China will help support growth and employment in the U.S. by increasing purchases of the U.S.'s goods and services.  It says both sides agreed on meaningful increases in U.S. agriculture and energy exports, with the U.S. to send team to China to work out details. The statement adds that China agreed to advance relevant amendments to its laws and regulations on intellectual property protections, including Patent Law, with the U.S. and China agreeing to encourage two-way investment to create a level playing field for competition.
Lovely if fuzzy stuff and already in the last hour we've had Robert Lighthizer, the U.S Trade Representative, out saying that the U.S. may still impose tariffs on China. For now though, this apparent outbreak of bonhomie goes a long was to allaying concerns about an imminent tariff war.
The other market-relevant news since Friday night is that in Italy supporters of both the League and 5-star movement have come out overwhelmingly in support of the programme advanced by both parties as the basis for a coalition government (albeit only 210,000 League supporters actually resisted a vote, and some 44,000 5-star supporters. Assuming that president Mattarella now gives the leaders the nod to form a government, we are  set for some serious conflict between the collation's economic and political ambitions – on fiscal policy and migration/immigration in particular we are conflict with both the Eurozone's founding Stability and growth pact and the free movement of people enshrined in EU law.
The backstops here are there the President holds a veto on constitutional matters, that collective action clause will effectively prevent Italy from repudiating debt (if it wants to stay in the Euro/EU) and the ECB will of course not entertain earlier plans to in some way forgive Italian debt held on the ECB's balance sheet.  There won't be an existential Euro crisis here – as there would have been had Marine Le Pen secured the French Presidency last year – but this doesn't mean the Euro, and Italian government debt, isn't set for further period of underperformance.
Markets went our quietly on Friday amid a dearth of fresh news. The most significant price action was arguably the retreat in US Treasury yields from their mid-week highs, 5s and 10s off 4.8 and 5.5bps on the day respectively.  Moves coincided with a slight retreat in risk sentiment that saw US equities lose between a quarter and three-eighths of a percent, but not enough to cause the VIX to shift from its 13.4 Thursday close (or to prevent the broader/small-cap centric  Russell 2000 index rising to a record cycle high. This index says the U.S. economy is doing fine, thanks).
On the week, equity losses averaged 0.5% for the Dow and S&P and -0.7% for the NASDAQ and where the earlier week rise in US Treasury yields to new cycle highs (10s to just above 3.11%) was arguably the main driver, alongside rhetoric suggesting the current round of Sino-US trade talks weren't going too well, notwithstanding the Thursday night comments (later denied) that China had agreed to reduce its trade surplus with the US by $200bn.  The VIX ended the week almost a point higher and 10yr Treasuries 8.6bps higher:
In FX, weakness in CAD, EUR, GBP and SEK drove USD indices higher, DXY by 0.2% and BBDXY by 0.3%. The NZD bucked the firmer dollar trend to be 0.4% higher and the best G10 performer by far (followed by CHF) while AUD/USD finished Friday exactly where it ended on Thursday at 0.7511. CAD slippage follows the passing of U.S. House speaker Paul Ryan's self-imposed deadline for a NAFTA deal last Thursday night and a downside surprise on April Canadian retail sales where the ex-autos print of -0.2% fell well below the 0.5% expected.  CPI at 0.3% was as expected, though the year-on-year rise fell to 2.2% from 2.3% and the 2.3% expected.
On the week, USD indices are 1.2% higher on average, CHF the only currency up on the week with Italian political developments seeing some renewed weakness in EUR/CHF.  EUR and EUR-linked currencies fared worse thanks to Italy followed by JPY thanks to higher UST yields and the recent resurrection of the strong USD/JPY correlation with UST-JGB yield spreads.
CFTC/IMM FX positioning data for the week ending May 15th shows a further reduction in the overall net speculative short USD position (-43k from -63k versus G10 currencies, or from -140k to -96k including MXN).  The earlier large net long NZD position is now all but gone (+2k from +13k) while the net EU long remains large at 115k – it may though have come down a fair but post-Tuesday's cut-off date.  The speculative market looks to be starting to build a reasonable sized AUD short.
In commodities, oil remained at the centre of attention, Brent making a new high of $80.44 on Thursday night but giving back about 75 cents on Friday. Industrial metals were also uniformly lower, led by copper (-0.8%) and aluminium (-1%).  On the week though, most commodities are higher, led by the 3% rise in Brent crude.
Locally, the preliminary weekend auction clearance rate across the combined Australian capital cities was 60.3% down from last weekend's final 58.2%, the latter the lowest since December 2015. Last weekend's preliminary rate was 61.0%, so the final clearance rate from this weekend could be lower than 58.2%. Volume was 2,089 down from 2,279 previously.  Sydney cleared a preliminary 60.8% versus last weekend's final 59.8% and Melbourne 64.2% versus last weekend's final 59.8%.
 Coming up
In what is a quiet week globally and locally for data, geopolitical developments will likely be hogging the limelight (in Italy, on the fate of the Trump-Kim summit, Middle-East, etc.).  Wednesday's Construction Work Done (a Q1 GDP partial) is the only local data point; Australia's close economic relationship with and reliance on China is the topic of an address by RBA Governor Lowe on Wednesday.
Preliminary Eurozone May PMI data on Wednesday is arguably the key global economic data event. The UK has CPI on Wednesday
NZ has net migration and Q1 real retail sales this morning, both at 08:45 AET.
Market prices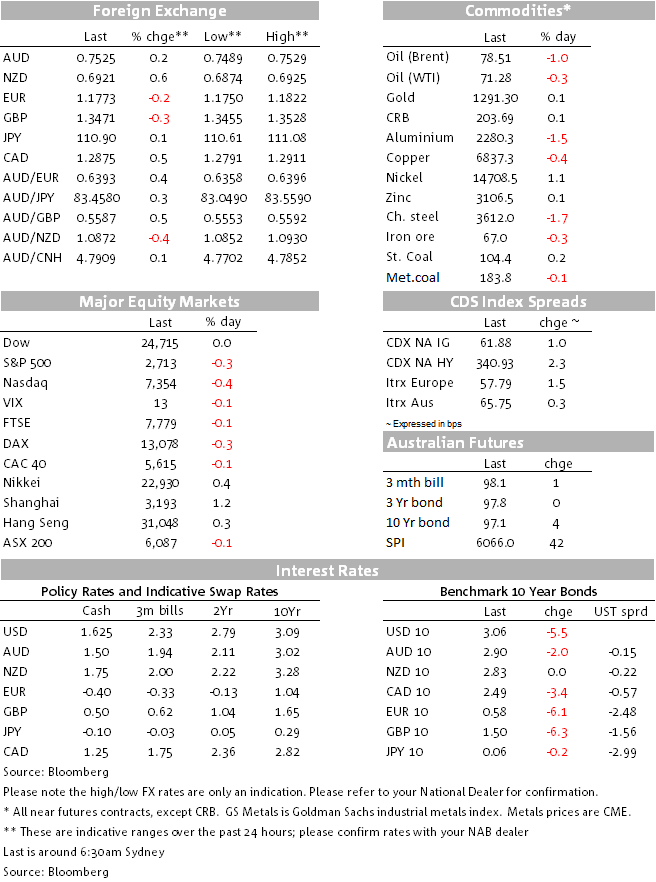 For further FX, Interest rate and Commodities information visit nab.com.au/nabfinancialmarkets