Markets Today: Trump laps up history
Whilst Trump is overseas, the stock market has rebounded from yesterday's falls, whilst Brent Crude continues to fall.
Today's podcast:
Overview: Hotel California
Strong night for US stocks amid some positive noises from China and US on resumption of trade talks
AUD back on 0.74 handle, USD/JPY highest since 10th January
US CPI surprises slightly to the downside but headline and core now 2.9% and 2.3% in annual terms
Brexit White Paper posits 'association agreement' similar to Ukraine; seeks to extend transition agreement by another 12-18 months
China trade, US consumer sentiment, US bank earnings due
Back to positive risk sentiment, aided by both China and the US making noises suggesting the doors are open to resumption of trade talks even if neither side is yet quite ready to walk through them. Alongside, the failure of USD//CNY to hold yesterday morning's gains up though 6.70 and firmer Asia EM currencies in general, allows AUD/USD to creep back onto a 0.74 handle. US bond yields are little changed, still near 2.85% at 10 years. A 30 year Treasury bond auction last night was easily taken down (the long bond yield is off 0.6bp).
The S&P500 and the Dow have just closed with gains of 0.9%, once again let by the IT sector and meaning the NASDAQ is up 1.4%. Remember US Q2 corporate earnings season kicks off in earnest this evening with JP Morgan, CitiiGroup and Wells Fargo all reporting, so that will likely be a big influence on how indices fare into the weekend.
After trade tariff tensions ratcheted sharply higher on Tuesday's announcement that Trump had ordered his US Trade Representative to issue a list of $200bn worth of additional Chinese goods on which 10% tariffs could be applied, yesterday a spokesman for the Chinese Ministry of Commerce said China would take "necessary" steps to defend its interests but didn't explicitly say it would respond with equivalent measures while China's vice minister of Commerce said "we should sit down and try to find a solution to this trade problem".
Overnight we've heard from US Treasury Secretary Steve Mnuchin who told the US House Financial Services Committee that the US was "available" for negotiations, while stressing the need for China to made structural changes. Meanwhile in Europe, President Trump has been railing against Europe's contribution to the NATO defence budget (he wants European countries there to be spending 4% of GDP on defence not 2%) but hasn't as yet upped the rhetoric on trade, in particular his earlier threat to impose tariffs of 20% on 25% on car imports to the US.
Last night's key economic release, June US CPI, came in slightly on the low side as regards headline inflation, printing 0.1% against the 0.2% expected, while core printed 0.2% as expected but only 0.16% unrounded. Nevertheless headline CPI inflation is now 2.9% up from 2.8% in May and core (ex-food and energy) 2.3% up from 2.2%.  Softness in hotel and utility prices accounted for much of the downside surprise.
As for washing machines, which we've been talking about this week as showing the full impact of the tariffs announced last December, annual inflation here is now running at 20%. A reminder of how US import tariffs are already hurting US consumers and will be doing so on a much larger scale as a result first of the tariffs on $34bn (rising to $50bn) of Chinese imports and then $200bn. We remain highly sceptical the latter at least will end up being implemented, in which case the tariffs on $34bn/$50bn of Chinese imports will likely end up getting lifted as well.  That prospect is however many weeks away at best.  In the meantime watch Monday's China activity readings for June to be published on Monday – these could be the next influence on the Chinese Yuan, and with that broader Asia FX and the AUD.
Fed chair Jay Powell has been out saying that "The economy's in a really good place," while acknowledging the risk posed by escalating trade disputes.  Should those disputes result in "high tariffs on a lot of products and a lot of traded goods and services" that "could be a negative for our economy," he said. We've had the Fed's Harked and Mester both out suggesting the Fed could rise rates two more times this year.
G10 FX moves in the last 24 hours are wholly consistent with the better risk tone, AUD, CAD, NZD topping the leader board in that order (AUD +0.56% to 0.7407). The Japanese Yen and Swiss Francs are near the bottom (USD/JPY up another 0.45% in the last 24 hours to ¥112.52 – it's highest since 10th January).
As for Brexit, the government formally released its white paper on the future UK relationship with the European Union, in which it sets out plans for an 'association agreement' of the kind recently agreed between Brussels and the Ukraine.  We need to get across that (it's still early here) but confirms plans for a de facto continuation of single market and Customs Union membership for the goods and agriculture sectors while in essence leaving the fate of services (80%) to be determined. Note that the paper also includes a suggestion for an additional 12-18 month transitional period on top of the existing, provisionally agreed, period through the end of 2020. So Brexit doesn't practically take effect before 2022 on this basis. Hence the description of some hard Brexiteers on May's proposal as the 'Hotel California' option.  You can check out any time you like, but you can never leave.
 Coming up
China June trade the main economic event in our time.  In USD terms, the balance is seen at $28bn from $25bn in May, with import growth of 21% yr/yr vs. 26% and exports +4.0% from 2.2%
Tonight the University of Michigan July preliminary consumer sentiment index is seen at a still-strong 98.0 from 98.2
JP Morgan, Wells Fargo, CitiiGroup all report Q2 earnings
Market prices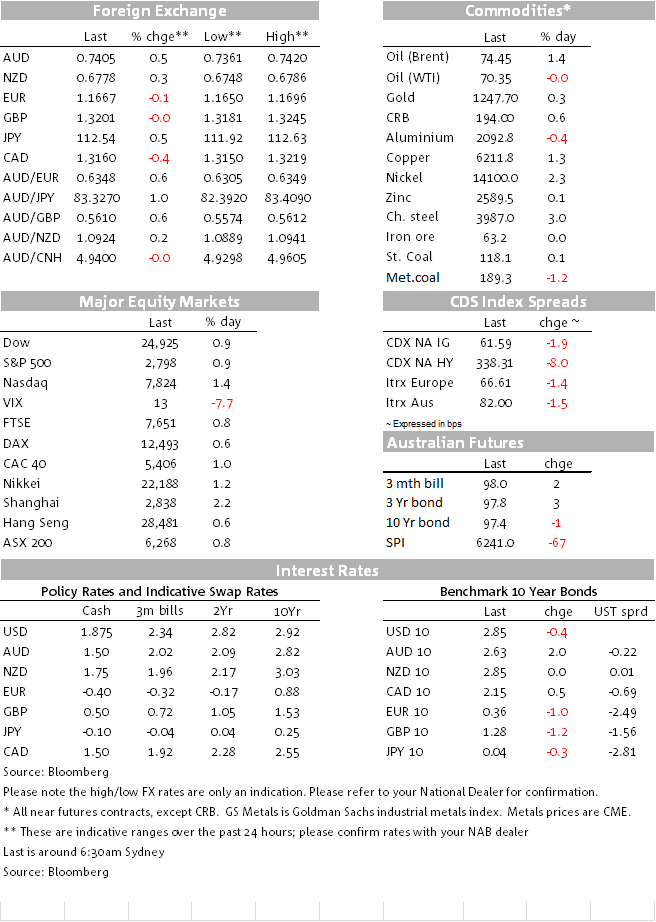 For further FX, Interest rate and Commodities information visit nab.com.au/nabfinancialmarkets