Markets Today: US data is bad but not Eurozone bad
The US saw some poor economic data on Friday yet bond yields rose as did equities.
Today's podcast
Overview: A gentleman at large
Softer US data (ISM and Consumer Confidence), not enough to arrest move higher in UST yields, US equities and the USD
European equities also closed higher except for Spain
CAD is the big G10 loser on Friday following a softer than expected Q4 GDP
GBP also softer on the day, but strongest G10 for the week. The opens higher today amid signs of softening stand by Bexitiers in the Conservative party
The stronger USD back drop sees AUD and NZD end the week close to their near term lows. But open higher on WSJ story below
WSJ just out suggesting US and China are closing in on a trade deal. A formal agreement could be reached at Xi-Trump summit around March 27
In a Tweet President Trump said he has asked China to immediately remove all tariffs on US agriculture
Trump has another go at "a gentleman at the Fed" that likes raising interest rates and says dollar is too strong
A busy week domestically and abroad including AU RBA meeting, Lowe speech, GDP, partials, retail sales, building approvals, trade; NZ wholesale trade, manufacturing sales and building work; US jobs, ISM non-manufacturing; CH People's Congress, Trade; ECB meeting; CA BoC meeting, jobs
Monday brings AUGDP partials (Inventories, Company Operating Profits), Jan Building Approvals and February Job Advertisements. Europe gets PPI (Jan) and US Construction Spending (Dec)
Softer US data releases had a short lived downward impact on US equities, UST yields and the USD, all three closed higher on Friday. It was a good night for risk assets with all major equity indices closing higher. The USD was broadly stronger with CAD the big G10 underperformer following a softer than expected Q4 GDP print. GBP lost ground on Friday, but has opened the new week stronger amid expectations of a softening stand by Conservative Brexitiers. The stronger USD backdrop sees AUD and NZD end the week close to their near term lows. Over the weekend President Trump said he has asked China to immediately remove all tariffs on US agriculture and he also had a go at "a gentleman at the Fed" that likes raising interest rates while noting that the US dollar is too strong. As we are about to press the send button, the WSJ is running a story suggesting US and China are close to agreeing a trade deal with a formal agreement likely be reached at a Xi-Trump summit around March 27.The news should be a positive for risk sentiment at the start of the new week.
US data releases on Friday night were unequivocally soft. The all-important ISM manufacturing fell to a 2-year low, coming in 54.2 from 56.6 and against expectations of a smaller decline to 55.8. Details on the survey were not that impressive either,  production fell to 54.8 from 60.5, new orders came at 55.5 from 58.2 and employment at 52.3 from 55.5. Meanwhile the final reading of the University of Michigan consumer sentiment index for February was also softer than expected, alongside soft monthly income and spending data for December ( see more detail below).
In spite of evidence of a US economic slowdown, the soft US data releases only had a short lived impact on US equities, UST yields and the USD, all three closed higher on Friday. Unlike concerns over the China's and Europe's slowdown, both in terms of magnitude and extent of time, the market appears to be less concerns over the nature and magnitude of the US slowdown. The weather and government shutdown are temporary shocks and thus investors can look through a spell of soft data releases and now the prospect of a US-China trade deal should help reinforce that view with China also benefiting from the latter.
So after an intraday fall, all three US major equity indices managed to end the day in positive territory. Looking at the weekly performance the Nasdaq closed higher for a 10th week in a row, but the Dow was unable to match the move closing 0.2% down for the week after 9 weeks of higher weekly returns. The UK FTSE was the other negative performer for the week, reflecting its sensitivity to a higher pound while in Asia, China's equity market was the stand out with the Shanghai composite Index up 6.77% for the week.
On Friday night, UST yields move higher in an almost parallel fashion ( about 4bps in average) with the 10y rate closing the week at 2.7531%, after reaching an overnight high of 2.7640%. US data releases didn't really have a material effect on UST yields trajectory with the intraday chart showing a steady rise in yields over the course of the night. Speaking at the National Association for Business Economics conference, Atlanta Fed Bostic ( non-voter) said that he is very comfortable with the Fed being patient, Bostic still favours one rate hike this year and although he expects inflation to pick up and he wouldn't panic if it went a little above 2% target.
Unlike UST yields, the USD did show a brief negative reaction to the softer US data releases ( mainly the ISM report). Nevertheless the USD still closed higher in index terms, outperforming both developed and most EM currencies. The DXY index closed Friday 0.38% higher, to end the week essentially unchanged at 96.53. Looking at G10 in more detail, the CAD was the big underperformer on Friday weighted down by a barely positive GDP growth in Q4 and a 2½% fall in WTI oil prices. A July BoC rate hike is now priced at 13% after being close to 25% half way through last week, the BOC meets later this week ahead of labour market data on Friday. The Bank is expected to stand pat, but given the softer data of late it will be interesting to see if it retains its tightening bias for later in the year.
Euro-area core CPI data came in lower than expected at 1.0%, confirming core inflation remains stuck around the figure with no evidence of renewed upward pressures. The EU final PMI's also confirmed a sub 50 number for February Germany at 47.6 (same as the flash reading last week) – a 74-month low. The data comes ahead of the ECB meeting later this week alongside a fresh set of forecasts.  There is a chance that the Bank pushes out its expected timing of rate hikes, and we might also hear official confirmation of discussion about further easing measures, such as another round of long-term loans offered to banks on favourable terms to try to stimulate credit growth.  After moving above 1.14 after the US ISM data, the currency drifted down into the close, ending the week around 1.1365.
A lift in China's Caixin manufacturing PMI (Feb: 49.9 vs. 48.5 exp.) provided a transitory uplift to both the AUD and NZD, but in the end the stronger USD backdrop weighed on both antipodean currencies with both pairs closing close to their bottom of their recent ranges. AUD closed at 0.7080 and NZD was near the 0.6800 mark.
As noted above the WSJ is suggesting the US and China are close to agreeing a trade deal and notwithstanding some hurdles, talks have progressed to the extent that a formal agreement could be signed at a Xi-Trump summit around March 27. Reflecting the positive mood music, AUD and NZD  are moving higher as we type, up to 0.7115 and 0.6827 respectively.
After a softer close on Friday, GBP is also moving higher this morning following weekend news that Conservative Brexitiers have outlined conditions for supporting PM May's plan for leaving the European Union. According to the Sunday Times, the document cites three tests: a demand for a legally binding clause that "unambiguously overrides" the text of the withdrawal agreement, stronger language that the so-called Irish border backstop will be temporary and a "clear and unconditional route out of the backstop if trade talks fail.". It remains to be seen if this will be enough for PM May to get her plan through, Europe still needs to agree to these concessions and the PM still needs support from a few Labour MP in order to get all the necessary votes.
Early on Saturday, President Trump said he asked China to immediately remove all tariffs on US agriculture and speaking at before a Conservative Conference the President had another go "a gentleman that likes raising interest rates in the Fed, we have a gentleman that loves quantitative tightening in the Fed, we have a gentlemen that likes a very strong dollar in the Fed." Trump also added that "I want a strong dollar but I want a dollar that does great for our country, not a dollar that's so strong that it makes it prohibitive for us to do business with other nations and take their business,
Friday's data releases
US February ISM manufacturing 54.2 vs 55.8 expected
University of Michigan (F) consumer sentiment for February 93.8 vs 95.9 est. down from 95.5.
US core PCE YoY Dec: 1.9 vs. 1.9 exp.
EZ manf PMI for Feb was soft at 49.3 vs a 49.2 flash and 50.2 in Jan – now lowest  since June
UK: Markit PMI manufacturing, Feb: 52.0 vs. 52.0 exp.
EC: Unemployment rate (%), Jan: 7.8 vs. 7.9 exp.
EC: CPI core (y/y%), Feb: 1.0 vs. 1.1 exp
German January retail sales 3.3%m/m for 2.6% y/y up from -1.6% in December
Canada Q4 GDP +0.4% q/q annualized vs +1.0% expected
Baker Hughes oil rigs 843 vs 853 last week
Coming up
A busy week domestically and abroad including AU RBA meeting, Lowe speech, GDP, partials, retail sales, building approvals, trade; NZ wholesale trade, manufacturing sales and building work; US jobs, ISM non-manufacturing; CH People's Congress, Trade; ECB meeting; CA BoC meeting, jobs
Monday brings AUGDP partials (Inventories, Company Operating Profits), Jan Building Approvals and February Job Advertisements. Europe gets PPI (Jan) and US Construction Spending (Dec)
See our What to Watch publication for more details
Market prices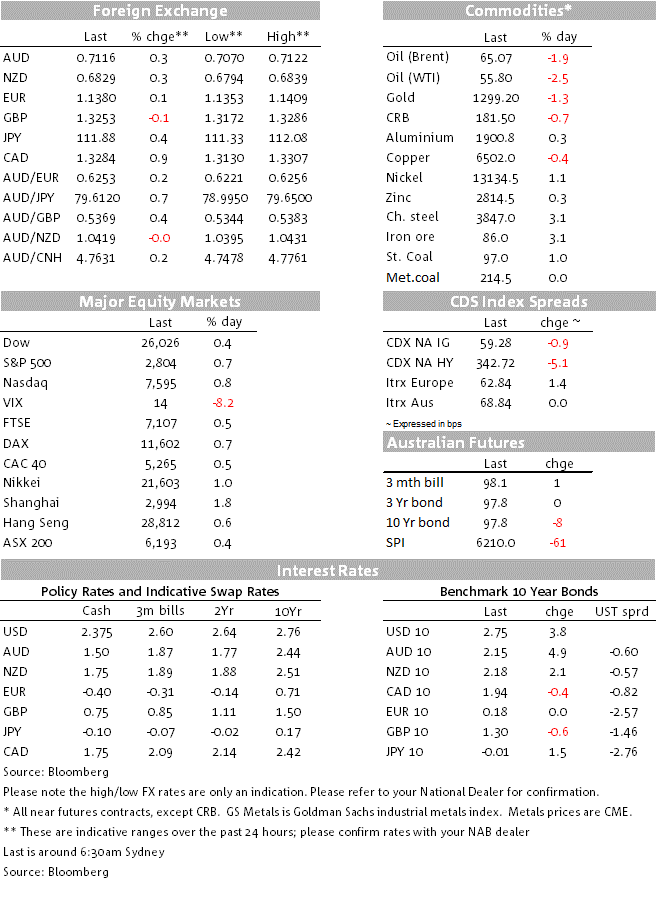 For further FX, Interest rate and Commodities information visit nab.com.au/nabfinancialmarkets