Markets Today: US dollar gains, oil falls, EU wants answers
Despite increasing tensions over the missing Saudi journalist, oil fell sharply.
Today's podcast
Overview: The hardest part
May speaks to EU27 on Brexit; more delays likely
Equities drift lower in Europe and the US
In FOMC Minutes, Fed mulls how much higher rates will go; most expect into slightly restrictive territory; dollar and Treasury yields little affected
AUD drifts back down to 0.71 as USD makes up some lost ground on the day
Oil back down in rising inventories; is this any more than hurricane-related system congestion?
Chinese aggregate financing report hints at some easing back in deleveraging
AU employment today; NAB looks for stronger than consensus; AUD supportive
Still no Brexit deal
As we go to press, UK PM May has been addressing EU27 leaders at a pre-dinner event on the latest Brexit developments/her proposals.  Despite no clear air yet, including on the important Irish border question, the Pound has bene remarkably stable.  Not even comments from BoE Deputy Governor Jon Cunliffe that Britain crashing out of the EU could see a big fall in the Pound had any impact.
Markets wait to hear whether expectations that there will be further delays – there is after all 164 days before the two year notification period ends next March – before a Withdrawal Agreement acceptable to all sides can be stitched up, if one can be stitched up or other political events unfold.  EU chief Brexit negotiator Barnier said that the two sides need "much more time" and he urged patience.
The very latest seems to be that PM May is weighing up a plan to stay tied to European Union for longer than the proposed 21 months after next March that was expected with a Withdrawal Agreement.  We watch, we wait.
Currencies
The Pound has only been a little softer overnight and ahead of the release of the September CPI, weakness aided by a lower than expected print in headline and core inflation terms.  Sterling is down 0.37% from late APAC trade yesterday.  What's been seen in Sterling has been evident for other majors against the USD, give or take, including the Euro, AUD and NZD in a rather listless overnight session.
The USD has been making up some lost ground in the past 24 hours or so.  It seems to have been more market related rather than US data (only housing starts were released overnight and they were likely hurricane affected), while the FOMC Minutes this morning also have not shifted the dial too much.
The AUD has been very much range bound ahead of this morning's September Labour Force report, trading back down to low 0.71s on little new.  China released their September new yuan loans, aggregate financing and money supply report, revealing no clear acceleration in money supply growth, yuan loan volumes in line with expectations, but aggregate financing well above expectations, at 2210b yuan, well above the 1554b expected and the highest since early this year.  It's a hint perhaps of some slowing in corporate deleveraging and somewhat easier monetary conditions playing through.  We'll see tomorrow whether the September month industrial production, retail sales, and fixed assets investment plays to any similar tune.
Economics: FOMC Minutes
Recall these are the Minutes from the Fed's 25-26 meeting when they hiked rates, dropped "accommodative" to describe current monetary policy settings and Chair Powell comments since that rates were a long way from neutral.  It's not surprising then that there was plenty of interest in whether the Minutes might disclose some as yet uncovered gems on the real thinking on neutral levels and indeed the outlook for rates generally.  (The formal dot points released at the time suggested that neutral was still in the vicinity of 2¾-3%.)
What did catch the attention in the Minutes were comments that "a number" of Fed officials saw the need to hike above the long run level, whereas "a couple" didn't favour adopting restrictive policy, a clear bias that on the current trajectory, the Fed will continue on its path of hiking.  While there are often points for or against noted on both sides of the argument in the Minutes, they called out the global policy divergence and that this could lift the dollar, posing a risk (to growth).
Bonds
This all has to play out on the ground in terms of continued growth and inflation, but on the day, it was reason to be some support for the USD, but also Treasury yields, even though US stocks have been listless, closing close to square.  US 2y Treasury yields rose 2.5bps to 2.8906%, while the 10s rose 3.6bps to 3.1993%.  Yields pushed a little higher into the close despite a soggy stock market.  Across the Atlantic, there was a wire report that the EU Commission is going to reject the Italian Budget.  Whether well sourced or not, Italian 10y BTPs rose 9.5bps to 3.548%; German bunds were down 3bps to 0.461%.
Commodities
The big mover has been oil, with WTI down 2.6% and Brent off 1.36%, markets heavy despite the still unfolding Saudi/Khashoggi story and any political blowback, and into the release of weekly crude inventories.  About half of the decline happened before the release of weekly crude inventories showing a much larger than expected rise, though the supply-demand balance situation won't be clarified until the after effects of the Hurricanes are worked through.  Iron ore was down, met coal prices rose again (steaming too, though by less), while base metals were mixed.  Gold eased.
Coming up
Watch out for more Brexit headlines, including from the EU side
AU employment, Sep (11.30 AEDT) is the big release this morning.  NAB looks for employment growth of 30K, at the top of the forecast range as it turns out, based on NAB employment, our own in-house employment indicator, and sample rotation effects.  The unemployment rate is expected to tick down to 5.2% from 5.3%;
The NAB quarterly Business Survey for Q3 is also out this morning (also 11.30 AEDT). As well as being based on a larger sample, it provides details in employment and capex intentions for the year ahead and additional details on wage trends;
The RBA also releases their monthly FX transactions report for Sep at 11.30
Also, Japanese trade balance, Sep (10.50 AEDT); more likely the market will be more attuned to any market-related sound bites from BoJ Governor Kuroda who is speaking at 11.30
Tonight: UK Retail Sales, US Leading index, jobless claims, Philly Fed survey and the Fed's Bullard and Quarles speak.
Market prices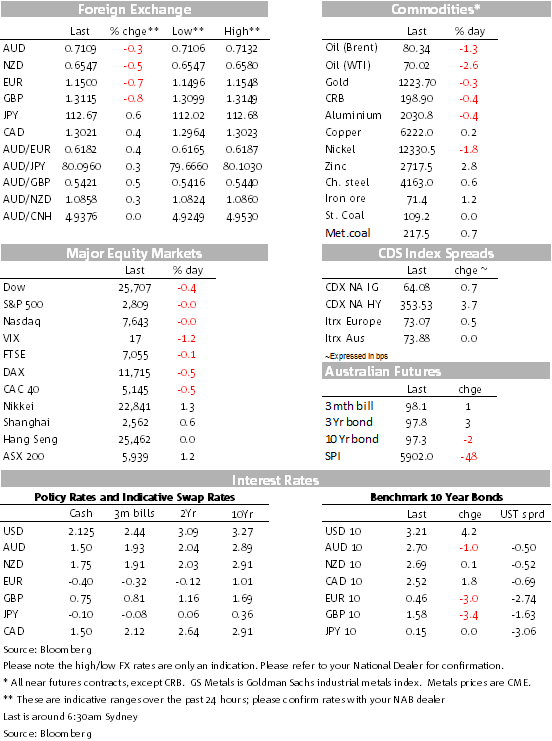 For further FX, Interest rate and Commodities information visit nab.com.au/nabfinancialmarkets