Markets Today: US open for business as earnings fall
Equities took a hit as Caterpillar, a bellwether stock, missed its quarterly forecast, showing that the tariff war isn't just hitting the Chinese economy.
Today's podcast
Overview: This time I know is for real
Markets start the new week on a wary mood with Friday's positive vibes a distant memory
Caterpillar and Nvidia disappointing reports spark equity sell off – Slower Chinese growth the culprit
UST yields are lower across the board. USD little changed, but safe haven JPY and CHF outperform
Oil leads the decline in commodities more than reversing Friday's gains
NAB Business survey today's domestic focus. UK Brexit Votes, Apples Earnings report offshore highlights
On Friday, news of a temporary end to the US government shutdown alongside reassuring development on US-China trade negotiations and additional stimulatory policy tweaks from China combined to feel the air with optimism, driving equities, commodities and UST yields higher while the USD ended the week weaker across the board. In contrast, the new week has begun with a broad risk-off tone as Caterpillar and Nvidia reveal disappointing earnings reports citing a slowdown in Chinese demand for their struggles. Caterpillar and Nvidia are not the first companies to blame China for their afflictions, but both companies are seen as industry bellwethers and their disappointing results provide further evidence that this time China's slowdown is for real. US equities looks set to close the day well in negative territory, UST yields are a few bps lower while the USD has consolidated Friday's decline. AUD and NZD are little changed and have retained the bulk of Friday's gains.
Overnight Caterpillar posted its biggest quarterly profit shortfall in a decade while guidance for 2019 was well short of analysts' estimates. The company now expects no sales growth from in China this year and only a "modest" increase worldwide. Caterpillar shares are down around 9% after falling over 10% at one stage.  Meanwhile, shares in US graphics chipmaker Nvidia fell almost 15% after it unexpectedly revised its revenue guidance for 2019 sharply lower, blaming "deteriorating macroeconomic conditions, particularly in China."  Nvidia is due to report earnings in mid-February but, like Apple earlier this year, chose to update its guidance to the market ahead of time
As we type the S&P500 is 0.89% down, after falling just over 1.5% half way through the overnight session. The Nvidia news also dragged the NASDAQ index below 1.5% at one stage before recovering a little to 1.16% where it currently trades. Nick Smyth, our BNZ colleague, noted this morning that this week is the busiest week of the US earnings season, with over 100 of the S&P500 reporting, including Amazon, Apple (early tomorrow morning) and Facebook.  So far this earnings season, 70% of corporates have beaten analyst expectations, but that hasn't stopped analysts trimming expectations for 2019 earnings growth (now 5.6% for 2019 vs. 6.3% two weeks ago).  Also in focus later this week will be the resumption in US-China trade talks, with US Vice Premier Liu meeting US officials on Wednesday and Thursday
The selloff in equities has triggered a risk-off mood across other markets. The UST yields have drifted lower along the curve with the declines led by the 5y tenor, down over 2bps to 2.58%. Relative to Friday's closing levels, the 10y note is down 1.5bps to 2.744% after trading to an overnight low of 2.7260%.
On Friday the big dollar was weaker across the board amid positive vibe emanating from US government shutdown and China news. The big dollar ended Friday around 0.70/80% lower index terms with AUD and NZD up over 1% on the day. Overnight the risk off tone has seen JPY and CHF outperform, but both currencies remain comfortably within their recent trading ranges (USD/JPY now trades at ¥109.38 and CHF is at 09918), meanwhile the USD has not been able to benefit from the risk-off tone in the overnight session with DXY and BBDXY little changed.
Notably as well the risk off tone in equities has not really affected the AUD and NZD. Both antipodean currencies are a tad lower over the past 24hrs, but they have retained a large portion of Friday's gains. AUD now trades at 0.7165 and NZD is at 0.6830. The NAB survey will be the domestic focus today ahead of the all-important Australian Q4 CPI due for release tomorrow. NAB forecasts a fairly soft headline inflation print of +0.3% q/q, 1.6% y/y (risk of 0.4% q/q) and trimmed mean inflation of 0.4% q/q (1.8% y/y). We are at the lower end of market consensus and suggest limited upside risk to Headline CPI. If we are right the AUD will struggle to retains its recent gains ahead of the RBA meeting next week.
The GBP has eased back from three month highs to 1.3170, down 0.2% on the day.  UK MPs are due to vote on a number of amendments to Theresa May's Brexit plan on Tuesday, with the market particularly focused on one amendment proposed by Labour MP Yvette Cooper, which would seek take a no-deal scenario off the table.  The Cooper amendment would allow the House of Commons to instruct the government to extend Article 50 should there be no Brexit deal in place by February 26, and if it were passed would likely boost the GBP. An alternative amendment proposed by Tory backbencher Graham Brady that would seek to water down the Irish backstop was publicly rejected by Brexit hardliner Jacob Rees Mogg a short while ago.
Oil prices are down over 3%,seemingly spooked by the equity reaction to Caterplillar and Nvidia reports. A slower global growth is not good news for oil demand. Copper is also down 1.76% amd while coal and iron ore are little changed.
Lastly on the government shutdown, discussions are ongoing between Trump and Democratic lawmakers over border security matters. The recently passed bill only keeps the government open until the 15th of February.  Trump said overnight that the chance of a bipartisan deal to avert the government shutting down again was "less than 50-50" and again threatened to use his emergency powers if required to build the wall. 
Data releases
China's Dec. Industrial Profits Fall 1.9% Y/y to 681B Yuan, China's Dec. Manufacturing Sector Profits +8.7%
Coming up
NZ  Trade Balance
AU  NAB Business Survey
US  Retail Sales, Trade, Building Permits, Wholesale Inventories ( possibly tonight or later in the week. The US BEA is working to determine a revised schedule for US economic data releases that were postponed due to the government shutdown)
US  Conf. Board Consumer Confidence
Market prices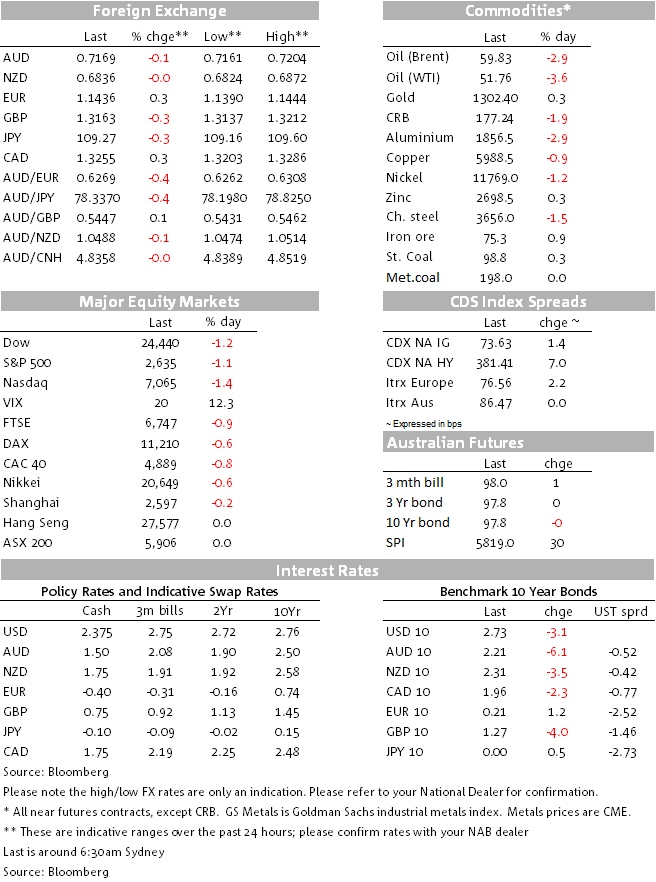 For further FX, Interest rate and Commodities information visit nab.com.au/nabfinancialmarkets