Markets Today: US reimposes Iran sanctions tomorrow
The US move to push ahead with sanctions against Iran will heighten tensions with Europe.
Today's podcast
Overview: Words
The Pound declines further after more Brexit "no deal" political commentary
Higher CNY fix yesterday sees AUD back below 0.74
Still a healthy serving of geopolitics being served up with side orders of words; not only US/China, but Italy's budget and new US Iran sanctions announced (not oil yet)
RBA today; to hold to their outlook but issues clouding the outlook
Currencies
The AUD is trading below 0.74 this morning, trading somewhat lower yesterday after the CNY was set higher, notwithstanding the reserve requirements announced by the PBoC, playing to the prospect of further depreciation over time. Additionally, China has warned it is ready to endure a "protracted" trade war, launching an attack on the White House in its state media, claiming that the US has "lost its mind on trade" and that it's "trying to conclude the trade disputes swiftly".  The Global Times said China is ready to face "temporary pain" in a full-blown trade war and will not become the US's "economic vassal". "China has to defend its right to development, and we don't fear sacrificing short-term interests".
It's been a relatively orderly night in the FX world, the largest mover again among the majors has been the Pound that seen some more selling.  After testing 1.30, Sterling was sold down to the mid-1.29s (AUD/GBP is trading above 0.57), this time after UK International Trade Secretary Liam Fox in an interview with the Sunday Times said there is a 60 per cent chance of a no-deal Brexit, saying a cliff-edge Brexit is now odds on and blamed the "intransigence" of the European Commission for the deadlock in talks. He's not a Brexit minister but is in the Cabinet.  In response, May said that a deal is still likely but that no deal would be better than a bad deal.
In what was a light night for data, German factory orders in June fell a faster 4.0% (cf -0.5% expected), many news stories attributing this shortfall to trade tensions, despite what is a very jumpy series.  That may be part of it but it has to be said this fall is as much payback after a 2.6% rise in May, both foreign and domestic orders down after rises last month.  The Euro has been little changed.
Among less traded currencies, the Turkish lira has seen more selling to a new record low, trading at 5.33 top the dollar this morning, having tested above 5.4.  Turkish monetary authorities changed reserve rules to boost banks' foreign-exchange liquidity, though this seems to have provided minimal support for the currency.  The USD has risen by 41.5% against the TRY so far this year, AUD/TRY up by over one third.
Bonds
It's been a rather choppy night for bonds with European sovereign yields at the close finishing mostly lower by 2-3 bps.  Treasuries are little changed.  Even Italian yields were a little lower on the day despite further pre-Budget sound bites, this time from Italian co-Deputy Premier Di Maio (Five Star) saying that the EU budget rules mustn't be used as an excuse to block efforts to help struggling Italians.  He said that "it would be fine" if the government can finance its program for a flat tax, citizen's income and lower retirement age within the EU deficit limit of 3% of GDP, but went on to say that "the budget parameters can't be a way to say that we can't do it". This follows Sunday comments from fellow Deputy Premier Salvini (leader of the League) saying the EU deficit cap is not "the Bible".
Of course, such thoughts are well known with Italian bond yields already ~100 bps higher in recent months.
Commodities: Iran sanctions, but not oil, yet
President  Trump  signed an executive order overnight, but sanctions on oil won't go into force till November.  The US sanctions restrict purchases of dollar banknotes by Iran, prevent the government from trading gold and other precious metals and block trading of various industrial metals. The measures take effect Aug. 7.  Not only will the sanctions against Iranian oil not come into force until early November, the administration signalled it will consider partial exemptions to that ban.
Oil prices were up a little overnight (longer-dated futures moved similarly), base metals were mixed, and gold eased. Closer to home, Dalian futures prices for iron ore, steel rebar and coking coal all made some gains yesterday where the price mood appears to be firming.
Coming up
RBA today:  no change in the cash rate is odds on.  Interest will be in the statement, how they characterise the outlook, any changes to the last forward guidance para (unlikely), any concern over the currency (also unlikely with its sensitivity to the CNY).  Also watch for how the forecasts to be outlined in detail in Friday's quarterly Statement are characterised. We don't expect much change if any in their baseline forecasts, but the outlook is becoming cloudier on the international front from trade wars and other issues. On the domestic front, there has been little to no progress in reducing unemployment with very steady wages growth.
Market prices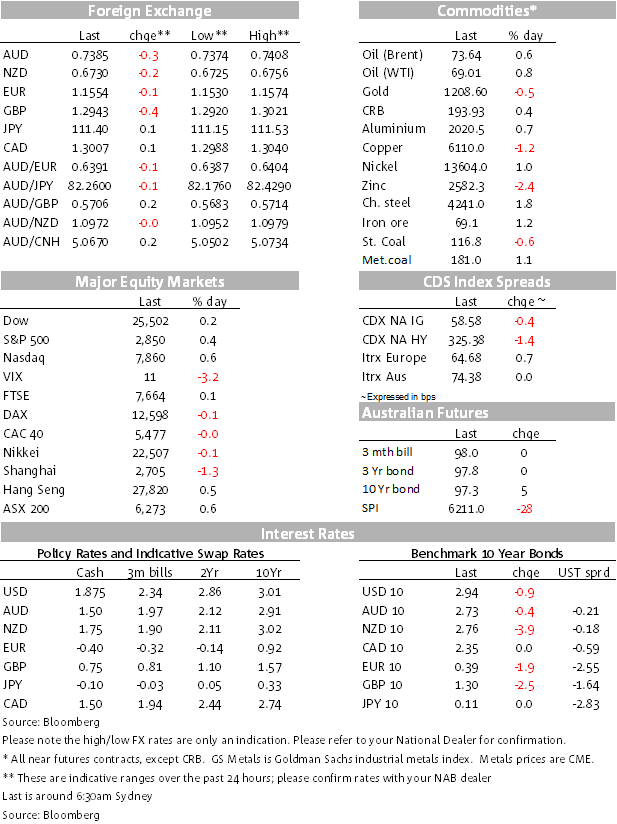 For further FX, Interest rate and Commodities information visit nab.com.au/nabfinancialmarkets