Markets Today: Waiting in vain
There's a risk-off mood in the markets this morning.
Today's podcast
Overview
Risk-off tone overnight with S&P and NADAQ lower, CHF, JPY top the currency board
US Treasury yields down after NY Fed President Williams' speech
US non-manufacturing ISM beats expectations at 58.5 up from 55.7
China tariff consultation period now ended – waiting for the White House
US payrolls tonight, China trade on Saturday
There's a risk-off atmosphere to markets with the public consultation period in respect of White House plans for tariffs on another $200bn of Chinse goods just drawing to a close. The S&P500 and NASDAQ are ending the US day lower, chip-makers (on weaker demand forecast) and technology giants (in a week where anti-trust issues have again raised their head) leading the sell-offs.  MSCI's global Emerging Market index has now entered bear market terrain (off 20% since January) while in currencies, the Swiss Franc and Japanese Yen top the G10 leader board.  US bond yields are bit lower but largely on the back of comments from NY Fed president John Williams, not risk-sentiment per se.  The AUD is back hugging the 72 cents level.
Data and Central Bank speak
The recently installed head of the NY Fed, former San Francisco Fed President John Williams and definitely one Fed official to be listened to, has been out saying he's not concerned about potential yield curve inversion and that the Fed should push on with gradual rate hikes according to its read of the data and its outlook, but that limited wages growth to data suggests that there remain slack in the economy such that there is no need to consider a step up in the pace of tightening.  Williams said, "….the fact that wages haven't grown a lot faster is a sign that this economy still has room to run," adding that as a result, "we don't feel the need to raise interest rates more quickly than otherwise."
Chicago Fed President Charles, in the text of a speech he was to deliver in Argentina but which got cancelled, says that the Fed should be moving policy toward neutral and then a bit beyond. Tailwinds could prompt the Fed to tighten somewhat further (a veiled reference to fiscal stimulus?) while headwinds (e.g. from tariffs) could dictate a shallower path of rate rises. This is really nothing new.
On the data front the US non-manufacturing ISM printed above expectations at 58.5 up from 55.3, with activity and orders both very strong and the rhetoric on tariff concerns still there but somewhat less shrill than recent months.  Firms are coping okay so far, is the message.  We also had ADP employment printing at a below-expectation 163k ahead of tonight's non-farm payrolls (see below) while factory goods orders followed last week's soft headline durable goods orders, coming in at -0.8%.
Currencies
Not a big night overall for currencies.  In the EM world, the Rouble is the biggest loser of the last 24 hours, down 1.4% as market anticipate further sanctions against Russia related to the Novichok poisoning deaths in the UK and following the identification of two Russian suspects. The overall EMCI global EM FX index is actually a touch firmer (+0.3%).
In G10, JPY (+0.73%) and CHF (0.66%) top the table reflecting their safe-haven characteristics ahead of a possible China tariff announcements from the White House, followed by the Canadian Dollar (+0.27%). The latter is after senior deputy BoC governor Carolyn Wilkins revealed that the bank debated this week whether to accelerate the pace of tightening before agreeing to maintain the 'gradual' official policy line.
GBP has also been a slight outperformed, rising 0.2% to 1.2929, helped by a more positive vibe around Brexit.  A European Commission spokesman said that chief Brexit negotiator Barnier doesn't think that the UK's plan for post-Brexit ties is completely unworkable.  He said that Barnier had been "very clear" from the outset that the plan contains "positive elements" and there could be "further discussions on issues that still create problems."
AUD is back hugging the 0.72 handle having taken another small hit yesterday on news that two more of the major local banks were lifting their variable mortgage rates, by either 15bps or 16bps (reinforcing perceptions that out of cycle rate rises will keep the RBA on hold for longer). We would note though that even with this latest rise, the average discounted variable home loan rates still sits below where it was in 2016 after the RBA last lowered the Cash Rate.  Hence the RBA has remains comfortable peddling the line that the next move in rates is likely to be up.
Equities and bonds
As noted, a cautious tone to US equities. Though chip makers and some of the technology behemoths drove the weakness in the NASDAQ (0.91%) it was energy shares (-1.93%) that were the worst performing S&P sector within its overall 0.37% decline, thanks largely to falls of +/-1% in crude oil. Earlier, European stocks all finished in the red, the Eurostoxx 50 down by 0.6%.
10-year US treasures are ending the New York day 3bps lower at 2.873% and the 2-year note -1.6bps to 2.633%.  Most of the yield declines were generated out of the aforementioned Williams speech.   Also worth noting is that Italian bonds yields continue to outperform the Euro core, 10yr BTPs off another 3.5bps overnight vs. -2.5bp for the Bund.
Commodities
WTI crude is down 83 cents or 1.2% to $67.89 and Brent off 68 cents to $76.59. Precious metals are flat ion the day while industrial metals are mostly higher with copper and zinc both up about 1%, though aluminium is off 1.35%.
Coming up
The Washington business day has just ended and with that the consultation period in relation to President Trump's proposals to slap tariffs on up to 25% on another $200bn worth of Chinese goods – a list that includes 6,031 items. Apparently some 64,000 or more representations have been made to the administration's trade office – presumably all arguing against tariffs on particular line items – but source stories last week were suggesting Trump would announce his intention to proceed as soon as the consultation period was over. So buckle up and watch this space.
It's also US payrolls Friday, but where the numbers will need to be exceptionally weak to challenge supremely confident market expectations of the Fed proceeding with its next 'gradual' quarter point lift to the Fed Funds target range on September 26th (to 2.0-2.25%).  Realistically, only a significant stock market correction (a la August 2015 – which derailed an otherwise planned September 2015 first Fed rate hike) stands between the Fed and further tightening.
Market consensus for August non-farm payrolls stands at 198k after a relatively soft 157k in July with the unemployment rate seen falling to 3.8% from 3.9%.  Average hourly earnings growth at the consensus 0.2% m/m would leave the yr/yr rate steady at 2.7%.  NAB has a below consensus 160k forecast on payrolls, consistent with prior year patterns where August has typically come in below what pure model-based predications would have you believe.
Canada also has its latest jobs numbers were employment is seen rising by just 5.0k after last month's bumper 54.0k print, with unemployment expected to rise back to 5.9% from 5.8%. Such outcomes wouldn't be weak enough to derail October (24th) rate hike expectations.
Before this, the Eurozone has final Q2 GDP, not expected to differ from the 0.4% prior estimate, and French and German trade/current account and industrial production numbers. The latter comes on the heels of another weak German order numbers yesterday (-0.9% against +1.8% expected) suggesting another weak production print.
Australia has detail of home loans in July. Last Friday's Private Credit data showed housing credit growth continuing to slow in trend terms. As such, we expect today's data will reveal an ongoing moderation in owner occupier approvals (-0.2% m/m). This is a trend likely to continue over the medium-term, particularly if further price declines and given the latest out-of-cycle mortgage rate rises.
Also to note, latest China trade numbers will be published on Saturday.
Market prices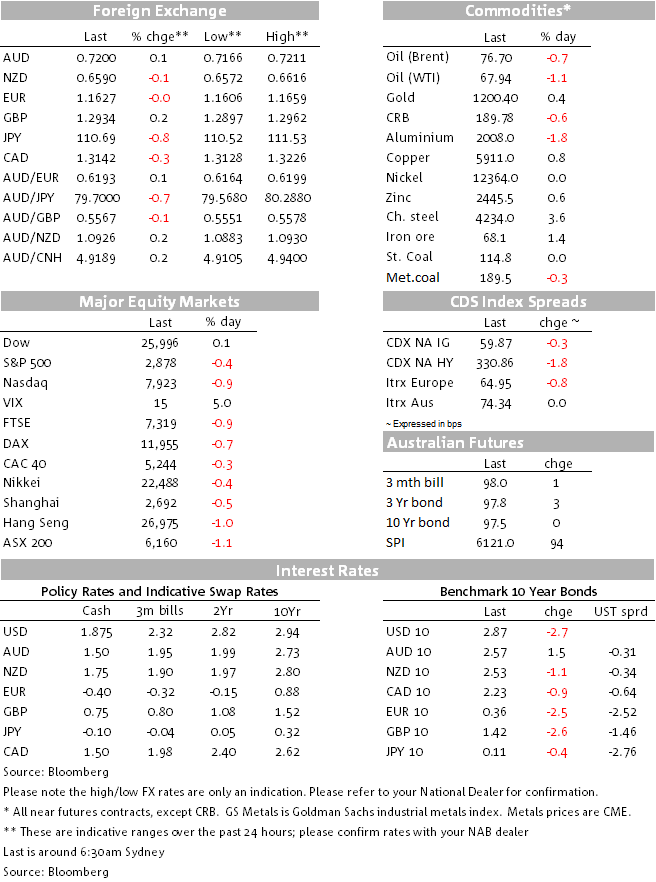 For further FX, Interest rate and Commodities information visit nab.com.au/nabfinancialmarkets