Markets Today: You ain't seen nothing yet
President Trump has threatened to sharply escalate the US trade war with China.
Today's podcast
Overview
Trump threatens tariffs on the entirety of Chinese imports, no decision yet on the $200bn
US average earnings jumps 0.4% to 2.9% yr/yr from 2.7%; NFP 201k with -50k of revisions
USD benefits from both interest rate support and safe haven demand; UST yields jump
AUD briefly below 0.71 (low 0.7099) and worse G10 performer Friday, followed by NZD
Week Ahead: China tariff news, NAFTA, China activity, ECB, US CPI, Retail Sales
Week Ahead: AU NAB business survey, consumer confidence, labour market
Speaking aboard Air Force One on Friday afternoon, President Donald Trump threatened to sharply escalate the US trade war with China, saying his administration could move "very soon" to impose tariffs on $200bn in imports from Beijing, with levies on a further $267bn in products "ready to go on short notice".  This added fresh safe haven support to a US dollar rally – forcing AUD/USD below 71 cents in the process – that had had earlier been driven by the strength of the August US payrolls report, in particular the 0.4% jump in average hourly earnings which lifted annual wages growth to 2.9% from 2.7% (alongside a 201k NFP print and unchanged 3.9% unemployment rate).  US bond yields jumped to their highest levels in a month, both two and ten year Treasury yields adding 7bp.  This didn't harm equity sentiment though; rather it was the Trump tariff news that sent stocks lower in the last two hours of the New York day.
FX
The US dollar benefited from both higher rates and safe-haven demand on Friday, the Swedish Krone the only G10 currency to buck the trend, strength put down to profit taking on long EUR/SEK positioning in front of Sunday's general election. Here, with just over half the votes counted, the centre left and centre right blocs are both tracing at a shade under 40% suggesting an inconclusive result. In Sweden however, an absolute majority is not required to govern – as  long is there is not an absolute majority against the 'winning' bloc. Nothing obviously positive for SEK in the results so far, with the far-right Swedish democrats, polling just under 20%, seemingly in a position to exert significant influence on whatever government is formed.
Other than SEK, GBP fared the least worse, still benefiting from the mid-week indications of a more conciliatory attitude from the EU towards agreeing the basis for a Brexit transition arrangement after March 2019, albeit there remains a healthy degree of scepticism that any such agreement will have enough substance to enable the UK parliament to sanction it by making a so called 'informed decision' (the FT is referring to latest developments in terms of 'blind Brexit').
AUD was Friday's standout loser, following by the NZD, extending the local session break below the May 2016 0.7145 low.  AUD/USD traded briefly below 0.71 with a low of 0.7099 recorded an hour before the end of NY trade (close 0.7106). Contributing to its late day weakness was the jump in USD/CNH (to 6.87from sub-6.85) and with that a fall in ADXY, on the Trump quotes that he was prepared to add tariffs on another $269bn of imported Chinese goods to the immediately threatened but not yet confirmed $200bn, so as to mean tariffs on the entirety of Chines imports:  Trump's economic advisor Larry Kudlow said on Friday that the administration still had a decision to make on the tariff rate(s), the volume of goods to apply tariffs to, and the timing of any action.  There is also some suggestion of a Trump-Xie meeting later net month.
On the week, BBDXY is up 0.5% and DXY 0.25% with NZD outdoing the AUD for the wooden spoon, down 1.3% versus 1.1% for AUD. AUDEUR has fallen to its lowest levels since 24th August 2015 and AUD/JPY to its lowest since 9th November 2016.
Equities
Higher US yields, driven largely by the strength of the hourly earnings component of the payrolls report, didn't take much of a bite out of US equities but the later day Trump tariff quotes did, the S&P 500 off 0.22% with 10 of the 11 sectors down on the day with real estate and utilities the two worse performing (both off by more than 1%).  On the week, all major bourses are in the red with Europe again underperforming the US and the NASDAQ underperforming other US indices as some of the big tech. counters struggle in the face of either forecasts of lower chip demand or anti-trust concerns weighing on the e-commerce behemoths (e.g. Amazon off almost 5% on the week, Intel and Apple both by around 4%).
Bonds and Fed speak
Higher sovereign yields everywhere on Friday post-US payrolls and which accounted for the bulk of the movement over the whole week but with little movement in the US 2/10s curve (0.3bps flatter on Friday but 0.3bps steeper on the week). US 2-year notes ended 7bps higher on Friday and are .7bpd up on the week to 2.703% and 10s were up 6.7bps on Friday and 8bp on the week to 2.94%
Fed speakers on Friday included Cleveland President Loretta Mester who said a solid August jobs report and growing momentum in the U.S. economy underlined her support for continued gradual interest-rate increases this year.  "Today's report is a strong one," Mester said Friday in an interview on the sidelines of a conference in Boston. "This gradual path we're on, I've been a supporter of that and I continue to be a supporter of that"  "We still have an accommodative monetary policy," she said. "In that environment we should moving toward neutral."
Dallas President Robert Kaplan says the Fed should move toward neutral interest rates, and while they probably won't invert the yield curve in the process, he'll be keeping an eye on it.  "I don't have to make that judgement yet," because it "won't be until spring or middle of year 2019 before we could reach it".
And finally Boston Fed President Rosengren noted "if things work out well for the economy, and that's what I expect and hope, then we'll be in a situation where we need to have somewhat restrictive policy over time."
Commodities
Very mixed performance in commodities Friday, amongst the base metals in particular, with no particular theme evident across the whole commodity complex:   On the week, iron ore and steel-making coal that have both risen by some 3% while precious metals and exchange traded industrial metals are all lower, as is oil.
Economics
US August non-farm payrolls 201k (190kE). July revised to 147k from 157k, June to 208k from 248k (so net two month revision of -50k).
US unemployment rate unchanged at 3.9% (3.8%E); participation rate -0.2% to 62.7%
US Average Hourly Earnings +0.4% (0.2%E, 0.3%P); yr/yr 2.9% (2.7%E, 2.7%P)
China August FX reserves -$8.23bn to $3,109,72bn.  Given a small negative valuation effect in August from (roughly 1%) US appreciation, this suggests little or no net spot market intervention, though the PBoC is believed to have intervened in forward markets in the last couple of months, which would not as yet be showing up in reported FX reserves.
China August trade balance $27.91bn (31.0bn E)
China August exports ($ terms) 9.8% y/y (10.0%E, 12.2%P)
China August imports ($ terms) 20.0% y/y (17.7%E, 27.3%P)
China-US bilateral surplus $31.05bn – new record
Canada August employment -51.6k (5kE, 54.1kP). Full/part time split 40.4/-92.0k
Canada Unemployment 6.0% (5.9%E, 5.8%P)
Canada hourly earnings 2.6% down from 3.0% and 3.0% expected
Canada Ivey PMI 61.9 from 61.8
Eurozone Q2 final GDP 0.4% (unchanged as expected) but yr/yr revised to 2.1% from 2.2%
Germany July industrial production -1.1%m/m (+0.2%E, -0.7%P revised from -0.9%)
Germany July trade balance EUR16.5bn (19.5bn E, 21.8bn P)
EZ Q2 GDP unrevised at 0.5% q/q, 2.3% y/y.
CoreLogic reported a preliminary all capital cities weekend auction clearance rate of 59.1% versus last weekend's preliminary 57.9% and final 55.0%. Melbourne preliminary 62.4% up from last weekend's preliminary 58.6% and final 54.0% and Sydney 57.8% versus last weekend's preliminary  59.1% and final 53.8%. Auction volumes were 1,907, up on last weekend but the same as two weekends ago.
Coming up
Plenty to look forward to this week, besides trade tariff news likely remaining front and centre of market psyche.  Internationally, NAFTA discussions with Canada are ongoing, we get the latest slug of China activity readings (Friday) the ECB (and of lesser interest BoE) meet and the US has latest CPI and retail sales reads.
Locally, it's the NAB business survey tomorrow, Westpac consumer confidence Wednesday and August labour force data on Thursday.
Today, we get revised Japan GDP, China CPI and PPI, UK industrial production and monthly GDP and the Fed's Raphael Bostic speaking on the Economic Outlook.
Market prices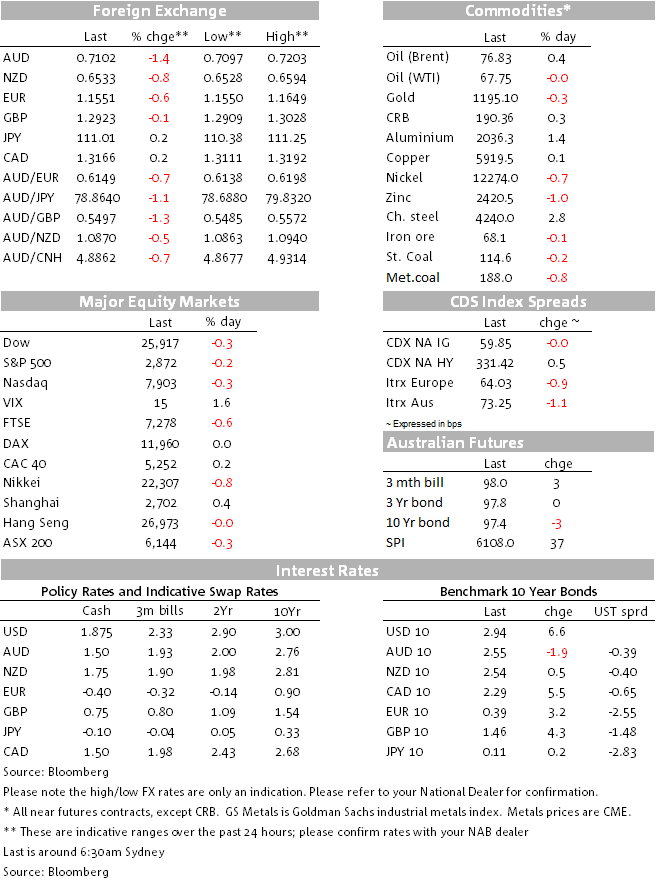 For further FX, Interest rate and Commodities information visit nab.com.au/nabfinancialmarkets