Moses & Son: Determined to recharge Australia's wool industry
The grandeur of Australia's wool industry is visible in the huge old wool stores standing tall all over our cities. Moses & Son's Martin Moses wants Australian wool to rise again – and says the next generation of sheep farmers has the power to take on the world.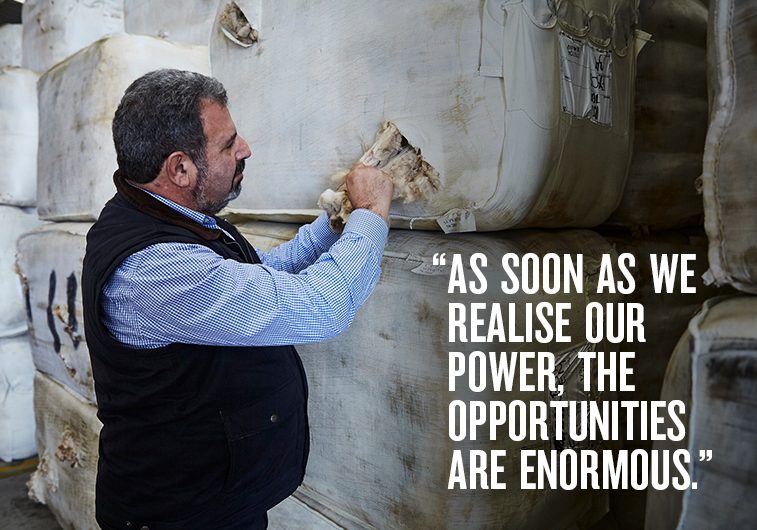 Moses & Son was established in 1920 by current owner and managing director Martin (Marty) Moses' great-grandfather Charles Moses, as a buyer of wool, skin and fur. In 1993 Martin took over from his father Bruce, who had expanded the business into wool broking in the late 1980s after the removal of the wool price guarantee changed the sheep industry forever.
"I lived through the era of the stockpile, the rise and the fall of the reserve price scheme," Marty recalls. "That was a hugely stressful time for us and the industry. Like many industry participants, Moses & Son had warehouses full of stocks and then at the stroke of a pen at two o'clock one Friday afternoon it all became worth a third to a half of what it was. That was a major financial setback … The industry was paying people to shoot sheep, which I think is extraordinary. I saw grown men reduced to tears due to the decisions made by a few industry leaders."
From this event the industry contracted immeasurably, leading to a rise in cropping in the 1990s and, with many years of good weather, crop growers grew confident and the number of sheep and wool enterprises fell further.
Moses & Son endured, however, drawing strength from generations of wool and sheep experience and a love of the industry. Today, under Marty Moses, the business has evolved, expanding its services to include wool forward price and marketing consultancy, sampling and warehousing services, rural merchandise and sheep handling equipment, and livestock agency services with a focus on genetics.
In short – times have improved for sheep and wool farmers and Marty wants to promote the current opportunities in wool and sheep to attract new blood into the industry.

Rise of automation
What sets the team at Moses & Sons apart? A commitment to long-standing relationships with sheep farmers and wool exporters, says Marty, a determination to improve handling automation and the benefit of genetics – together with a healthy dose of optimism.
"We actually have the ability to help create vibrant enterprises," Marty explains, adding that he wants to attract more people to recognise the benefits of sheep in mixed farming systems, and believes that introducing sheep handling systems and precision sheep management is key.
"The right equipment means farmers can run at very slim labour unit costs. That's where we're headed in our industry. We've just invested in cutting-edge, fully automated handling equipment for our sampling functions, which is the first of its type built."
Greater efficiency is also about having skilled people alongside greater testing and measurement processes. Moses & Son has more technical staff on the ground per bale and per client than anyone else in the business, says Marty, and is working on testing strategies to create new benchmarks in quality.
"Genomic testing is going to become a big thing in the future," Marty says. "There are new things in the wind at the moment … we're looking to trial flock genetic benchmarking."

Turning productivity around for farmers
According to Marty, sheep farmers are wanting sound advice and Moses & Son is in a good position to offer help – and he and his team will work to improve enterprises over a cup of coffee at a farm table.
"We get an increasing number of requests for advice on how to improve, be more efficient, in all aspects – whether it's animal ethics, production, marketing, the holistic running of the farm or getting the pastures mix right.
"We believe we can make big differences … in some cases we know we can turn our clients' productivity around – up to 50 per cent."
Moses & Son's vision is not driven by profit margins, Marty adds. Instead, the company takes a long-term and strategic approach to decision making, to ensure the sustainability and profitability of the industry.
"We need to sell the positive attributes of our industry, and the next focus is how we bundle farming land to be more attractive to sheep farmers and wool producers than it is for cropping."
Vibrant textile markets demanding wool
International markets want more wool and, with a shortage of supply, prospects are good for Australian Merino wool producers and for the Australian-based exporters who ship to specific mills and multiple countries around the world.
"Whilst China is the key export market, there is a heavy European influence," Marty explains. "India is quite a big market for us as well, and there are also new markets emerging around the world."

The power of one connected wool industry
Another passion of Marty's is reuniting the industry into one voice and cohesive operation, leveraging Australia's position as the primary producer of finer wool in the world.
"I think the Australian wool industry bodies are very fragmented," Marty says. "I believe the industry should be working towards cost-efficient systems that take all the essential components of the industry to one body with an overarching strategy. Then we can have one voice for Australian wool, rather than a fragmented voice."
Marty is also an advocate of the research and marketing body Australian Wool Innovation (AWI). He attributes some of the success of the industry to AWI's vision and early adoption of technology. However, he believes that a grower's levy is important to give farmers a return on investment.
"I speak for my staff and my family … we are extremely passionate about the wool industry and we are extremely passionate about the people in it – right up and down the chain. We don't want history to repeat itself; each wool body should serve the industry. It's not for the weak-hearted, this industry, [but] if you look underneath, the most successful businesses in this country in wool are family-owned businesses."
Marty wants to encourage new generations back into wool production, and to see the potential and power in a collective Australian wool movement.
"Australia grows 90 per cent of the finer wool in the world … We influence what can happen around the world. As soon as we realise the power of that, the opportunities are enormous. It should be the focus of the next generation to harness that power."
More from NAB