How one dairy farm expanded to Asia and became an industry leader
It's one of those stories you read about and wonder if it's true – how a business started out with a small offering and grew into an industry leader.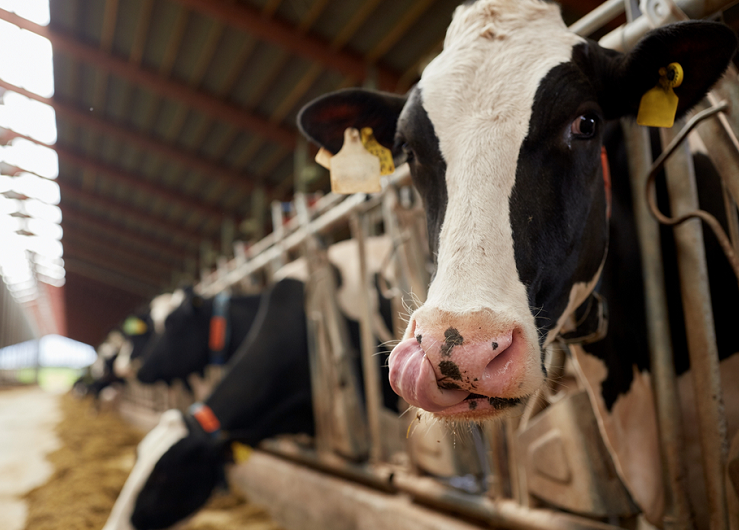 In the case of Australia Consolidated Milk (ACM), this tale is the genuine article. And a significant part of their success is due to exporting their products into Asia.
The ACM Group began in 2007 with the purchase of a dairy farm in Kyabram, Northern Victoria. It quickly grew by purchasing other farms nearby, and there are now 1000 cows milked for 10,000,000 litres per annum. "The other farms were acquired with a view to growing our own feed, so that we could be mostly self-sufficient," says Michael Auld, ACM Director.
In 2008 a milk management company was started to acquire milk from other dairy farmers to supply the industry and position the group for export potential. ACM now has more than 100 farmers supplying over 250 million litres per annum.
Continuity of supply was also behind the decision to buy more farms, but it also means that ACM and their joint venture partner, Thai company Dutch Mill Limited, can lease those farms to those wanting to get a start in the industry. "The aim is for the young dairy farmer to eventually build equity and one day own the farm," Michael confirms.
Joint venture develops state-of-the-art production facility
ACM has also entered into a partnership with Freedom Foods in 2012. The joint venture is known as Pactum Dairy Group Pty Ltd, and it developed a state-of-the-art, fully accredited UHT production facility in Shepparton, Victoria. "It utilises the latest cutting-edge technology to produce a wide range of nutritious, quality dairy products in multiple aseptic packaging formats," Michael explains. "Our quality management system ensures that our products are compliant with the most stringent regulatory requirements."
The UHT products include:
Straight white full cream milk
Low fat and skim milk
Flavoured milks
Protein and breakfast drinks
Michael says that balancing competitive pricing with the high quality of their products is always a challenge. "At different times there may be market forces that drive prices down," he says. "For example, at the moment the international milk powder prices are approaching all-time lows and there are also bans on some countries exporting to Russia, which has meant that European producers have surplus milk and so they are diverting this into UHT product. This is forcing prices down in our key export markets."
Exporting – a competitive landscape
ACM's main export markets are China and South-East Asia, and were entered into via different channels. "We embarked on trade missions with the Victorian Government, visited potential customers many times, employed people directly and Directors visited companies to meet at the strategic level," Michael explains. "It's a very competitive landscape with many challenges. The biggest one is product differentiation and explaining why there are price differences when some countries actively subsidise their exporters."
A key ingredient of ACM's success is choosing excellent partners to work with. In the international markets, they worked with local experts in the regions with the capital to support and promote the brands in market. "We took some of our dairy farmers to China to witness the market first hand," Michael recalls. "Seeing some of them trying to use chopsticks generated a few chuckles from the locals. But to their credit they all had a go. Happily they all managed to find a way to get enough to eat!"
A strong business model
Michael believes that ACM's success lies in the strength of their business model. "We're transparent in our pricing to farmer suppliers," he explains. "We're also very flexible and accommodating with our customers, and our payments to farmers are consistently at the high end of the scale."
ACM works hard to differentiate from being a dairy commodity player by focusing on premium markets and well established customers. "This approach allows us to offer price stability to our dairy farmers," says Michael. "Price volatility erodes customer and supplier confidence." Michael goes on to add that communication with their supplier and customer bases is of paramount importance, with regular meetings and newsletters aimed at keeping everyone informed.
Their communication strategy is facilitated with a website and Twitter feed, but Michael confirms that when it comes to marketing strategy, most leads are generated from word-of-mouth due to their reputation in the market. "The industry is very people-oriented," he says.
Supportive banking partner
When it comes to their choice of a banking partner, Michael says that NAB have supported the business from the beginning and have a clear understanding of agriculture. "We have needed different types of facilities at different times from mortgage lending to debtor finance to trade finance," he explains. "NAB have people who understand our business and we are able to get things done relatively quickly. This is a big advantage."
So what advice does an industry leader have for those thinking of going into business for themselves? Michael has a few tips:
Entering the dairy industry – it's important to thoroughly understand the industry. Careful research is essential, as well as understanding what risks you might be confronted with and how they might be mitigated. "Risks include cow health, feed costs, employee availability and expertise, price volatility, international effects on supply and demand, cash flow and liquidity, customer viability," says Michael.
Strong partnerships – establish and maintain partnerships of mutual trust and benefit. "NAB has been with us all the way," Michael confirms.
Entering the international marketplace – there are questions you need to ask yourself, such as whether your product is fresh or can be stored, the size of your export product sales and whether you can guarantee supply. "Your strategy needs to consider who has FTAs with Australia, if there are technical trade barriers or if you're trading in Australian dollars or other currencies," says Michael. "Also make sure supply chains can be disentangled. If not you're better off finding empathetic distributors to handle your product."