The race is on: why Australia can lead in health innovation
The race is on to cut costs and save lives. As a nation, we have an impressive history of healthcare innovation – but what of the future? And what's our place in the race to find new, cost-effective ways to diagnose, treat and prevent illness?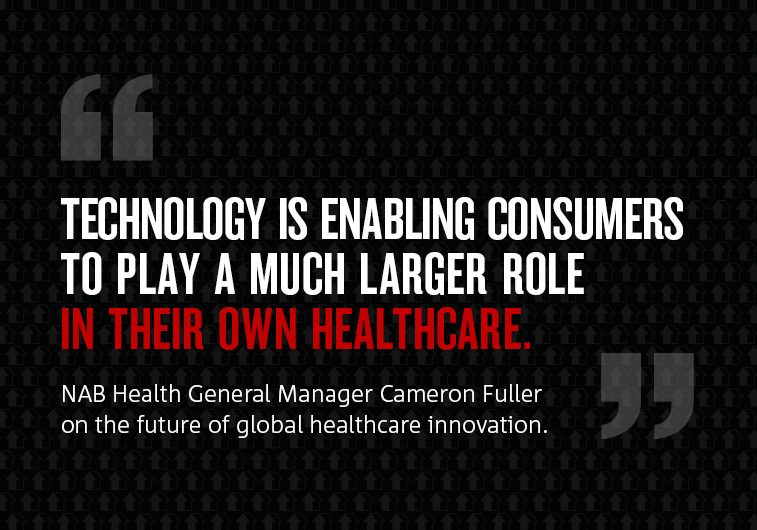 Failure to innovate in the business of healthcare is simply not an option today, according to NAB Health General Manager Cameron Fuller.
"An ageing population, the rising incidence of chronic disease and changing consumer expectations are all driving up the cost of healthcare," he says. "Finding new, cost-effective ways of diagnosing, treating and preventing illness is a priority for the health of both patients and the economy."
So can Australia rise to the challenge?
"Our health system is widely recognised as one of the best in the world for its level of quality and relative cost," Fuller says. "We also have an impressive track record of medical discoveries and inventions – cochlear implants, sleep apnoea devices, a vaccine for cervical cancer, spray-on skin repair and [the discovery of] Helicobacter as the cause of ulcers."

Productivity boost
Innovative technology has also helped boost the productivity of healthcare providers, Fuller says.
"In the 10 years since the launch of NAB Health we've seen some significant changes and new trends emerging," he explains. "For example, the evolution of practice management software has made it possible for practitioners to spend more time with their patients as they run their businesses more profitably. In the pharmacy sector, we've seen the rise of large retail franchise groups such as Chemist Warehouse along with an increase in online sales of products, both in Australia and offshore, particularly into China.
"Many specialist groups, like radiologists and ophthalmologists, have consolidated into corporatised organisations," he adds, "and there's been consolidation in the rapidly-expanding aged care sector. In the private hospital sector, some of our largest operators are now moving into offshore markets – Ramsay Healthcare, for example, has expanded into the United Kingdom, France and Asia. Health businesses are also continuing to list on the Australian stock exchange including, in the past few years, large aged care players."
He predicts that the digitisation of healthcare will continue.
"Technology is enabling today's consumers to play a much larger role in their own healthcare, which is shaping their relationship with providers," he says. "Over the next few years it'll be interesting to see how the internet of things and artificial intelligence play out. There's huge potential for wearables and other devices that transmit information straight to a doctor – the American Food and Drug Administration has just approved a pill with a digital ingestion tracking system that can track whether patients are taking their medication. And cognitive supercomputers like IBM Watson™ are already helping doctors diagnose rare and complex conditions and find the best treatment plans."
Overcoming the hurdles
Despite our impressive history as a country in healthcare, there's a question mark over the nation's future on the global stage. Speaking late last year, the Chair of government body Innovation and Science Australia, Bill Ferris AC, said we're "an inventive lot" – but also pointed out that we've fallen behind the rate of innovation in other countries as the application and commercialisation of our ideas falls short of our knowledge creation.
There could be lessons to learn from Israel, which was named the 10th most innovative economy in the world in the 2017 Bloomberg Innovation Index.
"NAB has taken part in a number of trade missions to Israel to see how they're doing so well, particularly in terms of venture capital," Fuller says.
"NAB also teamed up with OurCrowd, an Israeli-based venture capital business, to create more opportunities for Australian investors. Australia's capital markets aren't as well developed and mature as those in the United States and Europe, and that's a major hurdle for us."
Over the past decade, innovation has also transformed the way healthcare providers manage their finances.
"The majority of NAB Health customers are now using mobile banking," Fuller says. "Electronic banking can be linked straight into practice management software or financial software packages such as Xero or MYOB and we can even approve business loans up to $100,000 online."
HICAPS Go, which a number of Australian providers and health funds have signed up to, is also streamlining the relationship between practitioners and patients.
"Patients can use the app to source a service, establish their out-of-pocket cost, book an appointment and then swipe to pay," Fuller explains. "Practitioners can do away with much of their physical paperwork and payments are made promptly, straight into their bank account."
Feeling optimistic
As NAB continues into its second decade of specialised health banking services, it will continue to draw on innovative technology.
"NAB Health was established to provide a dedicated service for our healthcare customers with easy access to specialised bankers, Medfin Finance, HICAPS and relevant information," Fuller says. "Over the past 10 years we've also been generating, collecting and analysing data to help us anticipate our customers' needs and support their decision-making. Now, with data from HICAPS Go, we'll have a more complete picture of both pain points and opportunities."
Overall, Fuller is optimistic about the future.
"Australia's healthcare industry is both fast-growing and stable," he says. "Healthcare also has strong bipartisan government support. This is a particularly exciting space and time and I believe Australia can play a significant role in achieving positive change."