Selling like hot cakes: the sweet-smell of success at Yatala Pies
Vision, teamwork and a passion for producing the perfect pie have helped the Porter family transform the old Yatala Pies pie shop into a baking powerhouse.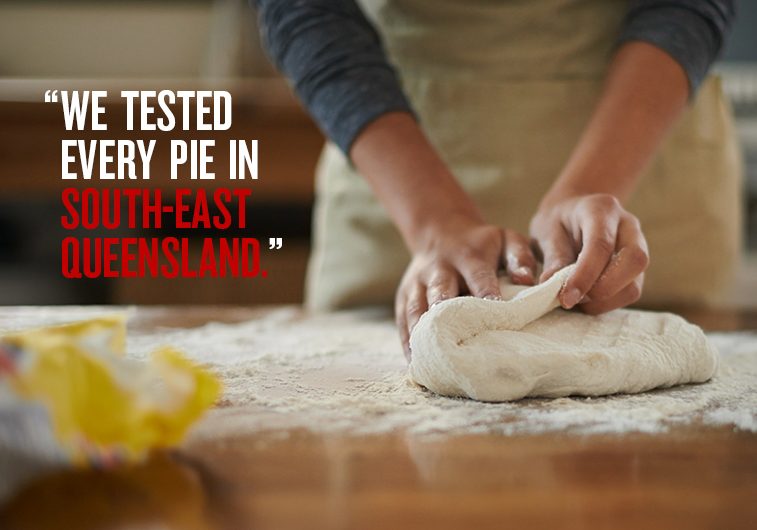 Yatala Pies is an iconic landmark and much-loved stop-off point for Brisbanites heading south for the surf or making the sandy and sunburnt journey home.
There's been a pie shop on the highway in the Yatala locale for 130 years and the Porter family – Graham and Christine and their daughters Susan and Heather – have been at the helm for the past 31 of those.
Together, they've turned the bare bones bakery they acquired in 1987 into a pie-making powerhouse that's open every day except Christmas.
A Queensland icon
Yatala Pies employs 75 staff and churns out an astonishing 1.3 million pies a year.
Remarkably, they've done so with minimal marketing – testimony to both the quality of the baking and the power of word of mouth.
March 2017 saw the shop inundated in the post-Cyclone Debbie deluge but with the help of a 'mud army' of family, friends, current and former staff and customers, it was back baking 11 days later.
The goodwill Yatala Pies enjoys may be hard for interstate folk to fathom but the business enjoys a special place in the hearts of Queenslanders who've pulled off the highway at Yatala on auto-pilot for generations.
In 2009, it was included on the Q150 list of cultural icons, compiled to commemorate the 150th anniversary of Queensland becoming a separate state.
"The pie shop is something people have grown up with," Graham Porter says.
"It's hard to explain but it's just got something, hasn't it? I always wanted this pie shop."
That something was part of the reason the 'For sale' sign caught Graham's eye back in 1987. Heading to the coast for a holiday, following the sale of his polythene pipe manufacturing business, he pulled in to Yatala for a pie and smelled an opportunity.
"I knew the pie shop when I was a young boy and I could see it had been going backwards because of major construction work on the motorway – but I could also see the potential for bringing it back to what it was in its 1940s heyday," Graham says.
"One week later it became the property of the Porter family!"
Perfecting the product
Improving the filling was the first item on Christine and Graham's 'To do' list after they took possession of the premises.
"It wasn't up to standard, so we did some research and employed someone to help us," Graham says.
"We tested every pie in south-east Queensland to come up with a formula for today's taste and we switched to a puffed pastry top instead of the old hard crust."
Expanding the range from four basic flavours – plain, curry, mushroom and kidney – to the current menu of more than 20 sweet and savoury options has been an ongoing process that's involved gut feel and plenty of trial and error.
"We've never invited anyone to give us an idea, we've just kept our finger on the pulse, watching tastes changing and introducing new flavours like beef, bacon and cheese – that one's now a bestseller," Graham says.
Product quality was an obsession in the early days and still is, even as the pies race off the racks in their thousands.
"The first things I go in to check are the chips and the mushy peas because they're very important – they're part of the history of the pie shop," Graham says.
"The staff know – believe you me! I say, 'Would you eat that? If the answer's "no" then don't sell it. Simple as that'.
A family affair
Graham initially planned a return to the plastics industry, with the expectation the pie shop would be a sideline venture, but surging sales put paid to that plan a couple of years in.
Daughters Susan and Heather joined the firm in the 1990s and now serve as general manager and head of administration respectively, while son David, a construction contractor, handles property maintenance. The senior Porters stepped away from day-to-day management a decade ago but remain directors of the business.
Yatala Pies was named Queensland winner and National winner in the second generation of the Family Business Australia Awards in 2007. Graham credits his children with the shop's continuing popularity.
Their profitable ideas have included the introduction of sweet pie flavours, including the hugely popular caramel tart, and the provision of family-sized pies in bulk, for fundraising drives.
"It doesn't generate as high a return as some of our other lines but it's a good promotional vehicle and it contributes to fixed costs," Graham says.
"Our kids are very good operators, all three of them; it's incredible what they achieve together."
Yatala Pies has been a NAB customer for the past two decades.
"They've been funding us since we moved to new premises 20-odd years ago," Graham says.
"They understood our vision for the business and they've been very good to us. We forward-plan five years ahead so everything they ask us for is always there.
"I can't fault them on anything – it's been a really successful relationship."
Expanding the empire
While franchising Yatala Pies or opening a second outlet is not on the agenda – "it's an icon and it can stand on its own" – the Porters have plans in train to build a further seven food outlets, including a fish and chip shop and a meat market, alongside it.
"We have six hectares which we want to maximise, to turn into a destination," Graham says.
"We'll own those other outlets and we'll be able to spread our management team across them and move staff around as needed.
"I can see a lot of benefits, in terms of containing costs and improving profitability significantly, in the next few years."