Smokin': the strategy behind emerging Tassie icon's monumental export growth
When BJ Plummer was handed the reins of acclaimed Tasmanian smoked seafood producer Woodbridge Smokehouse, he was instructed not to 'mess around' with the brand. We spoke to Plummer about his strategy, which has seen export revenue grow a whopping 1,300 per cent in just three years.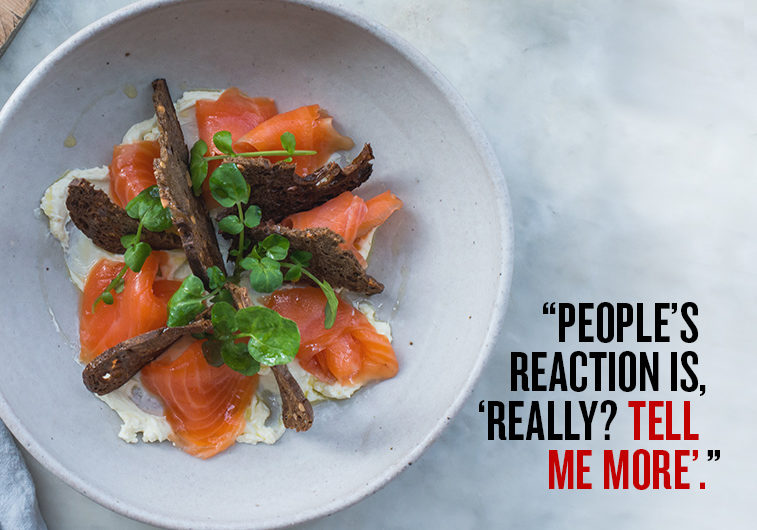 Having built a reputation as the producer of some of Australia's finest quality smoked salmon and trout backed by traditional techniques, this 13-year-old company now has an increased focus on efficiency, marketing and export opportunities, helping take the product to a bigger audience of food lovers – while retaining the unique artisan qualities key to its appeal, of course.
Its export revenue growth might be something to shout about now, but the story of Tasmania's Woodbridge Smokehouse and its rise to recognition began humbly enough, with Roger Scales and a simple fascination with the art of the smoke master.
One-time ship charter operator Scales founded the business in 2004, converting a former apple storage shed on land he'd purchased after moving to Tasmania a few years earlier – 25 acres of Woodbridge apple orchards, overlooking the pristine waters of D'Entrecasteaux Channel.
He learned the craft of fish smoking from his neighbour, a German expatriate named Herman Myer, who became his 'guru'. Using traditional methods, Myer would smoke his own catch and was also in demand with locals to work his magic on theirs. Realising the product's quality, Scales saw a gap in the market and enlisted Myer's help to learn the skills, and also design and build the production facility.
With its artisan positioning and clean, green Tasmanian provenance credentials behind it, food awards followed and Woodbridge's reputation as one of Australia's finest cold and hot smoked trout and salmon producers in the country was secured.
Scaling up
Fast forward to 2017 and Woodbridge Smokehouse is in a new growth phase. Scales is now in the role of ambassador after selling his venture in 2015 to Pure Foods Tasmania, a Tasmanian-owned company whose portfolio also includes Tasmanian Pate – and is on the lookout for others.
Woodbridge Smokehouse's development is now being spearheaded by operations manager BJ Plummer, the former corporate lawyer and owner of a successful Brisbane catering company recruited by Pure Foods Tasmania to take the business to the next level. He's achieving healthy results, with production increasing five-fold in the past two years and export revenue soaring more than 1,000 per cent.
Plummer says he's focused on retaining the traditional artisan qualities at the heart of the brand's success while also investing in production efficiencies, marketing and promotion, and capitalising on export opportunities.
"It's a fantastic and unique product," he says. "The board told me point blank, 'Don't mess around with it'. We've just given it a big marketing push to drive the brand and used the good old-fashioned way of drumming up business – knocking on doors.
"Roger worked out he was onto a winner pretty fast and that's been proven in the sales over those years. But there's only so far you can take it without the investment to develop it further and that's what [Pure Foods Tasmania] has been able to do."
Profile raising
Plummer's strategy has involved raising the profile of the brand here in Australia as well as building on existing export business and developing new markets.
A key challenge, he explains, is communicating the story of Woodbridge Smokehouse's product – how and where it's produced, and why it's worth paying a premium for.
"It takes six days to produce, it's handcrafted in the true sense," Plummer says. "The biggest challenge is getting consumers to understand that – what's different about our product, the processes that make it better and why the extra expense."
Export is delivering the biggest growth wins, with strong demand now being tapped more effectively. Distribution deals are already secured in Hong Kong and Singapore, and Plummer's confident the success there can be replicated in other countries, with Malaysia, Indonesia and Taiwan his initial priorities.
Overseas options
Plummer has spent almost six weeks this year travelling overseas "knocking on doors".
"There's a lot of room for growth," he says. "We're already seeing some good results."
Annual export revenue has risen from $7,000 three years ago to $100,000 last financial year and is predicted to reach $250,000 by the end of 2017/18. The business' overall turnover is expected to pass $1 million by the next financial year. Plummer believes harnessing social media's power is a key opportunity for a brand like Woodbridge Smokehouse, with its reputation for quality, the picturesque locale and its alluring history – plus Australians' food obsession.
"We're selling something people are interested in," he says. "We're selling amazing smoked salmon. People's reaction is, 'Really? Tell me more'. It's not a hard thing to talk about.
"We've really pushed social media – Facebook and Instagram. NAB's social media team has been priceless in helping us develop that."
A sign of great taste
A new weapon in Woodbridge's marketing arsenal proving its power to connect with customers is a tasting room, which opened its doors in June last year. Taking advantage of Woodbridge's spectacular location, the licensed facility allows visitors to relax and enjoy the product at its source.
"Basically, it's a cellar door for tasting our salmon and trout," Plummer explains. "People can experience the brand, have a platter with some wine. Once we get it into their mouths, we know we've got them.
"It's an extra revenue line but also gets us face to face with customers. It lets us gather their details to build our database and then market to people interested in the product. That's a very valuable thing."