The AUD in April 2022
Sentiment toward the AUD went from hero to zero in April.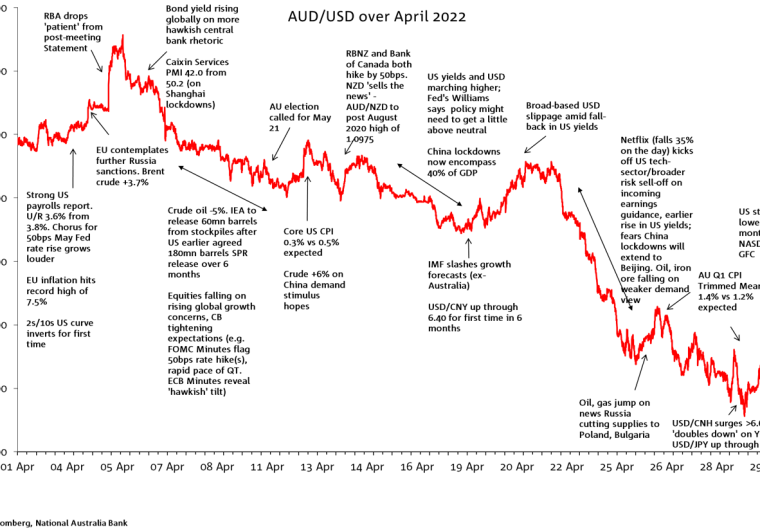 The AUD in April 2022
Sentiment toward the AUD went from hero to zero in April.  The month's high of 0.7661 came on 6 April, shortly after the RBA had dropped the word 'patient' from its post-meeting Statement and indicated support for a first rate rise in 'coming months' – interpreted at the time to mean June was more likely than May, following publication of both Q1 CPI and wages data. These early month gains extended the late March AUD rally driven in large part on misplaced hopes for an early cessation of fighting in Ukraine and peace agreement.
From April 6 onwards, it was most mostly uninterrupted traffic downwards for AUD, save for a mid-month interlude when the USD came under broad-based slippage in conjunction with what proved to be only a temporary reversal of earlier across-the-curve US bond yield rises.
The primary driver of AUD decline was deteriorating risk sentiment, itself a function of a further ratcheting up in central bank tightening expectations, alongside rising global growth concerns. This was not just from global policy tightening, but also increasing risk of a protracted war in Ukraine alongside China's zero-covid related lockdowns. Scepticism that the growth-sapping impact of lockdowns could be readily offset with policy stimulus – fiscal and/or monetary – was amplified by the failure of the PBoC to lower interest rates during the month, against market expectations.
The fall-back in AUD/USD from above 0.74 at mid-month to below 0.71 (low of 0.7055 on 28 April) came in conjunction with an accelerated sell-off in US stocks led by the tech. sector – mostly on lowered forward guidance – and the run-up in USD/CNH, moves countenanced by the PBoC via daily fixings and which were seen to be in part of direct response to rapid weakening in the JPY.  Moves here were aggravated by the BoJ 'doubling down' on its YCC policy out of its 28 April meeting.
Stronger than expected Australia Q1 CPI data on 27 April, leading markets to expect the RBA's first move to come in May, offered only fleeting support for the AUD, with risk sentiment firmly in the driving seat.
For further FX, Interest rate and Commodities information visit nab.com.au/nabfinancialmarkets