The AUD in June 2021
The AUD traded in a wider range in June relative to May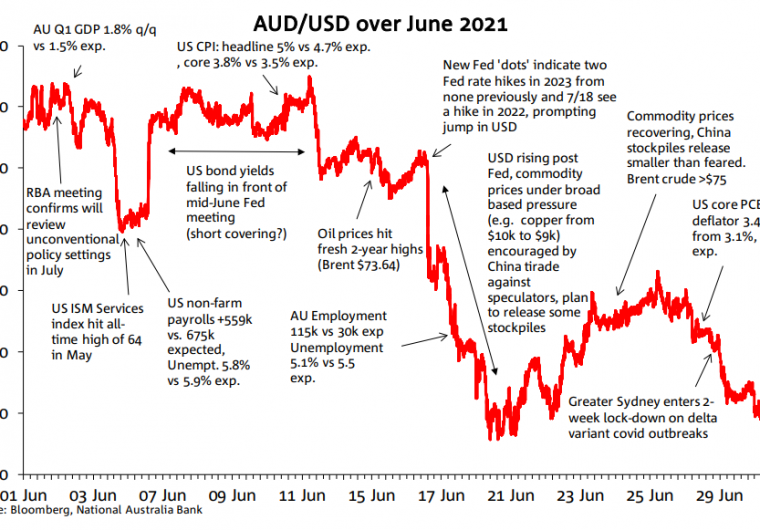 The AUD in June 2021
The AUD traded in a wider range in June relative to May, with an exact 3 cents range versus 2.1 cents in May. The high of 0.7776 came on June 11 and low of 0.7476 on June 21. From the start of June to month-end, AUD/USD lost 2.4 cents (0.7739 to 0.7498). This represents underperformance relative to the broader (stronger) USD trend (e.g. the BBDXY USD index rose by 2.3% over the month versus the 3.1% drop in AUD).
Much of the weakness in AUD did come as a direct result of strengthening in the USD, most of it after the mid-month FOMC (Fed) meeting which surprised the market in showing a majority of the 18 FOMC members now forecasting 50bps of rate hikes in 2023 (7 of 18 previously) and 7 of the 18 'dots' pointing to a first rate rise in 2022 (4 previously).
The AUD along with other commodity linked currencies underperformance in June can be partly attributed to the tirade by the Chinese authorities against speculative behaviour seen as responsible for some of the year to date commodity price gains, and the announcement of plans to release some strategic stockpiles of copper, aluminium and nickel. China's moves contributed to the underperformance of metal prices, weighing on commodity linked currencies. This was even though the AUD's economic link with commodities comes more from iron ore, coal and energy (oil/LNG), all which performed well during the month. Indeed, even with the mid-month commodity price correction, the Bloomberg Commodity Price Index close higher in June (1.8%) and up 21% year-to-date.
From its 0.7476 June 21 low, AUD did manage a small rally (briefly back above 0.7600 on June 25) as commodity prices recovered and the USD gave back a little of its post-Fed meeting gains. Yet it couldn't gain a foothold, falling back to  below 0.75 toward the end of the month and where a (minor) contributory factor was the news of covid outbreaks in Sydney, including the highly infection delta strain, putting first parts of, then the whole of, Greater Sydney into lock-down.
Take a closer look at the Chart
For further FX, Interest rate and Commodities information visit nab.com.au/nabfinancialmarkets