The AUD in March 2021
The AUD/USD averaged almost exactly 0.77 over the month.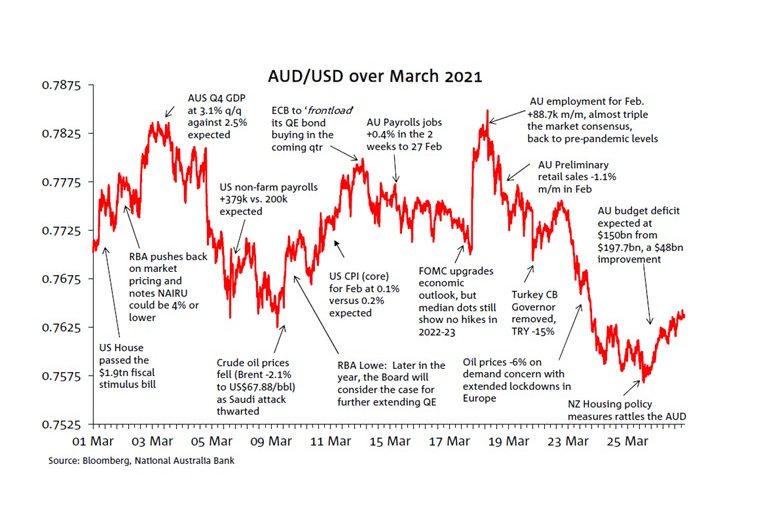 After trading a 4-cent range in February, the March range on AUD/USD was just under 3 cents, oscillating between 0.7849 (18 March) and 0.7568 (26 March), averaging almost exactly 0.77 over the month.
Early March gains, from just above 0.77 to above 0.78, came in conjunction with positive risk sentiment fed by the US House of Reps. passage of a $1.9tn covid related stimulus bill (final Congressional approval and Present Biden's signature coming about a week later). Better than expected Australian Q1 GDP data also provided a modicum of local support, while RBA Governor Lowe's push back against market pricing for policy tightening as soon as 2023 (or even 2022) provided a mild headwind.
Subsequent AUD slippage to back well below 0.77 came on generalised USD strength driven by higher US bond yields and (related) weakening in risk sentiment, with the USD then drawing additional support from a stronger than expected February employment report.
Softer than expected US CPI was one factor contributing to a renewed weakening in the USD/rise in AUD toward mid-month, followed a week later by what was initially considered a very dovish Fed meeting outcome where the median of FOMC member forecasts for the Fed Funds rate continues to show no rise in rates through 2023 at least. A bumper Australian February labour market report also helped the AUD. However, the market's subsequent focus on the significant upgrades to the Fed's economic outlook saw US bond yields and the USD back in the ascendancy later in the month. AUD later started feeling headwinds from pressures in Emerging Markets (EM), in general a function of rising US Treasury yields, but with a ~15% plunge in the Turkish Lira after President Erdogan sacked the central bank governor.
Later in the month, AUD suffered contagion from the relatively sharp fall in the NZD after the New Zealand government announced a series of measures aimed at taking the heat out of its housing market. Together with ongoing USD strength, AUD finished the month languishing near its year to date lows.
For further FX, Interest rate and Commodities information visit nab.com.au/nabfinancialmarkets