The AUD in May 2021
May was the lowest volatility month so far in 2021.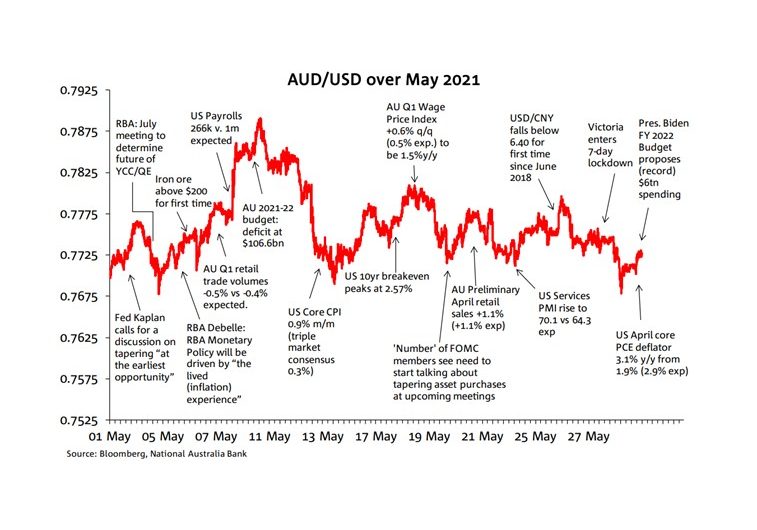 The 2.1 cent range, with a low of 0.7675 on May 5 and high of 0.7891 on May 10 followed monthly ranges of 2.3 cents in January, 4.4 cents in February and 2.9 cents in both March and April.  You need to go back to Nov. 2019 to find a lower monthly range.
Subdued volatility during May contrasted with significant moves (up) in commodity prices, traditionally the biggest fundamental driver of the AUD. This included spot iron ore prices exceeding US200 a tonne for the first time in history in early May – and reaching a peak of $238.64 on May 10 (ref. 62% Import Fine Ore CFR Qingdao USD). Early May gains were fully retraced in the latter half of the month as China expressed rising angst at the gains in commodity prices (without publicly singling out iron ore) and threatened to crack down heavily on perceived speculative excesses. For the AUD though, it was a case of ignoring both the big up-move and subsequent down-draft. That said, the commodity story was much bigger than just iron ore, e.g. base metals were collectively up over 15%, but to zero FX impact.
The low point for the AUD came the day after the 4 May RBA Meeting, where the post-meeting Statement noted that any decision on the fate of the 3-year Yield Curve Control target (i.e. whether it would be rolled to the Nov.24 bond) and the current $100bn QE bond buying programme when it expired in September, would not come until the July meeting. More relevant to the weaker AUD though was the USD reaching its high point for the month at this time, boosted in part by Fed speak where Dallas Fed President Kaplan for one was publicly agitating for an early discussion on Fed QE tapering.
The AUD high point came not long after a much weaker than expected April US employment report (non-farm payrolls up just 266k against 1m expected) and which effectively laid early taper talk to rest. The AUD then enjoyed a bit of a revival later in the month, first when US CPI came in much stronger than expected and later when April FOMC Minutes were published.  Month-end demand for USD against most currencies saw AUD/USD revisit the early May lows, but it very quickly bounced back into more familiar 0.77-0.78 terrain.
For further FX, Interest rate and Commodities information visit nab.com.au/nabfinancialmarkets