The Australian economy's quiet achiever
Education has grown to a scale export industry, and is now Australia's third largest export earner.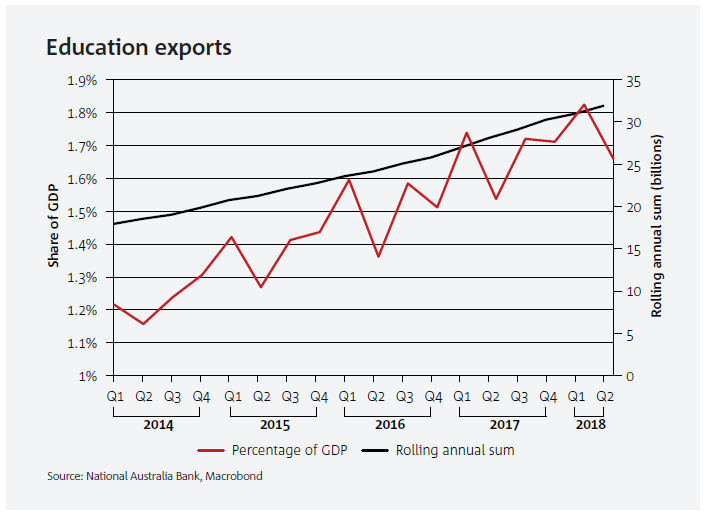 There are understandable market jitters around current trade tensions between the United States and China. Even so, the overall global expansion, the growth in business, incomes, and jobs has been a very positive one for the Australian economy. Apart from the occasional supply disruptions to Australian production, from the likes of Cyclone Debbie damaging rail infrastructure and more recently the drought decimating this year's Eastern crop, export volumes have been an almost continuous source of support for Australia's growth journey. The recent boost in resource commodity production and buoyant prices (e.g. iron ore and LNG) led to Australia notching up a sizeable A$3.0 billion trade surplus in September, a trade surplus so far for the year of A$15.5 billion, up from a A$11.9 billion surplus for the same period last year.
Given Australia's exporting history, it's understandable that commentary often focuses on the good stories from the resources sector, the burgeoning liquefied natural gas exports that were nearly A$5.0 billion in September, and the lift in iron ore exports in the wake of mine expansions earlier this decade. There's no doubting that Australia has competitive strengths and resource endowment from its traditional resources sectors.
Against that background, it's a little surprising to learn that the export star for the past half-decade has seemingly flown under the radar. Not only has it grown at a fast clip, as some more fledgling sectors have (interesting stories in themselves), but it's grown to a scale export industry, currently ranking as Australia's third largest export earner. And it's actually the "learning" industry – education.
Education exports earnings totalled A$32 billion in the year to September 2018, up 13.6% in annual terms, having averaged annual growth of 12.9% in the five years to 2017, well above average annual growth of 5.0% across all export categories, goods and services. Education exports constituted 1.7% of GDP for the year to September, up from 1.2% a decade earlier.
By July 2018¹, there were 626,988 international students in Australia, an increase of 11% on the student numbers in July last year. There were large increases in the number of Chinese students, (currently 30% of students) up 14% from a year earlier, students from India (13% of students and up 25% from July 2017), and Nepal, the third largest source, accounting for 6% of total students with growth up by more than half (52%).
While more than half of students are enrolled in universities, 26% are enrolled in VET courses, another 14% in English language courses (ELICOS), and the remainder in Schools (3%) and non-award courses (6% of total). Of course, students can enrol in more than one course, often enrolling in an English language course while undertaking other learning.
Looking out, looking in
While the growth and size of the industry in Australia is one perspective, it's always useful to see how Australia ranks across other countries in terms of popularity. Australia ranks highly. A study this year from the OECD found that in 2016, there were five million tertiary students studying offshore, 3.5 million in OECD countries. Australia ranked as the third most popular choice to undertake tertiary education internationally with a 7% share of the international tertiary student market behind the United States at 19% and the United Kingdom at 9%. Australia ranked ahead of France and Germany, both with a 5% share of the market.
An alternative data set from UNESCO's Institute of Statistics confirmed Australia's ranking as number three, a separate report² suggesting that Australia could even overtake the UK as number two by the time the 2018 data set becomes available.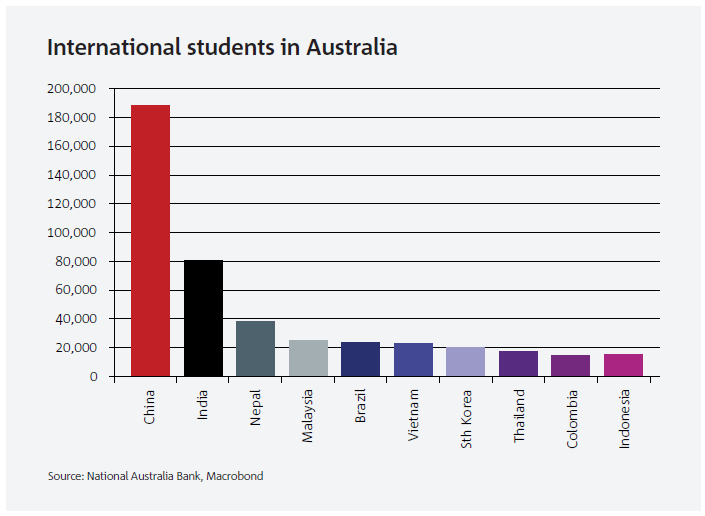 The China connection
Education is yet another sector where Australia's links with China have increased measurably. As recently as 2007, there were around 50,000 students from China studying in Australia³. The Chinese Ministry of Education reported that among the 523,740 Chinese students that went abroad to study in 2015, the USA, the UK, and Australia were the three most popular destinations: the US with 31%, 27% to Australia and the UK with 20%. Students coming to study in Australia have grown at an average annual rate of 11% since 2002. It was also reported that many Chinese students studying abroad return to China to work in finance, education, and software/IT4, sectors that will figure large in China's prospective economic development in the years ahead.
While the attractiveness of studying abroad for students and families with rising incomes and opportunities is understandable, China itself is beginning to emerge as a host country for students, despite language barriers. The number of inbound students into China doubled in less than a decade to 2015 to 400,000 students.
The outlook
It's perhaps no surprise that Asia accounts for more than half of all international tertiary students, with Europe the next largest source at just under a quarter, representative both of population and the more rapid growth in incomes in the Asia-Pacific region. Whether Australia can continue to record the double digit growth achieved in recent years will depend both on the factors affecting demand from source countries as well as conditions in host countries, and the capacity of universities and schools to expand and market their education offerings to prospective students. Some have already established campuses offshore.
The attractiveness of Australian universities and schools and English language course offerings are important, as is the openness of host countries to international students. Beyond the popularity of cities and universities, other factors such as the availability of accommodation, law and order, and liveability factors no doubt also play a part in where to study as well as individual university entrance requirements and fee.
1. Department of Education and Training: International Student Enrolment Data
2. UNESCO Institute for Statistics (UIS) student mobility data
3. Department of Education and Training: China – Outbound and inbound international students, August 2016
4. Chinese outbound growth slows as returnee numbers rise
This article was first published in 2019 Outlook Creating Opportunities. Read more articles from the magazine.
Speak to a specialist