The business owner seeing automation pay off
Lower costs, greater productivity and more profitability are just three of the benefits entrepreneur Mat Stillone's automation investment has unleashed.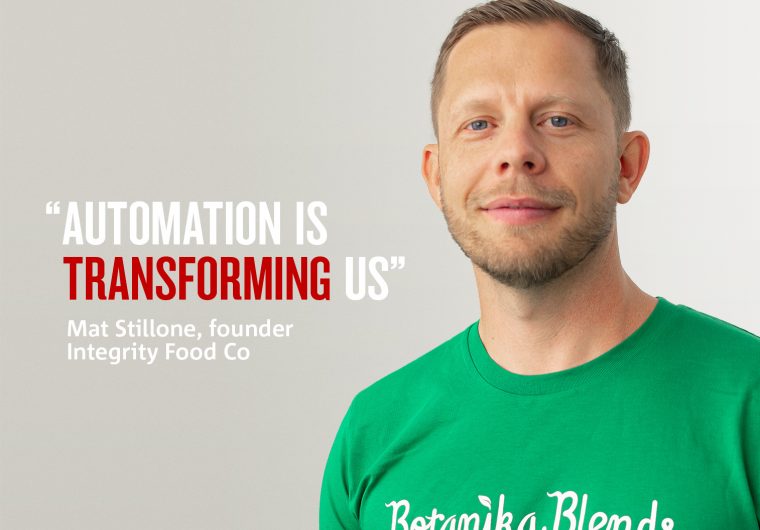 Embracing automation – the use of equipment or technology to automate a process or facility – is one way small businesses can remain competitive, and last year's COVID crisis has given some owners the push they needed to get started.
Among them is the founder of Integrity Food Co, Mat Stillone. He's spent the past decade transforming his supplements start-up into a multimillion-dollar manufacturer of protein powders, gluten-free goods and plant-based meat substitutes.
With his two Brisbane factories at capacity, producing the company's own range and manufacturing on contract for other brands, Stillone recognised that further expansion would require a significant investment in equipment.
In early 2019, he began working with food and process engineers in Australia and China to design two fully automated production lines that would allow Integrity Food Co to quadruple its capacity, from five to 20 tonnes a day.
"Because we started small, our production process wasn't master-planned," Stillone explains. "It evolved over time and some things were quite manual – staff having to apply stickers to products by hand, for example.
"There were lots of bottlenecks, and we were losing opportunities and sales because we didn't have the capacity to take on large manufacturing contracts and continue to fulfil our distributor orders. I could see automation was on the horizon – it was just a matter of working out the perfect time to take that step."
The time proves right
During a global pandemic was not that time, Stillone judged. With sales slowing in January and February 2020, he shelved his plans temporarily, to focus on steering Integrity Food Co through what he anticipated would be a protracted downturn.
But, as it turned out, business boomed.
"Our ecommerce trade quadrupled overnight, and we went from panicking to making hay while the sun shone," Stillone says. "We saw huge growth and things got pretty crazy, trying to employ people to keep up with demand."
By October 2020, he felt confident enough to reactivate the automation initiative. In early 2021, he took delivery of his new equipment, having first seen it put it through its paces via a series of Zoom demonstrations.
The first production line can mix, pack and seal up to two tonnes of powder at a time. The second line blends, packs, seals and labels product in tubs and pouches.
"My original plan was to fly to China to test the equipment in situ, but with COVID that wasn't possible. So I sent about 40 different raw materials over and, with the help of a translator, had the supplier do multiple test runs," Stillone says.
"Some of the processes are quite finicky and tedious, but we wanted to ensure we'd captured all the data and ironed out the kinks before going ahead with the purchase."
Lower costs, a better product 
While the automation project's $500,000 price tag represents a sizeable investment for a manufacturer of Integrity Food Co's size, the business case is compelling.
As well as upping production capacity, Stillone expects automation to result in efficiencies that will yield an annual saving of at least $120,000, once the new lines are fully operational. What's more, product wastage and the need to halt production to clean the lines periodically costs the company around $100,000 a year; automation is expected to reduce this figure to $85,000.
But the benefits go beyond financial savings. New metal detection and X-ray capabilities provide confidence the company's food safety and quality measures are world standard, while having fewer people on the lines reduces the risk of industrial accidents.
Prepare your ground
Nevertheless, after years of keeping an iron grip on outgoings, investing in automation was not a move he made lightly, Stillone admits.
"If you have a self-funded business like mine, it feels quite daunting, committing to that kind of outlay," he says.
His advice for other small businesses looking to gain an automation advantage? Analyse the problems in your enterprise so you can determine whether and how automation might help to solve them, talk to other business owners in your industry whose opinion you respect, and crunch the numbers.
"Base your decision on data, not feelings," Stillone adds. "Don't invest in something because it's a dream of yours – it needs to make financial sense."
Researching and testing the technology and equipment you're looking to acquire is also vital.
"If you're a manufacturer, you should make sure your product is compatible with the machinery, especially when you're buying from abroad," Stillone says. "You don't want to be in a position where you're forking out money and hoping something works when it lands. If you get it wrong, it can take months or years to find something else and cost you a lot, in time, money and wasted opportunities."
Get it right, though, and you may find yourself well placed to take advantage of emerging opportunities.
"Automation is helping Integrity Food Co transform from a small-time player into a fully fledged manufacturer with the capacity to diversify and tackle new markets overseas," Stillone says.
"Being in the position to achieve that growth is so exciting."