Using heritage for 21st century export success
Rutherglen's Campbells Wines has lived through the global rise, fall and resurrection of the Australian wine industry. Current head of the winery Colin Campbell discusses how this fifth-generation business structures itself for export success in the 21st century.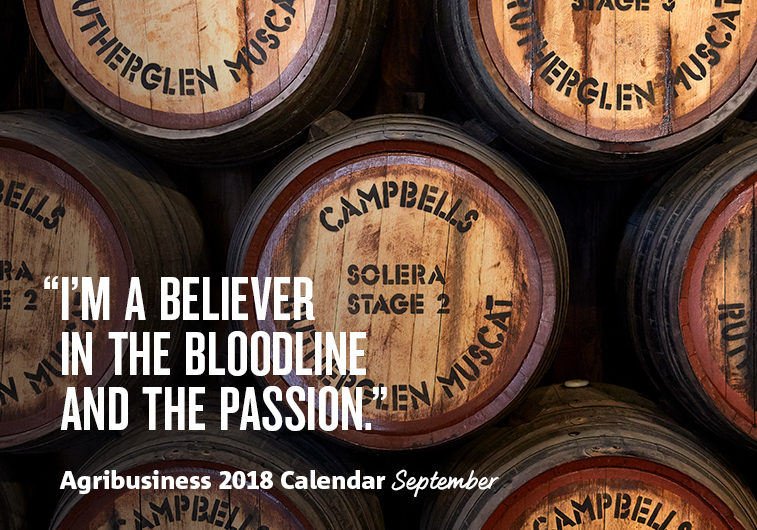 Like most farmers, Colin Campbell likes a good yarn. The dramatic story of Australia's wine exports is no exception. He starts with the industry's ground zero.
"By 2009, Australia was leading the way in wine making techniques and technology. But our young wine makers were travelling and sharing that intellectual property with our competitors, especially Chile, South Africa and Argentina," he says. "The result was a vast improvement in the quality of our competitors' wines. Plus, they could make and sell it much cheaper than we could."
Campbell admits that those still at home weren't helping either. "Australia was exporting a lot of cheap wine. It got to the point where we were labelled the 'industrial makers'."
He says the message travelled right through the UK and US and had a severe effect on Australian wine's image and sales.
Reclaiming heritage 
To help stem the disaster, 12 multi-generational
wine families got together to promote the heritage of Australian wine. They called themselves 'The First Families of Wine' and counted the Campbells among them.
"I'm a believer in the bloodline and the passion and the DNA of wanting to be in the business," Campbell says. "Basically, the First Families of Wine are the multi-
generational heart and soul of the industry. "Campbells is a fifth-generation winery, and we were
trying to lift the industry's image by presenting our best wines overseas to show the quality of what we really do."
He admits it cost the families a lot of money. "But NAB was behind us," he says. "It's worked very well for us and the industry as a whole, particularly in the UK, US, China, Hong Kong and Canada."
Choosing your export markets 
Campbell is adamant that a business has to keep boosting its presence wherever it wants to sell.
"We've got about 12 countries we export to but we can't afford to put resources behind them all."
It's one reason Campbells Wines decided to concentrate on three markets: the UK, US and China: "We visit those markets twice a year. For example, in 2017, the First Families of Wine did five cities in the US – Las Vegas, Dallas, Chicago, New York and Boston."
The bedrock of domestic sales 
Campbell knows that exports can be fickle, with success mirroring the ups and downs of the Australian dollar. It's why the business foundation of Campbells Wines is built on selling about 60 per cent of its wine domestically.
He acknowledges that his winery doesn't follow the normal sales route: "Our business model is four separate sales routes – three domestic and exports. The domestic channels are our well established cellar door, our cellar club for direct online sales and our national retail distributor.
"The cellar door is critical because it's the face of Campbells, where our absolute focus remains on the quality of our wine."
Adapting what you grow 
For Campbell, choosing grape varieties is especially complex.
"The market has to be considered as well as what
suits your growing conditions," he says. He is, however, convinced that consumers do like trying new things, with Campbells having about 40 different varieties in its nursery block.
Another pressing reason for experimenting is climate change: "We're preparing for our traditional cool climate varieties to be replaced by Mediterranean ones like Fiano and Tempranillo," he says. "We'll take cuttings from the nursery when the time comes."
Putting Muscat on the map
The Campbells are also involved in marketing the Rutherglen region. The 'Winemakers of Rutherglen' comprise 19 local wineries. Apart from their red and white wines, the area is famous for producing fortified Muscat wine and, unsurprisingly, Campbells Wines is part of the Muscat of Rutherglen Group.
"We've developed a classification system for our Muscats: Rutherglen Muscat, Classic Muscat, Grand Muscat and finally the Rare Rutherglen Muscat," he says, explaining that it helps educate people about the varietal and illustrates the different price points.
While sales of premium Muscats remain strong, Campbell admits sweet wines are out of fashion globally. "We're looking to create a younger market for Muscat with cocktails and new culinary matches," he explains. "We may be a traditional fifth-generation vineyard but the innovation never stops!"
The Campbell clan: winemaking royalty
When you're selling your wares to the world, a decent dash of passion for your product doesn't go astray. It's never been in short supply at Campbells, where brothers Malcolm and Colin Campbell have been at the helm since the early 1970s.
The award-winning fourth-generation brothers took over from their father Allen almost 100 years after their immigrant ancestor John Campbell abandoned his bid to find fortune on the Victorian goldfields and planted the Bobbie Burns vineyard.
The pair jointly received a distinguished service award from the Victorian Wine Industry Association
in 1995. Malcolm was awarded an OAM in 2001 for services to viticulture and, in 2018, Colin was awarded an OAM for services to the winemaking industry.
After 50 years, the joy of harnessing the elements to transform grapes from the vine into premium wine remains potent.
"When a wine is made, and the result is something that really stands out, the smell, the taste, the lingering finish… that gives you such an enormous thrill," Colin says.
"Not very often do you know you've created something that will really blow people away but that's what we aim for and, when you achieve it, it's just the most fantastic feeling."
The latest crop of Campbells share his passion: the fifth generation – all three of his daughters – have joined the family firm and provided it with an injection of enthusiasm.
"The younger generation brings the youth and
the drive to take the company to the next level, and Malcolm and I see ourselves as the more tempered voice of experience. The perfect blend is a mix of both."