What to expect from public capital markets in 2021
The Australian corporate bond market faces a range of opportunities and challenges over the coming year, a recent NAB Capital Markets Forum heard.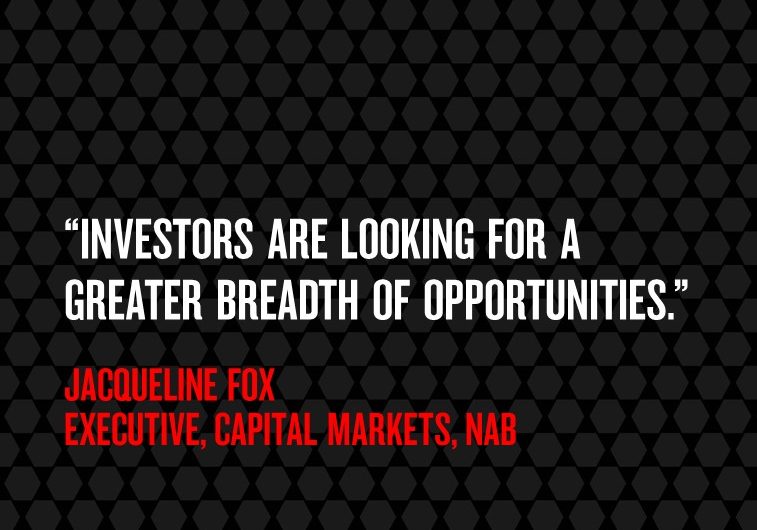 One year after the global COVID-19 pandemic was declared, global capital markets are looking forward to a robust year with elevated interest from investors chasing a broad range of credits, the NAB Capital Markets Forum heard.
Globally, the rapid response from governments and central banks to provide fiscal support and flood financial markets with liquidity has triggered a hunt for yield across credit markets and other asset classes.
"We're seeing a continued vibrant domestic market. With the low interest rate environment, the investor base expanded, the volume of investable funds increased, and level of sophistication of the investor base increased as well," said Jacqueline Fox, Executive, Capital Markets, at NAB.
"That has resulted in investors looking for a greater breadth of opportunities. This means more flexibility for issuers in how they go about raising Australian dollar funding — the menu of what's available has never been greater," Fox told the NAB virtual conference.
The supportive conditions are driven by a reduction in issuance by banks due to the Reserve Bank's Term Funding Facility, which has left investors scrambling for corporate paper, while heavy mortgage refinancing activity will ensure non-bank residential mortgage-backed securities issuance remains at elevated levels.
The NAB Capital Markets Forum brought together issuers and investors over two days to discuss the outlook for the post-vaccine economy, capital markets both public and private, and prospects for shifting demographic forces to reverse the multi-decade trends of low inflation and low interest rates.
Optimism on the economy
Investors have grown increasingly optimistic in recent weeks about global economic recovery as vaccination programs are rolled out, providing hope that sectors and industries will slowly reopen through the year.
"The underlying economic recovery is going to be pegged to the vaccine rollout and progress on how well that is going," said Wendy Butler, Director UK, Capital Markets. "The market is looking through this interim phase and is searching for positive upside."
Butler said many corporates have taken advantage of super-low interest rates in Europe, often pushing out to longer tenors or issuing lower-rated credit than in the past. Strong investor demand meant many issues priced well below initial guidance by up to 20-30 basis points.
The view is similar in U.S. markets, where bond issuance year to date is about 10% above year-ago levels before the shutdowns hit in March 2020, said Geoff Schmidt, Executive, Corporate Finance North America at NAB.
"Last year, markets were hampered by a lack of knowledge about the future. Now there's a track record, a vaccine being rolled out, and businesses have gone through a COVID cycle."
The wide range of fiscal and monetary policy measures such as government bond purchasing programmes in different countries have had an unintended side effect of impacting credit market pricing, causing wide disparities between markets, the conference panel "Capital Markets Outlook" heard.
"Those measures are having a real push and pull effect," said Craig Dreyer, Director, Capital Markets at NAB. "Unless we see an alignment of policy measures across jurisdictions, we will likely have this discrepancy of pricing."
A diverse investor base
Australian corporate issuers are highly rated and have a range of options including issuing into northern hemisphere markets. Considerations for treasurers include: favourable terms on pricing relative to other markets; smoothing the debt maturity profile with a range of tenors; and attracting a diversity of investors.
Stockland Group Treasurer David Rowe told the conference relative yields across markets were just one part of the equation. "We like to maintain a diverse debt portfolio, so realistically that means you need to look at all markets, and relative price ends up being just one of those determinants.
"Over the past 3-4 years we've looked to diversify our investor base; we also think about execution risk, the size of our funding requirement, and our debt maturity profile overall," Rowe said.
The past year has seen a sharp increase in investor focus on environmental, social and governance (ESG) factors, with record flows into sustainable investments and record issuance of social bonds in Australia.
"This presents a great opportunity for corporates to take advantage of those record inflows into ESG funds. There really is a growing pool of dedicated capital looking for diversification," said Alison Chan, Director, Sustainable Finance at NAB.
An end to stimulus?
Still, the Australian market will face some headwinds this year as government welfare payments are wound back and the Reserve Bank's Term Funding Facility ends in June.
The conference took place as bond market investors began to lift bets on economic recovery and speculate about a return of inflationary pressures, sending yields higher around the globe.
Rising bond yields are challenging the Reserve Bank's promise not to lift official interest rates until 2024. In the U.S., the Federal Reserve has said it will not start to hike rates until after inflation actually prints higher[i], in contrast to previous cycles when it moved in anticipation of forecast inflation that never eventuated.
Bankers and economists at the conference agreed that current levels of stimulus cannot be sustained long term, and at some point will need to be wound back. But this will need to be deftly handled, as the "taper tantrum" showed in 2013 when Federal Reserve hints at tapering stimulus panicked the bond market.
"This is the great unknown. History has shown us that a tapering message that isn't judiciously given to the market can be very troubling," said NAB's Dreyer.
[i] https://www.federalreserve.gov/newsevents/speech/powell20210210a.htm
Speak to a specialist